ZR Acoustics® | The Ultimate Listening Experience
Acoustics is the new frontier of human experience.  Powered by Quantum Acoustics™, the new reference standard is Life-Like Imaging with Extraordinary Clarity and Dimensionality.  A unique sense of expansiveness and spaciousness is created well beyond the boundaries of any interior space.  Zero Reflection Technology controls Air at the molecular level, making walls, ceilings and hard reflective surfaces acoustically disappear.  ZR Acoustics® is the revolutionary design paradigm responsible for creating these unique environments.  Unlike traditional technology, ZR Quantum Technology is applicable in any space, anywhere, in any form: Permanent Construction, Prefab or Products.  By design, ZR environments are elegant and aesthetically pleasing.
ZR environments feel spacious and expansive, like a quiet beach or grassy field. Sounds are clear and defined, even at a whisper. Physiologically, lower volumes cause less ear fatigue, which in turn lowers blood pressure and cardiovascular stress.  The holistic results are healthier, more peaceful environments for people to live and work in.  The human mind and body operate at higher levels of performance when exposed to less acoustical stress.
Applications for Life-Like Acoustical Imaging range across a wide variety of fields, most notably Architecture, Transportation, Entertainment and Aerospace.  Architectural environments benefit from ZR Acoustics® in residences, offices, hotels, restaurants, spas, hospitals, senior facilities, and many others.  Creating environments with a sense of expansiveness is an enormous benefit to the Transportation Industry in automobiles, airplanes, bullet trains, buses, yachts and cruise liners.  In the Entertainment Industry, Life-Like Imaging has a myriad of uses from, music, film and television studios, to production, post-production, Virtual Reality, Internet content facilities and any space used to create original content.  The Aerospace Industry's requirements for lighter, faster technologies with incredibly demanding performance values has a plethora of applications for ZR Acoustics®, from satellites to manned spacecraft.
ZR's core principle is simple: Phase Coherency creates Life-Like Imaging and an audible sense of Expansiveness.  In the eyes of Quantum Physics, it is now understood that Electrons and Air molecules behave in the same Quantum fashion.  Using this core principle, ZR Acoustics® eradicates the most egregious acoustical issues, including low intelligibility, resonant frequencies, excessive reverberation, standing waves, variable frequency response with amplitude, and bass buildup in corners. The root of these issues begins with reflections off hard surfaces. ZR creates the proper environment in which reflections are quantized. Quantized Air at hard reflective surfaces equals no wave action. No wave action means no sound reflections, and no sound reflections means only crisp, clear, Direct sound with high Phase Coherency, resulting in Life-Like Imaging and a true sense of spaciousness.
Quantum Physics and wave particle duality were proven to be a reality In the early 1900's.  It is the basis for the entire Era of Electronics.  The concept is that until they are observed, electrons can behave as waves, as individual particles or as both at the same time. ZR Acoustics® creates the proper environment to quantize the behavior of Air molecules from wave fashion to individual particle fashion. When Air molecules behave as individual particles (i.e. no wave behavior), sound energy has no medium to ride upon. Like a radio signal without a carrier wave, the sound simply ceases to exist.  In conjunction with precise, artistic design, this effect dramatically increases Phase Coherence, and consequently imaging and spaciousness.
The ZR Acoustics® paradigm is based in science and designed for creativity, like a finely tuned instrument.  Designs are handcrafted and embedded with higher order mathematics, complex topologies, and Extreme Acoustic Resolution.
---
ZR Acoustics®  |  Glossary of Terms
ZR Product Pricing & Comparison Chart
---

---
Quantum Acoustics™
Quantum Acoustics™ is a subset of Quantum Physics.  Cutting edge research is bridging the gap between quantum mechanics in the subatomic realm and classical molecular based science.  New concepts show that Quantum Physics applies to more than sub-atomic particles;  that compound particles such as atoms and even molecules all exhibit quantum mechanical behavior.  The applications for a wider use of Quantum Physics include, but are not limited to, biology, acoustics and teleportation.
Notable research include the following articles:
---
NPS/ft.2 | Acoustic Resolution
Higher resolution yields greater performance, as evidenced in Nature and revealed by Science. Resolution in Quantum Acoustics™ is measured in Non-Parallel Surfaces per Square Foot (NPS/ft.2). It denotes the number of surfaces in a room or device which are not parallel to the plane of the surface or device at a specific, minimum angle. Acoustic Resolution directly effects Imaging and Performance when utilized in ZR Acoustics® designs.
As complex as Quantum Acoustics™ is to design, Acoustic Resolution (NPS/ft.2) is easy to calculate. First, count all non-parallel surfaces in a space. Then calculate the surface area of all the walls and ceiling in square feet (excluding the floor). Divide the number of non-parallel surfaces (first number) by the total surface area of the room (second number) and you have Acoustic Resolution in NPS/ft.2
Examples:
A typical traditional recording studio has on average, 12 large, non-parallel surfaces in a space with a total surface area of 1000 ft.2 (20' x 15' x 10').  Divide 12 non-parallel surfaces / 1000 square feet and the result is an Acoustic Resolution of 0.012 NPS/ft.2
Quantum Acoustics™ functions on a different level, consequently a ZR Acoustics® studio with 320 non-parallel surfaces and a total surface area of 572 square feet (14' x 10' x 9') is embedded with an Acoustic Resolution of 0.5614 NPS/ft.2 (320 non-parallel surfaces / 572 square feet).
On average, traditional studios have an Acoustic Resolution of 0.012 NPS/ft.2 Quantum Acoustics™ studios designed with the ZR Acoustics® paradigm, have an Acoustic Resolution between 0.56 and 450+ NPS/ft.2 The difference ranges from 46x to 37,500x higher using Quantum Acoustics™ Technology.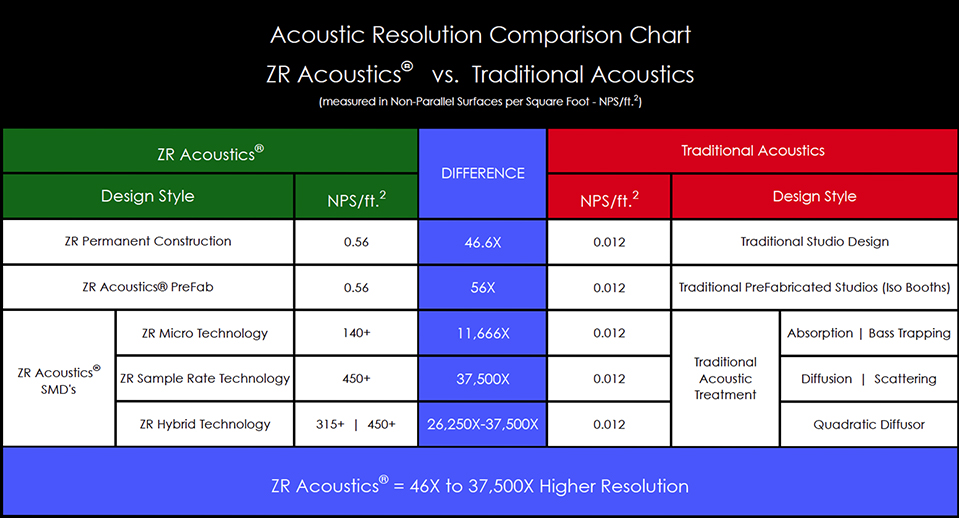 ---
Wall-to-Wall Sweet Spots
An iconic characteristic of ZR Acoustics®, Life-Like Imaging from wall-to-wall exists everywhere in ZR spaces;  front to back, side to side, standing or sitting.  Natural, organic. consistent Imaging regardless of position in the room is standard with ZR Permanent Construction, ZR Prefab, and ZR Products (with 100% coverage).
This is achieved thanks to Quantum Acoustics™ without the use of DSP, EQ or bass traps.  All ZR designs and devices are passive and use Zero electronics and Zero power.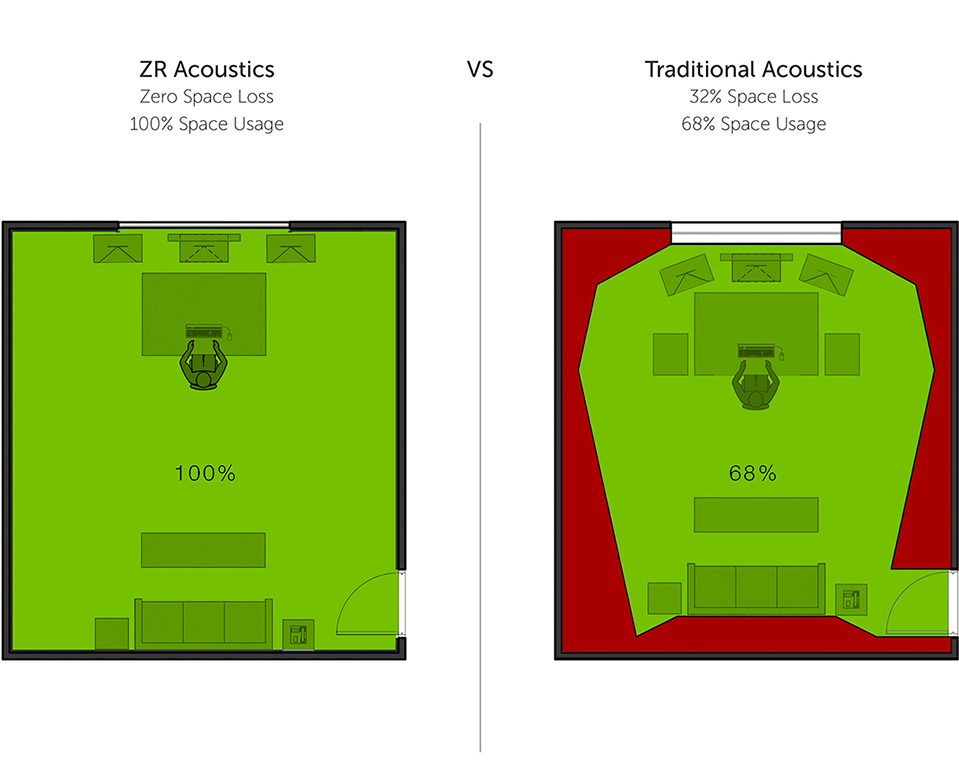 ---
Phase Coherency
Higher Phase Coherency creates Life-Like Imaging with Extraordinary Clarity and Definition. The ZR Acoustics® design paradigm starts with the premise that direct, line-of-sight sound with Zero Reflections results in 100% Phase Accuracy.  To achieve this high level of Phase Coherency, ZR must be applied strategically according to precisely crafted designs.   When sound hits a ZR wall or device, the sound does not return.  ZR quantizes the air molecules, forcing them to behave as individual particles and not waves, thereby removing the existence of sound energy and increasing Phase Coherency.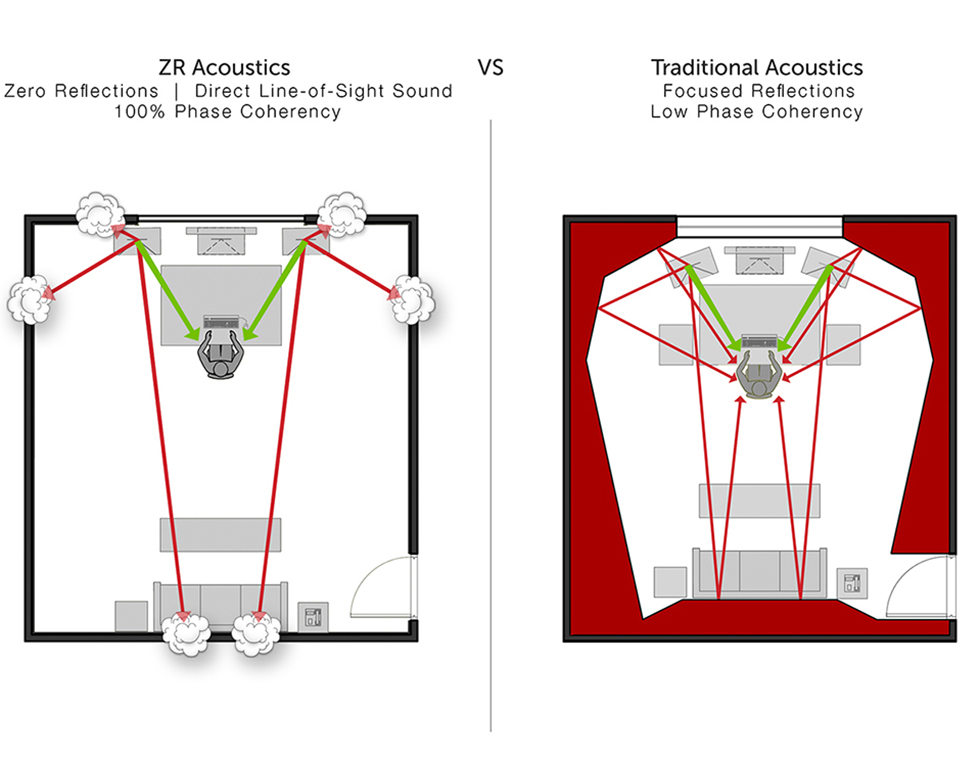 ---
Ultimate Use of Space
The ZR design paradigm is either embedded into walls between the studs or in Ultra-Thin Surface Mounted Devices.  This leaves rooms with a 100% full size, floor plan.  Zero loss of space with any version of ZR.  The size and shape of a space become irrelevant as Life-Like Imaging is possible in rectangular, square, semi-circular or round spaces.  Even glass is inaudible. (see KTMS Studio A) All the required acoustical mathematics and technology can now fit into a standard stud wall depth (3-1/2″) or in Quantum Surface Mounted Devices. (3/4″ to 1-1/2″)
Any space of any shape or size can have Life-Like Imaging and produce World Class Recordings with Mastering Quality Acoustics with the application of the ZR design paradigm powered by Quantum Acoustics™.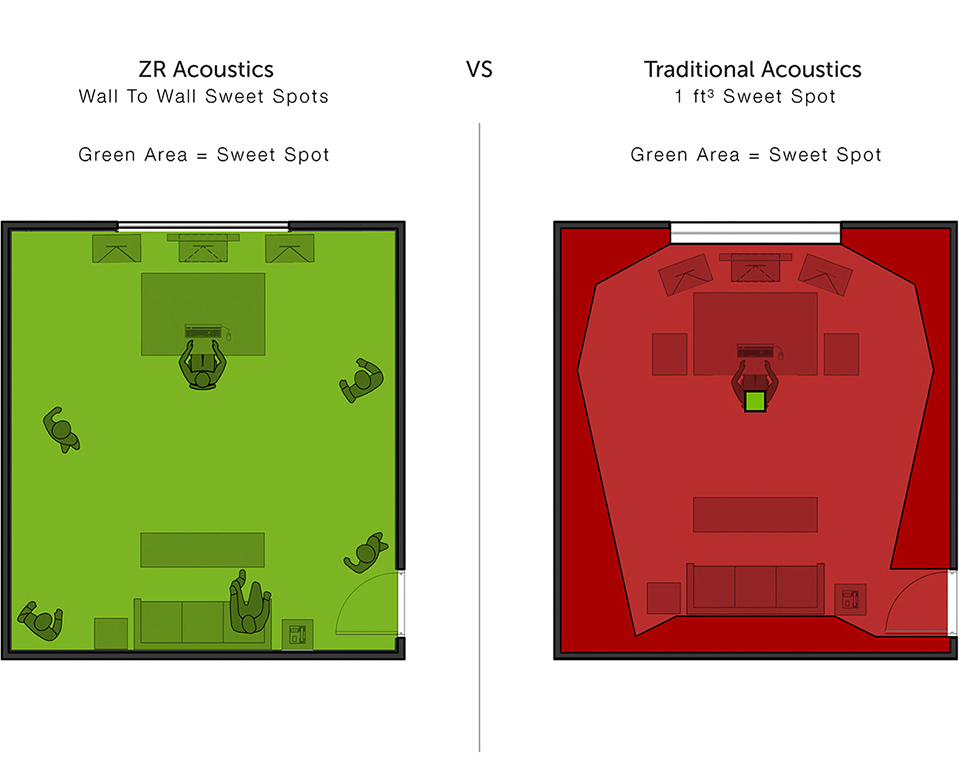 ---
ZR Acoustics®  Overview  |  The Ultimate Listening Experience
Life-Like Imaging
Extraordinary Clarity & Dimensionality
Wall to Wall Sweet Spots
Immersive Sound
Natural, Organic Frequency Response
Applications
Architecture | Commercial, Residential, Hospitality, Medical, Worship
Transportation | Airplanes, Automobiles, Yachts, Airships, Trains, Mass Transportation
Entertainment | Performance Halls, Music, Television, Film, Broadcast, Internet, Gaming
Advanced Technology
Quantum Acoustics™
Extreme Acoustic Resolution (NPS/sq. ft.)
Nature Based Mathematics
Freedom from Limitations
Any Size Room
Any Shape Room
Any Surface
Any Speaker
Any Equipment
Zero Power Required | Passive
Zero Electronics Required | Pure Organic Acoustics
Zero Room EQ
Zero Loss of Square Footage
Zero Bass Buildup
Zero Bass Trapping
Zero Low Frequency Falloff or Buildup  |   Amplitude Free Frequency Response
Elegant and Aesthetic
Architectural | Envelope or Surface Mounted Solutions
Aesthetic | A Variety of Textile and Finish Options
Nature Based Mathematics
Fractal Scaling
Chaos Extrapolations
Tessellated Geometries
Fibonacci Sequencing
---
ZR SELECTOR  |  3 EASY STEPS

STEP 1:  Choose Style  |  ZR Permanent Construction
For the client looking for a seamless clean line acoustical space with ZR's Iconic LifeLike Imaging, Permanent Construction is an obvious option.  It follows the standard rules of architectural design and construction including:
Blueprints
Permits
Construction
Inspections
ZR Permanent Construction creates Purpose Built ZR spaces with revolutionary single wall construction only 6 – 3/8″ thick.   They are part of the structure;  immoveable and permanent.  Isolation and Acoustic Signature in one Single Wall Membrane.
STEP 1:  Choose Style  |  ZR PreFab
For clientele looking for re-usability and transportability with seamless clean line acoustical spaces, ZR Prefab delivers the iconic  ZR Experience; LifeLike Imaging and Wall to Wall Sweet Spots.  Prefabricated during the design process, Prefab is a non-linear process saving months off project timelines.  Manufactured in alliance with Clair Solutions and shipped worldwide, ZR Prefab offers all the benefits of ZR Permanent Construction with the ability to move one's studio with relative ease, amortizing the costs of a studio across a lifetime.  ZR Prefab requires:
Plywood Lined Room
ZR Custom Design
ZR Prefab Modules
Features and Benefits
New Spaces
Existing Spaces
Any Shape
Any Size
Reusable
Easily Transportable
STEP 1:  Choose Style  |  ZR Products
ZR SMD's (surface mounted devices) are concentrated, minaturized, versions of ZR Permanent Construction.  High resolution Quantum Acoustics™ technology enables quantization of audible frequencies with ultra-thin devices as thin as 3/4″.  A variety of shapes and sizes allow for any space to become a ZR Studio with the application of a CDL.
Features and Benefits
New Spaces
Existing Spaces
Mastering Quality Acoustics at a Fraction of the cost
Scalable Applications | 1 product – 1 million products
Wall Mounted
Ceiling Mounted
Track Mounted | movable over glass or wall openings
Free Standing
Ultra Thin
ZR Technologies
ZR Product Pricing & Comparison Chart
More Info and How to Buy
Additional Information
Acoustical Philosophy
ZR Acoustics® Products
ZR Pricing and Comparison Chart
Testimonials
---
ZR SELECTOR  |  3 EASY STEPS
yoooo 


STEP 2:  Choose Design  |  Custom Designs 
Applicable for Permanent Construction & Prefab Only
Classic | The Original ZR Design Paradigm | created during the late great Mike Shipley's private studio project.
Plus | Classic grade with additional finesse and polish | increased imaging with smoother more natural, organic sound.
Virtuoso | Expert Musicality and Perfect Technique with a Quantum Acoustics™ infrastructure.
STEP 2:  Choose Design  |  CDL [Custom Design Layout] 
Applicable for ZR Products only
Custom Design Layouts are the design paradigm by which we most accurately apply ZR SMD's for best performance.  Each CDL is designed to meet the particular applications of the space and type of usage.  They utilize the entire ensemble of ZR Products to achieve the Iconic ZR Experience including Life-Like Acoustical Imaging.
STEP 2:  Choose Design  |  Packages  |  ZR SMD Pre-Designed Packages  
Applicable for ZR Products only
ZR Packages are Pre-Designed CDL's scaled incrementally for both performance and value.  Sampler packages begin with just two SMD's while packages range from Front Wall Systems to Entire Room Systems.  CDL's are included gratis in the cost of ZR Packages, making them the best value.
---
ZR SELECTOR  |  3 EASY STEPS

STEP 3:  Choose Finish
Applicable for all Cloth Covered Products
• Tier 1 Textile included in the Base Price of all Cloth Covered Products
• Tier 2, 3 & 4 Textiles not included in the Base Price of all Cloth Covered Products. Upcharge Applies.
---
ZR Comics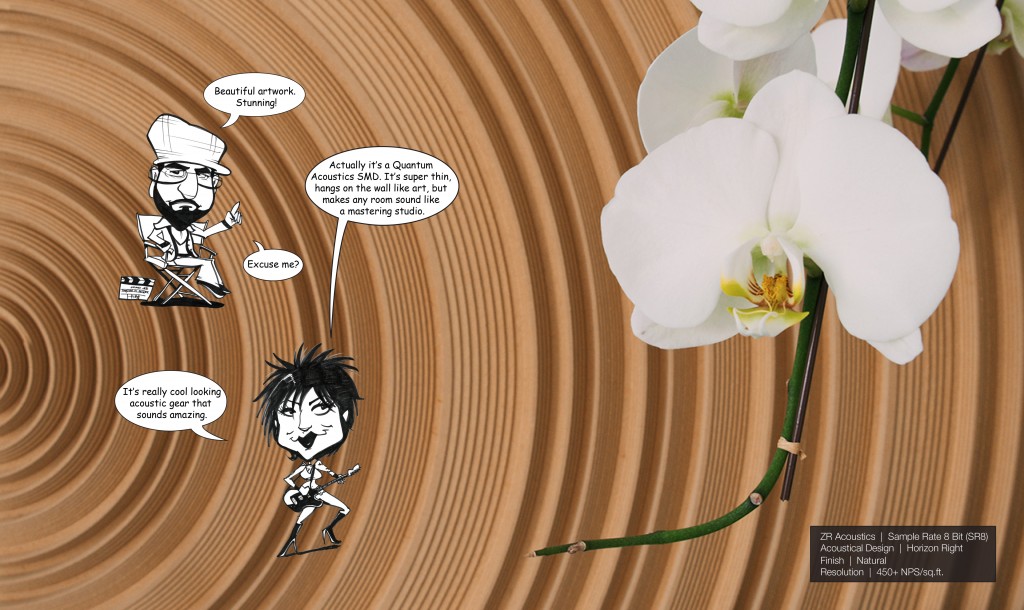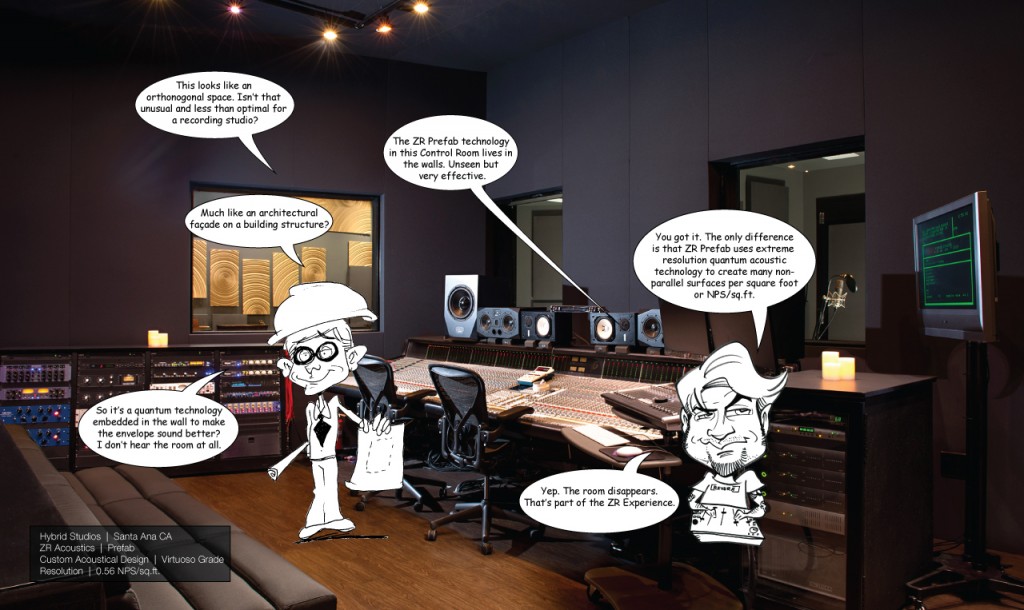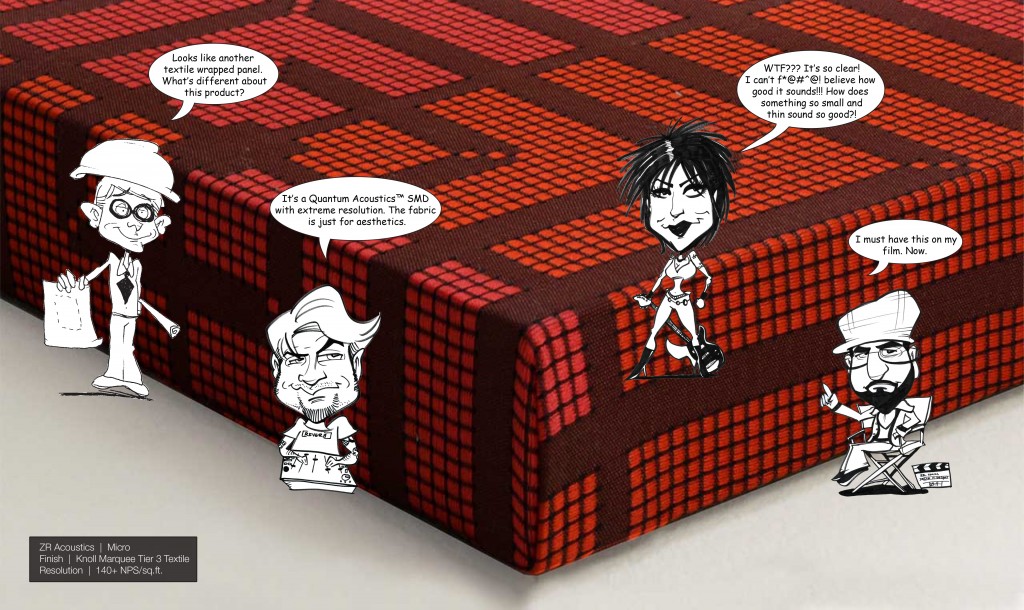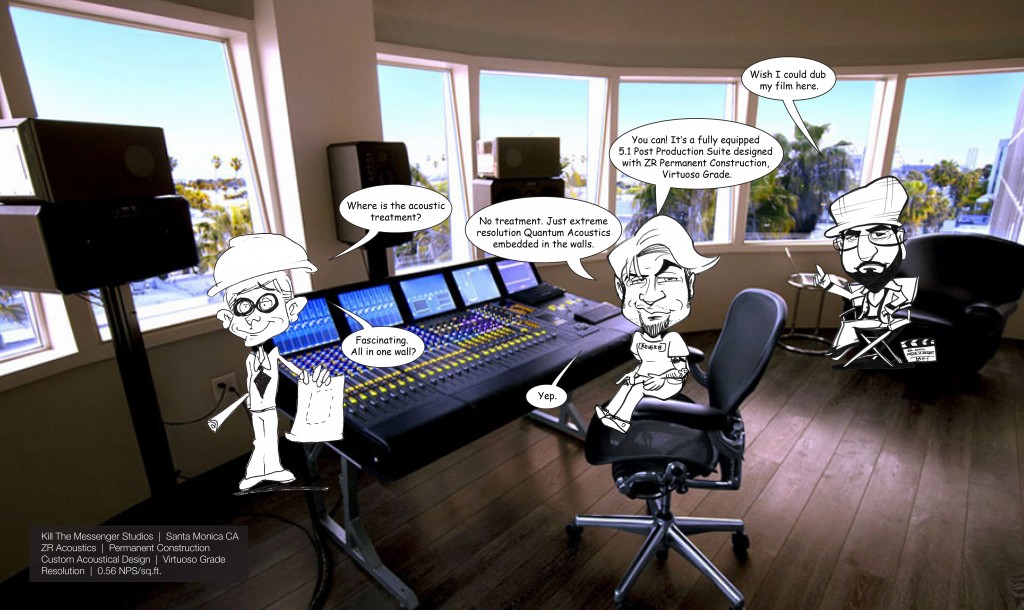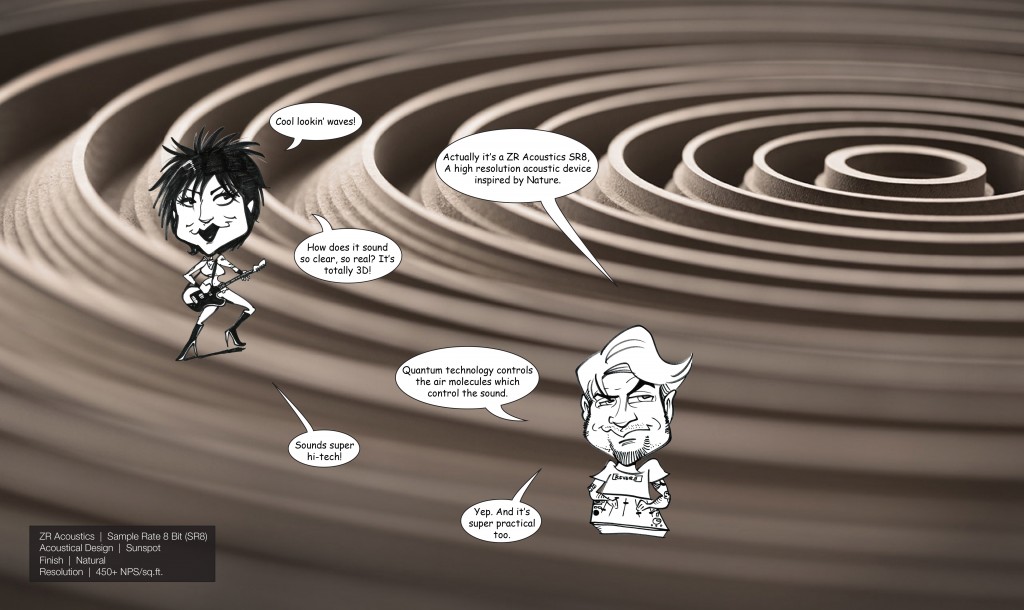 ---
ZR Acoustics®  |  The Ultimate Listening Experience  |  Q & A
1. What is Quantum Acoustics™?
a. Quantum Acoustics is a subset of quantum physics. It is the rules of quantum mechanics applied to acoustics (the movement of energy in air). Where quantum behavior was originally thought to apply only to subatomic particles, it is now believed to also exist in the larger realm of atomic and even molecular sized particles. Essentially, an air molecule can be in two places at once. ZR Acoustics® controls air at the molecular level thereby controlling all elements of sound such as frequency response, amplitude, timbre, phase and resonances.
2. How many types of products are there?
a. There are several families of ZR Acoustics® Products:
ZR Micro Technology
ZR Sample Rate Technology
ZR Hybrid Technology
ZR Nomad Technology
b. There are multiple products within each family:
1. ZR Micro Technology
• Micro Twin
• Screen
2. ZR Sample Rate Technology
• SR8
• SR12
• SR24
3. ZR Hybrid Technology
• SR8+
• SR24+
4. ZR Nomad Technology
• ZR Nomad 20' Control Room
• ZR Nomad 40' Control Room / Live Room
c. There are multiple acoustical designs within each product:
1. ZR Micro Technology
• Micro Twin
a. Sunspot
b. Black Hole
c. Toccante Up Right
d. Toccante Up Left
e. Toccante Down Right
f. Toccante Down Left
g. Loma Up
h. Loma Down
i. Horizon Right
j. Horizon Left
• Screen
a. L-90
b. R-90
c. C-180
2. ZR Sample Rate Technology
• SR8
a. Sunspot
b. Toccante Up Right
c. Toccante Up Left
d. Toccante Down Right
e. Toccante Down Left
f. Loma Up
g. Loma Down
h. Horizon Right
i. Horizon Left
• SR12
a. Sunspot
b. Toccante Up Right
c. Toccante Up Left
d. Toccante Down Right
e. Toccante Down Left
f. Loma Up
g. Loma Down
h. Horizon Right
i. Horizon Left
• SR24
a. Sunspot
b. Toccante Up Right
c. Toccante Up Left
d. Toccante Down Right
e. Toccante Down Left
f. Loma Up
g. Loma Down
h. Horizon Right
i. Horizon Left
3. ZR Hybrid Technology
• SR8+
a. Sunspot
b. Toccante Up Right
c. Toccante Up Left
d. Toccante Down Right
e. Toccante Down Left
f. Loma Up
g. Loma Down
h. Horizon Right
i. Horizon Left
• SR24+
a. Sunspot
b. Toccante Up Right
c. Toccante Up Left
d. Toccante Down Right
e. Toccante Down Left
f. Loma Up
g. Loma Down
h. Horizon Right
i. Horizon Left
4. ZR Nomad Technology
• ZR Nomad 20' Control Room
• ZR Nomad 40' Control Room / Live Room
3. What is a SMD?
a. SMD is an acronym used in electronic integrated circuit technology that stands for "Surface Mounted Device". We use it to describe all wall mounted ZR Acoustics® Products as they both originate in quantum mechanics and exhibit high performance in a very thin package with complex internal designs. This includes the ZR Micro and ZR Sample Rate family of products.
4. What is a CDL?
a. CDL stands for "Custom Design Layout". Like microphones, SMD's are very accurate by design and require a specifically designed layout of SMD's to utilize in to achieve the iconic ZR Acoustics® experience.
5. Are ZR SMD Packages pre-designed with CDL's?
a. Yes, all SMD packages include a complimentary Custom Design Layout. The packages are designed for any standard room. For clients with unusual acoustic challenges we recommend a CDL designed specifically for your space and budget.
6. What budget range are ZR SMD's effective in?
a. $1400 and up. Minimally we recommend at least two SMD's to start with. As the ZR effect is scalable, more surface area coverage equals more effect. See the ZR Products page to see all our ZR Packages.
7. Can I buy a variety of products or just packages?
a. Either. For best results we recommend using an SMD Package with a complimentary CDL. Alternatively we recommend a CDL tailored to your space and specific usage.
8. Can I modify a ZR Package?
a. We do not recommend modifying packages without expert guidance by a trained ZR acoustician. The packages have been designed for maximum performance using highly accurate SMD's with a variety of designs. Any incorrectly applied SMD's can result in less than a perfect ZR Experience.
b. If you need to modify a ZR SMD package for your room, one of our senior acousticians and architects will draft you a new CDL.
9. Will only 2 SMD's be effective in my room?
a. Absolutely. All of our products are scalable. More surface coverage means more effect. Consequently, the associated sweet spot is also relative and sized to the amount of surface area covered: More SMD's equals more surface area covered which equals a larger sweet spot (wider, deeper, and taller).
10. How do I order my fabric?
a. Once an order is received, the first step in the manufacturing process is to order fabric. To expedite the process, we send textile samples for review from our cloth brochure before an order is placed.
b. Typical process for choosing fabrics is as follows:
1. Review digital cloth brochure.
2. Choose up to ten (10) samples.
3. After reviewing samples, finalize textile choice.
4. Once order is placed, textile order is processed with the product order.
5. Product arrives at clients location wrapped in the final selected textile.
11. Which acoustical fabric is used on the products in the Lynda.com interview?
a. Kimono Temari.
12. Can I stain/paint Sample Rate family products?
a. We do not recommend treating any of the Sample Rate family of products with anything as it changes the porosity of the material, lowering the overall performance of the product.
13. How can I purchase ZR products?
a. Direct
1. info@deltahdesign.com
2. (310)-581-2331
b. Dealers
1. Lift AV
2. GC Pro
14. How long does it take to receive my order?
a. 4 – 6 weeks if in stock.
b. 5 – 8 weeks standard.
15. How are products shipped?
a. Products are currently all shipped on palletes via freight.
b. ZR Micro sampler and ZR SR+ Sampler packages can be shipped via Fedex or UPS.
16. Do you ship internationally?
a. Yes. We ship anywhere worldwide.
b. International Shipments require standard Customs and Duty brokerages.
17. Do you do custom graphics?
a. Absolutely. Selected images from the Shawn Frederick Fine Art portfolio are available printed on custom acoustic cloth for an up charge (http://www.frederickphoto.com/)
b. In addition; personal imagery can be printed onto the same custom acoustic cloth, as long as the resolution of the provided image is 600 dpi.
c. Please contact us directly for a custom image quote at info@deltahdesign or (310) 581-2331
18. How heavy are the products?
a. ZR SMD's are very light and very thin. The lightest SMD's weigh only 10 lbs. and the at the other end of the spectrum ZR Screens weigh only 23 lbs. for over 32 sq. ft. of ZR coverage. The weight of ZR SMD's range from 1.4 to 2.75 lbs/sq.ft.
b. For more information please see the DHDI Product Comparison Sheet | ZR Product Pricing & Comparison Chart >
19. Where can I experience ZR Acoustics in person?
a. We can arrange a listening demo in Marina del Rey, Hollywood, or the Studio City areas of Los Angeles. Outside the greater LA area please contact us directly to set up a ZR listening demo.
20. How are ZR SMD's fastened to walls and ceilings?
a. Panels are fastened in four different fashions:
1. Z-Clips
• Mirco Twin
• SR8+
• SR24+
2. Direct fastening through the product to the wall
• SR8
• SR12
• SR24
3. Ceiling mounting plates
• Mirco Twin
• SR8+
• SR24+
4. Tracks or Grommets
• ZR Screen
21. Do you design custom panels?
a. Every one of our products is a custom designed, acoustically specific, surface-mounted device. Each product has anywhere from 3-10 custom designs. The combinations using our entire product line allow for any size any shape room to be rendered aurally undetectable.
b. In the event that your situation requires a custom solution, please contact us directly to discuss a tailored acoustical consultation for your needs.
22. What is inside a ZR SMD?
a. Ubiquitous, every day, materials. Each and every ZR device is intentionally designed with extreme acoustic resolution and higher order mathematics for maximum acoustical performance.
23. Are ZR Quantum Acoustics products expensive?
a. No. Actually, they're incredibly inexpensive for what they provide.
b. As it's impossible to compare apples to apples, we must use the only metric available for Acoustical Performance, NPS/aq.ft. ZR SMDs are 14,000 times to 45,000 times the acoustic resolution of traditional designs and products and yet they aren't 14,000 times the cost.
c. ZR utilizes Quantum Acoustic Technology which controls air at the molecular level. It is a one of a kind, unique technology.
24. What do SMDs do?
a. ZR SMD's control the air molecules on which the sound waves ride. They are miniaturized versions of our ZR Permanent Construction Studios and exhibit the same ZR iconic characteristics including: Lifelike Aural Imaging, wall-to-wall sweet spots and natural organic frequency response. The result is extremely effective, extremely thin SMD's with broadband effects resulting in dramatic aural imaging and performance.
25. Do ZR products work in conjunction with other acoustic products?
a. Absolutely. Whether you replace your existing with an entirely new ZR system or ZR Products mixed with your existing traditional acoustical products, your imaging, dimensionality and timbre will all improve.
b. ZR products will work flawlessly with other acoustical products and still produce the iconic ZR characteristics. At a certain point in order to achieve maximum ZR performance, all non linear acoustical devices should eventually be replaced with ZR SMD's.
26. Why does DHDI often recommend that ZR Products be placed behind the speakers?
a. In order to achieve LifeLike Acoustical Imaging, complete phase accuracy and wall to wall sweet spots, we recommend ZR SMDs on the front wall with your speakers directly up against them. This forces the first reflection to be the front wall and allows us to quantize the air between the speaker and the front wall, therefore removing all phasing issues in secondary, tertiary and quaternary issues downstream. To achieve the ultimate ZR experience, proper room tuning is required.
27. What are the differences between the packages?
a. The effects of ZR Acoustics® are scalable in a fractal manner. The more surface area is quantized, the more ZR effect occurs. In other words, more surface area means better performance. Packages offer freedom of choice, ranging from samplers with just two SMD's (minimal surface coverage) to SMD Package #9 which has the most coverage of any ZR package. As the model numbers increase, so does coverage and consequently, performance. Packages are an excellent value as they all include a complimentary CDL (Custom Design Layout). For maximum surface coverage and maximum performance please contact us with your dimensioned blueprints for a custom quote.
28. Is it possible to buy a package and then add onto it later?
a. Yes. The intention behind packages is to offer a value-based ZR experience with mastering quality acoustics for a fraction of the price of building a traditional studio. You can add on to any package and increase the performance of your room as your needs change. Just contact us for a new updated CDL which will work seamlessly with your existing package.
b. As all SMD's are easily moveable, existing packages can also be utilized into larger ZR systems for greater effect.
29. What does an SMD package include?
a. Each package includes:
1. ZR Products made with your choice of custom textile. (where applicable)
2. Z Clips for mounting ZR Micro Twins, ZR SR8+'s, or ZR SR24+'s.
3. Installation Diagram.
4. Ceiling Mounting Plates (when applicable)
5. Complimentary CDL (Custom Design Layout)
30. Is there acoustical test data on the products?
a. Absolutely. Independent test data clearly shows that ZR technology effects amplitude and frequency across the entire spectrum of human hearing from 16hz upwards.
b. Our testing occurs in test facilities such as NWAA labs in Washington state and real world testing at Universal Mastering Studios and a variety of facilities designed with the ZR paradigm.
c. Software systems used in our testing includes but not limited to:
1. EASE
2. Bruel and Kjaer
3. Spectrafoo
31. Is there a measure of Imaging and Dimensionality?
a. Subjectively Yes. The human brain and associated hearing mechanisms from the ear to the cochlea are capable of discerning minute variations in height, width, depth and imaging. The Golden Ears of the entertainment industry are the reference by which we measure these parameters.
b. Technically No. There is no scientific measure of acoustical height, width, depth or any aspect of Imaging and/or Dimensionality.
We continue to research methods to objectively and scientifically test, measure and quantify critical elements of the human auditory experience including:
1. Imaging
• Height
• Width
• Depth
2. Dimensionality
3. Realism
4. Timbre
ZR Acoustics®  |  The Ultimate Listening Experience