Project Location: Mesa, Arizona
Product Type: ZR Screens, ZR Cloaks
Services: Acoustical Design, Architectural Design, Technology Design
Owner / Client: John Aquilino
Project Consultants
DHDI Acoustical Design
DHDI Architectural Design
DHDI Aesthetic Design
Ken Hirsch | Console Restoration | Orphan Audio
Pro Audio Legend Phil Dudderidge created only 10 large format analog audio consoles, beloved worlwide for their clarity, definition and unique sound.  The largest Focusrite console ever manufactured now resides at The Focusrite Room in Mesa Arizona.  Originally commisioned for Bop Studios in South Africa, Focusrite #5 has travelled the globe to it's new home nestled in ZR Acoustics® Screens and ZR Cloaks.
Designed as a hybrid studio, the ZR Acoustics® in The Focusrite Room adapts to tracking mode or mixing mode in seconds. This acoustic flexibility allows for a greater creativity and freedom in music production.
With a Wall-to-Wall Sweet Spot and Unmatched Acoustic Clarity, DHDI worked extensively with Owner John Aquilino to create a Music Studio with a Wall-to-Wall Sweet Spot and Unmatched Acoustic Clarity.  It's unique design allows for both mixing and tracking in one acoustics space.  Architecturally, this futuristic studio space creates a cool vibe imbued with a modern Space Age Aesthetic.  The Future of Studios blends the best of both old and new in one elegant beautiful room.
Honored by Mix Magazine's Class of 2022, The Focusrite Room hybridizes traditional Analog electronics with Quantum Acoustics.
Gallery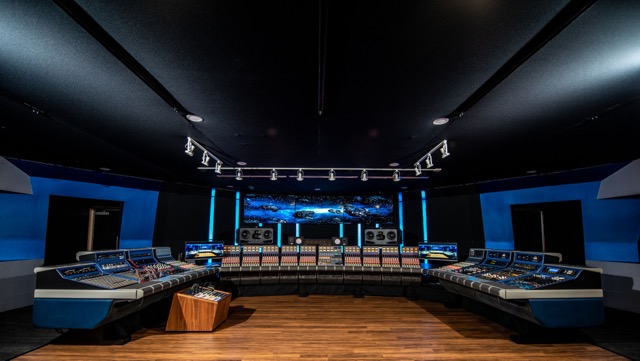 ---

---
ZR Acoustics®      |      Quantum Acoustics       |       Products       |       ZR Live!      |      Testimonials      |      Contact
---
Key Audio Equipment
ADAM Audio S5H
Avid Protools HDX | Protools 2023.3
Antelope Audio Orion 32 HD Converters
Focusrite Red Converters
Avid Purple Converters
Large Variety of Vintage Analog Outboard Gear