There is a fine line between the paint and the painter, the muse and the artist, the inspiration and the art.
Van Gogh was a visionary with a vivid memory for how light fell across landscapes and people.  And then there was his unique skill with a brush leading to inspired works of art.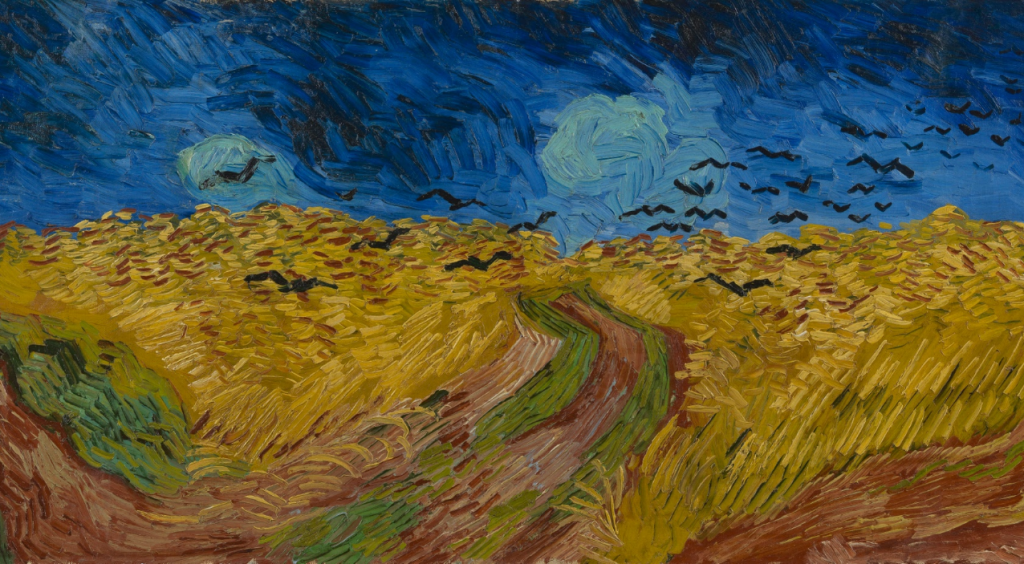 Mozart had an innate sense of chords, tonality and tempo at the age of 3.  He composed one of his first early works at age 5 and transcribed the entirety of Gregorio Allegri's Miserere from memory at age 13 after hearing it only once.
DaVinci invented many things: the helicopter, the flying machine and the ideal city to mention a few.  Yet perhaps his greatest gift was that of observation.  His ability to see a need combined with his understanding of how things worked led him to invent ideas to solve the problem.  Davinci was perhaps the most famous renaissance man in history.
In modern culture we admire and exalt phenomenal skill in one area.  It seems lately that the renaissance man is no longer of any importance.  Perhaps, it is because we see so few renaissance men than before.
Van Gogh mixed his own paints and built his own canvasses.  Mozart wrote everything from scratch. (though his muses may argue with that)  Davinci designed, built and created everything from music to flying machines.
The father of modern day acoustics, George Wallace Sabine was a physicist at Harvard who never got his PhD and never had any interest in sound.  Before any understanding of the science of sound existed, he deduced that the soft seat cushions in a "good" sounding theatre had a measurable impact on what he called the "reverberation" of a lecture hall's sound.  For several years Sabine and his staff tested the impact of various materials in the Fogg Lecture hall by trial and error using a pipe organ and a stopwatch.  Before materials science was a field of study and creating the field of acoustics as a means to an end, (fixing Fogg Hall) Sabine was in his own way a junior renaissance man.
Acoustics is incredibly fascinating and fun.  It lives at the heart of music, gives us the nightingale's song, wind through the trees, animal's purring and the sound of the ocean gently caressing the shore on a moonlit night.   If light and sound were languages, sound would be the more romantic of the two, if nothing else because of it's inherent relationship with music and the entire universe of emotion and inspiration which it holds.
Yet acoustics is harsh mistress.  It's demands are high and the rewards are comparatively low.  One must sacrifice a great deal to achieve anything.  It is genetically and inexorably tied to architecture, interior design and most significantly, materials science.  Like architecture and interior design, much of the performance of acoustics is measured subjectively.  One man's castle is another's trailer.  As so much of acoustics is centered around the creative arts, the subjectivity of music, opera and theatre bleeds into the success and approval of acoustics.  Unlike other creative arts where one wrong note or one brush stroke out of place may go unnoticed by all but experts, one wrong element in acoustics can be the downfall of an entire soundscape, often with calamitous outcomes.
As an art, it is like painting.  Demanding and harsh when presented with mediocrity, yet exalted and inspired in the presence of true beauty.  As a field of scientific engineering, acoustics is a complex set of mathematics with too many pieces missing:  how to isolate sound at ALL frequencies with thin, strong yet pliable materials, how to create thin, beautiful membranes to render walls inaudible.  Perhaps with the recent emergence of quantum acoustics, Harry Potter's cloak will be renamed the "cloak of inaudibility".
We see a future where the world sounds better by design.  A world where acoustic wallpaper is as ubiquitous in architecture and building as glass windows and walls are today.  A future where within the loudest environments, you can speak normally and be heard clearly.  A planet where societies are mesmerized by the sound of a city, and the timbre of a forest.  We see this future with great anticipation and invite you to join us.
Peace, – H