ZR Acoustics®
---
The Ultimate Listening Experience
Pure Clarity    |     Life-like Imaging    |    Elegant Aesthetics   |    Impeccable Intelligibility     |    Wall to Wall Sweet Spots
Acoustics is the new frontier of human experience.
Quantum Acoustics™ has ushered in a new era of sensory perception. Pure clarity with life-like imaging, immaculate intelligibility and wall-to-wall sweet spots are the new reference standards. For the first time in history, any space can possess sound with natural, three-dimensional imagery, free of audible issues or acoustic anomalies.
A uniquely realistic sense of clarity is created, where every room has an audible sense of imagery, spaciousness and air.  Sound becomes extra-ordinarily clear, just as in nature.  Aural imaging is so realistic that indoor spaces are indistinguishable from the natural sound and feel of the great outdoors.
At the heart of this revolutionary new design paradigm is Control of Air.  As sound rides on air, control of air means control of all sound.  This is made possible by applying the well known characteristics of quantum physics to air molecules.
Complete and total control of an environment's sound is the new reference standard in acoustics.  All sound issues cease to exist, using lightweight quantum devices, and without the use of any electricity or power.  This new standard gives everyone the freedom to transform interior spaces from loud, reverberant, and unintelligible into quiet, natural, pleasant and clear areas.  They become clear, natural and intelligible. Interior walls, ceilings, floors, windows and doors become completely inaudible.  Unlike ever before, interior spaces can be free of all negative acoustic anomalies.
Requiring Zero power, Zero apps and Zero software, ZR Acoustics® is clean, elegant and aesthetically pleasing.   ZR is an easy to use, intuitive technology designed to make our lives sound better:  one sound, one symphony, one conversation at a time.  ZR Acoustics® at Lynda.com with Bobby Owsinski.
Watch interviews with CJ Vanston, Ron McMaster Pete Doell and others share their feelings about Quantum Acoustic Technology on DHDI Profiles.  See what Grammy award winning producers and engineers say about ZR Acoustics®.
---

---
ZR Acoustics®  |  The Ultimate Listening Experience
DESIGN
The revolutionary technology behind this uniquely audible experience is ZR Acoustics®.  ZR technology lives everywhere the highest level of performance in acoustics are desired:  Hyperloop, Universal Music Group, Microsoft, U2, LinkedIn, Cher, Yahoo Music, Kanye West and many more.  ZR Acoustics® is a design paradigm, germane in design architectural acoustics, prefabricated acoustics and quantum acoustic devices. The name ZR is an acronym for Zero Reflections, the underlying principle of the paradigm.
By design, ZR environments are elegant, comfortable, and aesthetically pleasing.  The ZR design paradigm is available in three formats:  architectural design (Permanent Construction), prefabricated wall systems (Prefab) or surface mounted wall devices (SMD's/Products).  All ZR designs and devices are imbued with Extreme Acoustic Resolution which is the foundation of ZR Technology.
Zero Reflection Technology is powered by Quantum Acoustics™, rendering all hard surfaces inaudible:  walls, ceilings, floors, windows, doors.  It is now understood that both electrons and air molecules exhibit quantum behavior, and consequently obey the same rules of quantum physics.  Using this science, ZR Acoustics® eradicates the most egregious acoustical issues, including:  poor intelligibility, resonances, reverberation, echoes, standing waves, bass building up in corners and continuously variable frequency responses at different amplitudes.
Reflections are the root of acoustical issues.  Without reflections, acoustical issues simply cease to exist.  Hard surfaces are rendered in-audible, while imaging transforms, becoming life-like with ultra-clear intelligibility.  ZR controls air at the molecular level, making issues and anomalies vanish before they have a chance to exist.
The ZR Acoustics® paradigm was designed for creativity and based in science.  Like a finely tuned instrument, ZR products are all handcrafted from quality materials, using the best tools available, starting with a good ear and a deep understanding of the craft. From 3D laser scanners and AutoCad to pen and paper, designs begin and end with the ethos of audibility and aesthetics.  A space must sound and feel clear, comfortable and beautiful to the eyes and ears.

Pictured here:  ZR Cloaks (without ZR Barn Doors or suspension frames)
APPLICATIONS
Uses for ZR are widespread across a wide variety of fields.   Most notably;  virtual production, architecture, transportation, entertainment, aerospace and health.  Architectural environments benefit from quantum acoustics in residences, offices, hotels, restaurants, spas, hospitals, senior facilities, transportation hubs and conference centers.  Creating environments with a sense of expansiveness is of enormous benefit to the transportation industry in automobiles, airplanes, bullet trains, buses, yachts and cruise liners. In the entertainment industry, life-like imaging has a myriad of uses including music, film, television, production, post-production, virtual reality, internet production facilities or any space used to create original content. The aerospace industry's requirements for lighter, faster technologies with the most demanding performance criteria has many obvious applications from satellites to drones and manned spacecraft.  The ZR MultiVerse has solutions from brick and mortar designs to lightweight, portable devices.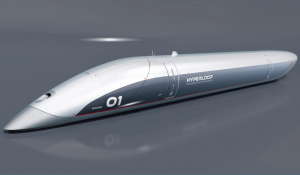 ZR EXPERIENCE
ZR environments feel spacious and expansive, like a quiet beach or grassy field. Sounds are clear and defined, even at a soft whisper or a deafening scream.  Physiologically, ZR causes less hearing fatigue, as it creates greater clarity without the need for greater volume.  Lower volume lowers blood pressure and cardiovascular stress.  The holistic results are healthier, more peaceful environments for people to live and work in, even when editing audio for a loud action film or mixing sound at a rock and roll concert.  The human mind and body operate at higher levels of performance when exposed to less acoustical stress.  Long term exposure to ZR increases hearing performance and mental processing of audio signals.
HISTORY
Originally a design paradigm for recording studios and architectural acoustics, the ZR Acoustics®  is the culmination of decades of research, testing and real-world experimentation.  With insight from the golden ears of the industry, ZR was intended as architectural acoustical design to create Mastering Lab Acoustics.  Zero Reflection Acoustics is now a line of quantum acoustic devices in addition to being the original paradigm for designing architectural acoustics.  The application of quantum physics to the field of acoustics was a revolutionary leap forward in studio design.  Driven by the need and repeated requests of the industry, the design concept evolved into products so closely resembling the performance of electronics that they are referred to as devices.
Resolution increased exponentially, frequency response extended beyond the range of human hearing, mass dropped to a incredibly light one pound per square foot and devices are thinner than phones or paintings.  (ZR Drapes = 2mm thick, ZR Hybrids and Micro Twins = 1 – 1/4″ thick)  By using the principles of quantum physics to control air at the molecular level, any sound or other energy riding on air molecules can be controlled in totale' with the right ZR design or ZR device.
Zero electricity, Zero bass traps, Zero foam, Zero fiberglass, Zero issues, ZR Acoustics  |  The Ultimate Listening Experience
---
ZR Acoustics®    |     Quantum Acoustics     |     Q & A     |     Comparison Sheet     |     MultiVerse | Portfolio    |     Contact Us
---

---
Life-Like Imaging  |  Spherical Imaging
The technology to achieve the ultimate goal of every audio recording is now a reality:  capturing and playing back the sound of a live performance in the real world with absolute accuracy.  Whether it be a mix, movie, band, orchestra or home video, every detail, nuance and subtlety of how the real world sounds can now be preserved as if the moment were frozen in time.  All the sounds of music, dialogue and real life captured perfectly;  ready for editing, mixing and mastering.  We call this Life-Like Imaging or Spherical Imaging.  ZR Acoustics® is the technology which makes this Immersive Sound possible.
ZR Acoustics® operates without the use of bass traps, electricity or power.  Consequently, it uses no DSP, EQ, Plug-Ins or software.  All ZR designs and devices/products are passive, relying on quantum physics, meta-materials and extreme acoustic resolution.
---
Wall-to-Wall Sweet Spots
An iconic characteristic of ZR Acoustics®, Life-Like Imaging exists everywhere in ZR spaces from wall-to-wall;  front to back, side to side, standing or sitting.  Natural, organic. consistent Imaging regardless of position in the room is standard with ZR Permanent Construction, ZR Prefab, and ZR Products (with 100% coverage).
This is achieved thanks to Quantum Acoustics™ without the use of DSP, EQ or bass traps. All ZR designs and devices are passive and use Zero electronics and Zero power.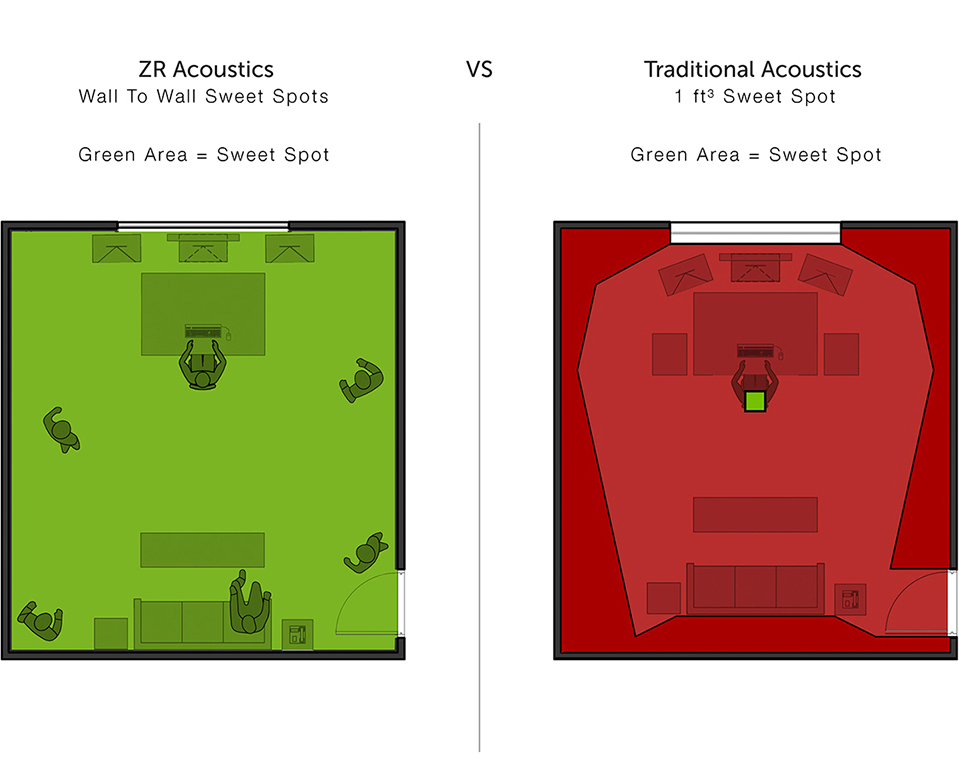 ZR Acoustics® Sweet Spots
Red Dot Traditional Sweet Spot Size
Blue Circle ZR Acoustics® Sweet Spot Size
*Click above images to enlarge
Learn more about the Creator Series
---
Extreme Acoustic Resolution  |  NPS/ft.2 
(L – R:  Low Resolution Image, High Resolution Image)
Acoustic Resolution is like Image Resolution.  Higher resolution yields greater performance, as evidenced in Nature and revealed by Science.  DHDI pioneered the concept that resolution in Quantum Acoustics™ is measured in Non-Parallel Surfaces per Square Foot or NPS/ft.2.  NPS or Non-Parallel Surfaces denotes the number of surfaces in a room or device which are not parallel to the plane of the surface or device at a specific, minimum angle.  Acoustic Resolution directly effects Imaging and Performance when utilized in ZR Acoustics® designs.  Related to imagery, NPS is like DPI (dots per inch).
In order to keep everything sounding organic and natural, listening tests with the "golden ear" of the industry are performed after using several types of mathematics in the design process.  Primary mathematical systems used to create high degrees of NPS's include Fractals, Chaos Theory, Tessellation and the Fibonacci sequence.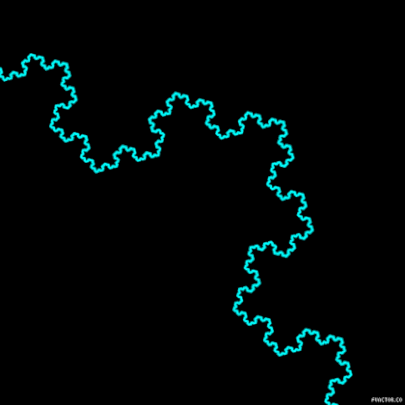 Fractals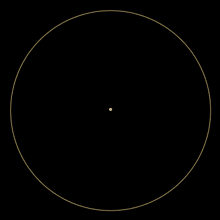 Chaos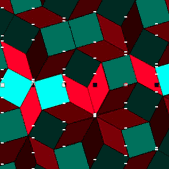 Tessellation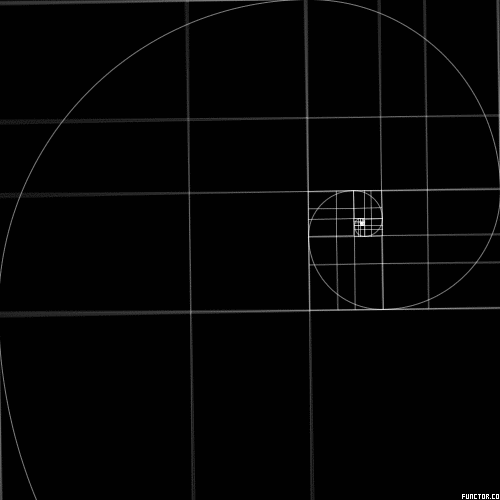 Fibonacci
While Quantum Acoustics™ is complex to design, Acoustic Resolution (NPS/ft.2) is easy to calculate. First, count all non-parallel surfaces in a space. Then calculate the surface area of all the walls and ceiling in square feet (excluding the floor). Divide the number of non-parallel surfaces (first number) by the total surface area of the room (second number) and you have Acoustic Resolution in NPS/ft.2
Mathematic Examples:
A typical traditional recording studio has on average, 12 large, non-parallel surfaces in a space with a total surface area of 1000 ft.2 (20' x 15' x 10').  Divide 12 non-parallel surfaces / 1000 square feet and the result is an Acoustic Resolution of 0.012 NPS/ft.2.
Quantum Acoustics™ functions on a different level.   The lowest grade ZR Acoustics® studio (Permanent Construction) with 320 non-parallel surfaces and a total surface area of 572 square feet (14' x 10' x 9') resulting in an Acoustic Resolution of 0.56 NPS/ft.2  (320 non-parallel surfaces / 572 square feet).  With ZR devices at 100% coverage, resolution can be 450 NPS/ft.2 with SR24+'s and even as high as over 9200 NPS/ft.2 with ZR Nano devices.   Higher resolution means higher performance, higher performance means Life-Like Imaging, Wall to Wall Sweet Spots and Extraordinary Clarity.
---
Phase Coherency
Higher Phase Coherency creates Life-Like Imaging with extraordinary clarity and ultra-high acoustic definition. The ZR Acoustics® design paradigm begins with the premise that direct, line-of-sight sound without any reflections result in 100% Phase Accuracy.  To achieve this high level of Phase Coherency, ZR must be applied strategically according to precisely crafted designs.   When sound comes into contact with a ZR wall or device, the sound does not return.  ZR quantizes the air molecules, forcing them to behave as individual particles and not waves, consequently removing sound energy and increasing phase coherency.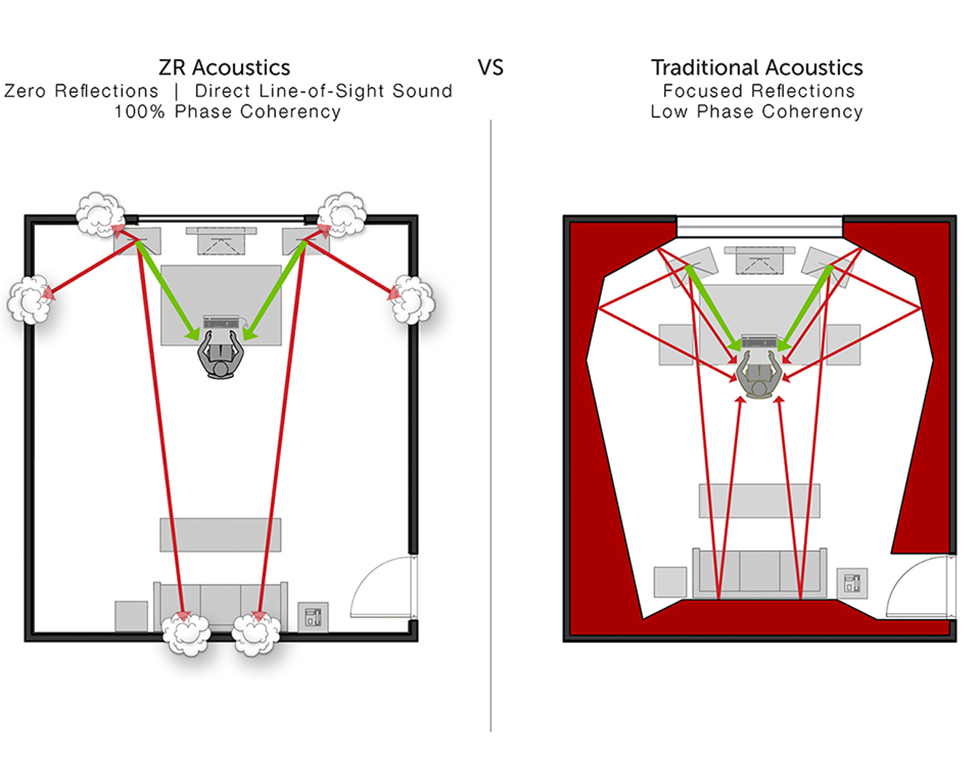 ---
Ultimate Use of Space 
The ZR design paradigm is either embedded into walls or in ultra-thin, surface mounted devices. (SMD's)  This leaves rooms with a 100% full size, floor plan.  Zero loss of space with any version of ZR.  The size and shape of a space become irrelevant as Life-Like Imaging is possible in rectangular, square, semi-circular or even round spaces.  Even glass becomes inaudible. (see KTMS Studio A) All the required acoustical mathematics and technology can now fit into a standard stud wall depth (3-1/2″) or in quantum surface mounted devices. (3/4″ to 1-1/2″)
Any space of any shape or size can have Life-Like Imaging and produce world class recordings with mastering quality acoustics with the application of the ZR design paradigm powered by Quantum Acoustics™.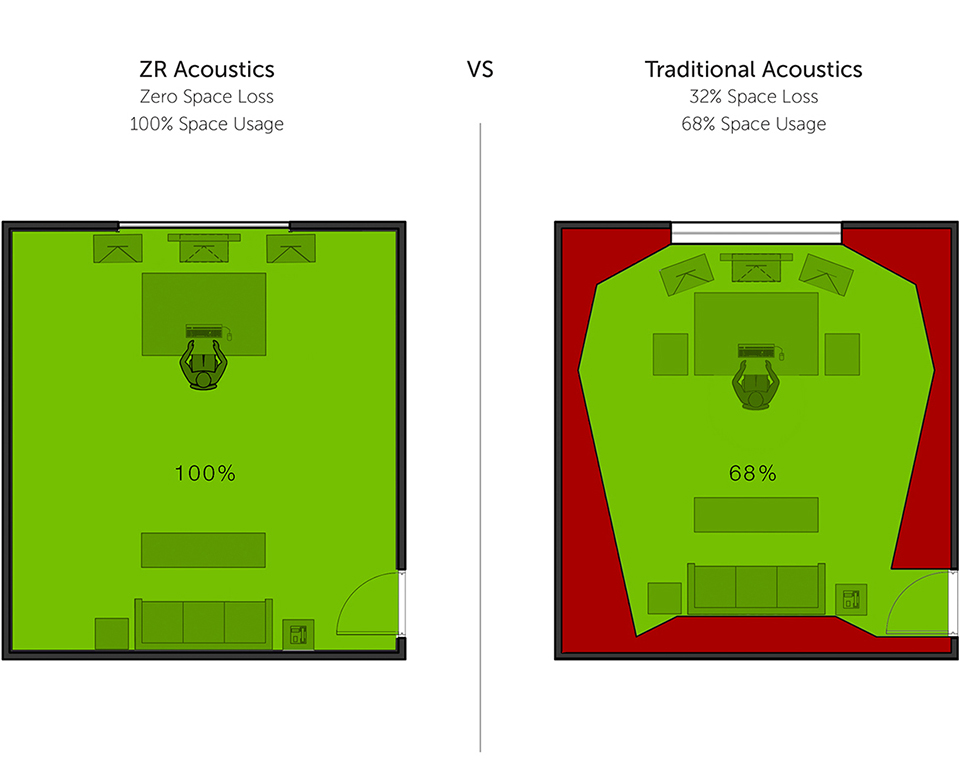 ---
ZR Acoustics®    |     Quantum Acoustics     |     Q & A     |     Comparison Sheet     |     MultiVerse | Portfolio    |     Contact Us
---
Quantum Acoustics™
Quantum Acoustics™ is quantum physics applied to air molecules, and consequently has a dramatic and profound effect on sound energy and the propagation, perception and cognition of sound. Examples of effects include broadband control of audible sound in ultra-thin 1″ devices, dramatically increased intelligibility, immersive spherical imaging and acoustic cloaking.
What we know
…is that specific characteristics of quantum acoustics are repeatable, reproducible and perceivable in both the laboratory and the real world. The cause and effect between these characteristics and applied quantum physics is dramatic, clear and obvious. It appears that acoustics follows the same rules which have governed electronics for over 100 years:  resolution, geometry and mathematics far outweigh the effectiveness of mass and density.
Traditional acoustics based in classical mechanical physics have no explanation for how these traits can exist, despite constant, repeatable and reproducible behaviors. For example, how long wavelengths of sound can be controlled with a flexible, 1″ thick acoustical device. (ZR Micro Screen) To find answers, DHDI consulted with the experts.  They are all leaders in the field of applied and theoretical physics and strangers to each other. Each one was given identical copies of laboratory test data performed by an independent third party testing lab. Independently, they were all given a listening demonstration of ZR Acoustics® . After reviewing the test data and experiencing ZR in person, they were all asked a simple question:  how do you explain this type of acoustical behavior?  Nearly a year later, every physicist responded within a week of each other with identical remarks:  "these phenomena are not explicable by classical mechanical means but only by quantum acoustics".
The role of cutting edge research is to constantly bridge the gap between theoretical ideas and the real world. Recent experiments show that quantum physics applies to even biological cells which are the size of planets compared to electrons. As physicists continue to unveil the underlying secrets of how these widespread phenomena occur, the potential applications are limitless:  acoustics, biology, teleportation, health, architecture, and many more.  Recent experiments in quantum physics show that behavior which was previously limited to sub-atomic particles is actually widely applicable in other areas. For instance, several areas of biology such as smell, photosynthesis and bird migration are now proven to be governed by the rules of quantum physics.  (see references below) This gives us a better understanding that if quantum physics can effect such complex and large things as biological cells, it can also effect smaller, simpler molecules such as air which are somewhere between the size of an electron and a biological cell.
The ZR paradigm is embedded with higher order mathematics, complex topologies, and Extreme Acoustic Resolution to achieve quantum behavior.  Quantum Physics and wave particle duality were proven to be a reality in the early 1900's. It is the basis for the entire Era of Electronics. The concept is that until they are observed, electrons can behave as waves, as individual particles or as both at the same time. ZR Acoustics® creates the proper environment to control the behavior of Air molecules, forcing them to change from wave fashion to individual particle fashion. When Air molecules behave as individual particles (i.e. no wave behavior), sound energy has no medium to ride upon. Like a radio signal without a carrier wave, the sound simply ceases to exist. In conjunction with precise designs, this effect dramatically increases Phase Coherence, consequently improving both imaging and spaciousness.
"If I were not a physicist, I would probably be a musician. I often think in music. I live my daydreams in music. I see my life in terms of music." – Albert Einstein
NOVA Einstein's Quantum Riddle
60 second video explaining Wave Particle Duality by minutephysics.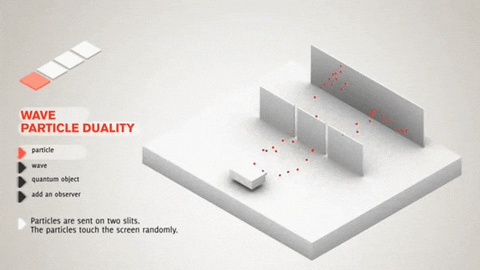 Air is fluid.  For people, sounds needs air to travel on as a carrier.  Without air, we cannot hear sound.  The study of how air moves as a fluid and a carrier is key to understanding how to control the sound riding upon the air.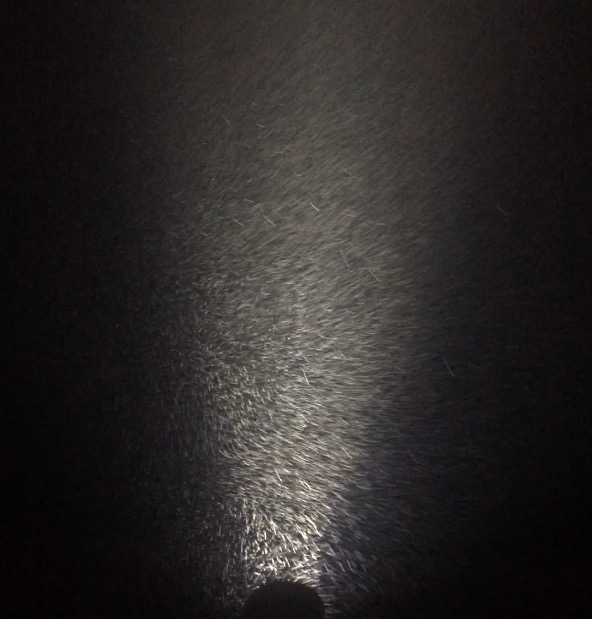 What we don't know
…is the minutia and underlying reasons for every detail of how quantum mechanics effects air molecules.  How does quantum physics achieve such dramatic and unusual control of particles, cells and objects larger than an atom? Until recently, quantum mechanical behavior was understood to be limited to sub atomic particles such as the electron, the proton and the neutron.   In practice, quantum acoustics is very much like electronics in the early 1900's:  designers, engineers and technicians were building electronic devices every day with repeatable, reproducible results while Einstein, Planck and Bohr were debating the inner workings of the universe via theoretical quantum physics. Quantum Acoustics' effects and performance are repeatable and reproducible every day, while physicists continue to discuss the theoretical concepts of dark matter and the theories of a quantum universe.
Notable research on Quantum Physics in these areas:
---
ZR Acoustics®  Overview  |  The Ultimate Listening Experience
Life-Like Imaging | Spherical Imaging
Extraordinary Clarity + Ultra-High Definition
Wall to Wall Sweet Spots
Immersive Sound
Natural, Organic Frequency Response
Applications
Architecture | Commercial, Residential, Hospitality, Medical, Worship
Transportation | Airplanes, Automobiles, Yachts, Airships, Trains, Mass Transportation
Entertainment | Performance Halls, Music, Television, Film, Broadcast, Internet, Gaming
Advanced Technology
Quantum Acoustics™
Extreme Acoustic Resolution (NPS/sq. ft.)
Nature Based Mathematics
Freedom from Limitations
Any Size Room
Any Shape Room
Any Surface
Any Speaker
Any Equipment
Zero Power Required | Passive
Zero Electronics Required | Pure Organic Acoustics
Zero Room EQ
Zero Loss of Square Footage
Zero Bass Buildup
Zero Bass Trapping
Zero Low Frequency Falloff or Buildup  |   Amplitude Free Frequency Response
Elegant and Aesthetic
Architectural | Envelope or Surface Mounted Solutions
Aesthetic | A Variety of Textile and Finish Options
Nature Based Mathematics
Fractal Scaling
Chaos Extrapolations
Tessellated Geometries
Fibonacci Sequencing
---
ZR Acoustics®    |     Quantum Acoustics     |     Q & A     |     Comparison Sheet     |     MultiVerse | Portfolio    |     Contact Us
---
ZR SELECTOR  |  3 EASY STEPS

STEP 1:  Choose Style  |  ZR Permanent Construction
For the client looking for a seamless clean line acoustical space with ZR's Iconic LifeLike Imaging, Permanent Construction is an obvious option.  It follows the standard rules of architectural design and construction including:
Blueprints
Permits
Construction
Inspections
ZR Permanent Construction creates Purpose Built ZR spaces with revolutionary single wall construction only 6 – 3/8″ thick.   They are part of the structure;  immoveable and permanent.  Isolation and Acoustic Signature in one Single Wall Membrane.
STEP 1:  Choose Style  |  ZR PreFab
For clientele looking for re-usability and transportability with seamless clean line acoustical spaces, ZR Prefab delivers the iconic  ZR Experience; LifeLike Imaging and Wall to Wall Sweet Spots.  Prefabricated during the design process, Prefab is a non-linear process saving months off project timelines.  Manufactured in alliance with Clair Solutions and shipped worldwide, ZR Prefab offers all the benefits of ZR Permanent Construction with the ability to move one's studio with relative ease, amortizing the costs of a studio across a lifetime.  ZR Prefab requires:
Plywood Lined Room
ZR Custom Design
ZR Prefab Modules
Features and Benefits
New Spaces
Existing Spaces
Any Shape
Any Size
Reusable
Easily Transportable
STEP 1:  Choose Style  |  ZR Products
ZR SMD's (surface mounted devices) are concentrated, minaturized, versions of ZR Permanent Construction.  High resolution Quantum Acoustics™ technology enables quantization of audible frequencies with ultra-thin devices as thin as 3/4″.  A variety of shapes and sizes allow for any space to become a ZR Studio with the application of a CDL.
Features and Benefits
New Spaces
Existing Spaces
Mastering Quality Acoustics at a Fraction of the cost
Scalable Applications | 1 product – 1 million products
Wall Mounted
Ceiling Mounted
Track Mounted | movable over glass or wall openings
Free Standing
Ultra Thin
ZR Technologies
DHDI Product Comparison Sheet
More Info and How to Buy
Additional Information
Acoustical Philosophy
ZR Acoustics® Products
DHDI Product Comparison Sheet
Testimonials
---
ZR SELECTOR  |  3 EASY STEPS
yoooo 


STEP 2:  Choose Design  |  Custom Designs 
Applicable for Permanent Construction & Prefab Only
Classic | The Original ZR Design Paradigm | created during the late great Mike Shipley's private studio project.
Plus | Classic grade with additional finesse and polish | increased imaging with smoother more natural, organic sound.
Virtuoso | Expert Musicality and Perfect Technique with a Quantum Acoustics™ infrastructure.
STEP 2:  Choose Design  |  CDL [Custom Design Layout] 
Applicable for ZR Products only
Custom Design Layouts are the design paradigm by which we most accurately apply ZR SMD's for best performance.  Each CDL is designed to meet the particular applications of the space and type of usage.  They utilize the entire ensemble of ZR Products to achieve the Iconic ZR Experience including Life-Like Acoustical Imaging.
STEP 2:  Choose Design  |  Packages  |  ZR SMD Pre-Designed Packages  
Applicable for ZR Products only
ZR Packages are Pre-Designed CDL's scaled incrementally for both performance and value.  Sampler packages begin with just two SMD's while packages range from Front Wall Systems to Entire Room Systems.  CDL's are included gratis in the cost of ZR Packages, making them the best value.
---
ZR SELECTOR  |  3 EASY STEPS

STEP 3:  Choose Finish
Applicable for all Cloth Covered Products
• Tier 1 Textile included in the Base Price of all Cloth Covered Products
• Tier 2, 3 & 4 Textiles not included in the Base Price of all Cloth Covered Products. Upcharge Applies.
---

---
ZR Acoustics®    |     Quantum Acoustics     |     Q & A     |     Comparison Sheet     |     MultiVerse | Portfolio    |     Contact Us
---
ZR Comics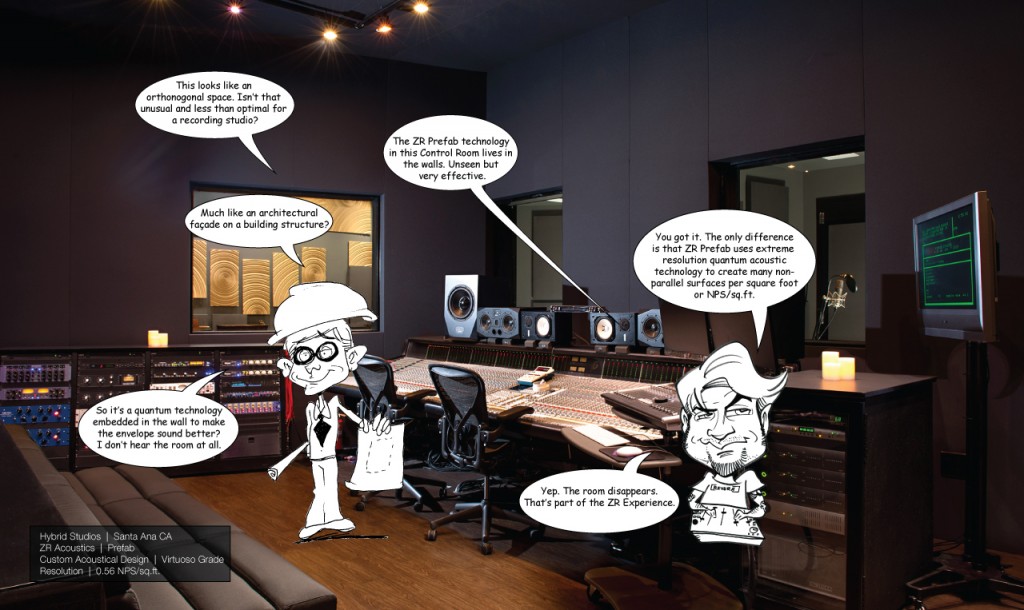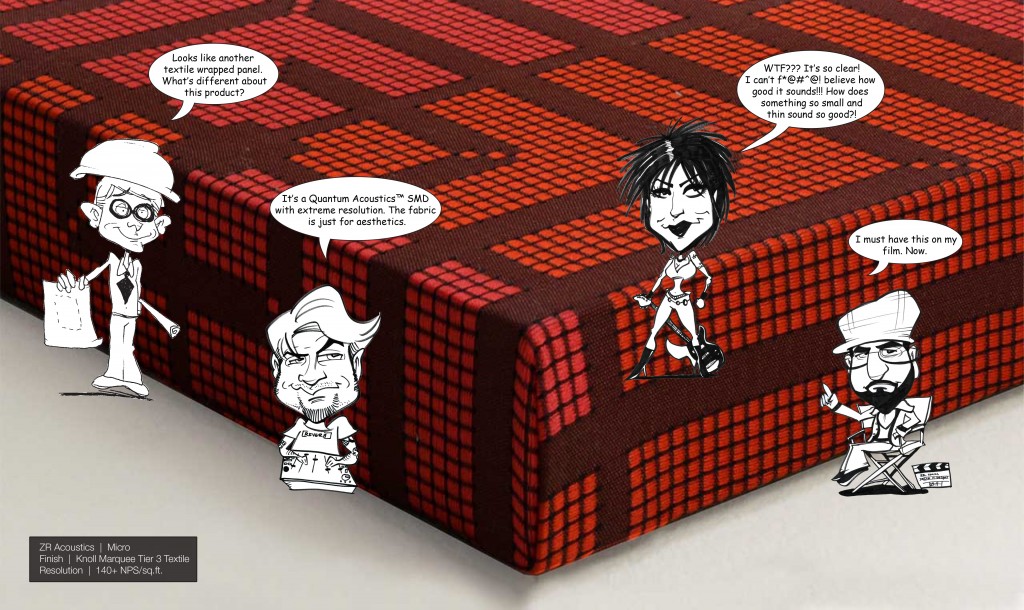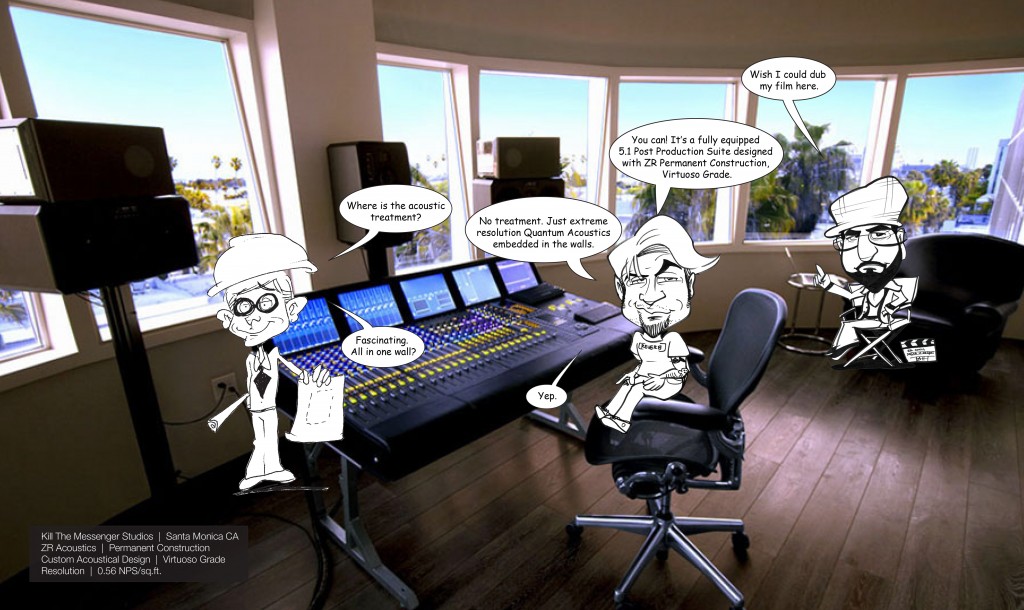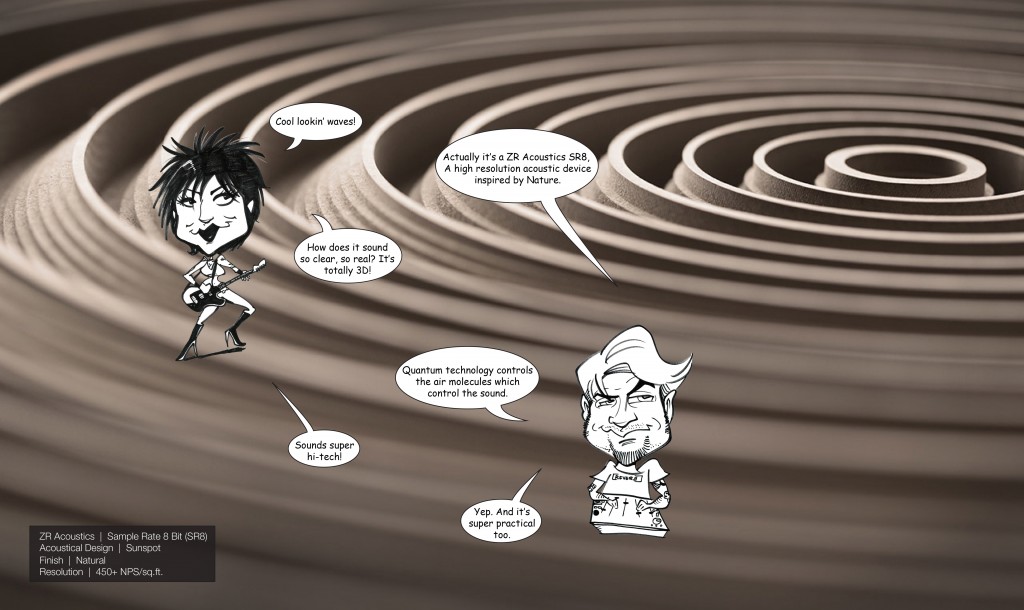 ---