ZR Acoustics®
---
The Ultimate Listening Experience
powered by Quantum Acoustics®
Pure Clarity    |     Life-like Imaging    |    Elegant Aesthetics   |    Impeccable Intelligibility     |    Wall to Wall Sweet Spots
Acoustics is the new frontier of human experience.
Quantum Acoustics® has ushered in a new era of sensory perception. Pure clarity with life-like imaging, immaculate intelligibility and wall-to-wall sweet spots are the new reference standards. For the first time in history, any space can possess sound with natural, three-dimensional imagery, free of audible issues or acoustic anomalies.
A uniquely realistic sense of clarity is created, where every room has an audible sense of imagery, spaciousness and air.  Sound becomes extra-ordinarily clear, just as in nature.  Aural imaging is so realistic that indoor spaces are indistinguishable from the natural sound and feel of the great outdoors.
At the heart of this revolutionary new design paradigm is Control of Air.  As sound rides on air, control of air means control of all sound.  This is made possible by applying the well known characteristics of quantum physics to air molecules.
Complete and total control of an environment's sound is the new reference standard in acoustics.  All sound issues cease to exist, using lightweight quantum devices, and without the use of any electricity or power.  This new standard gives everyone the freedom to transform interior spaces from loud, reverberant, and unintelligible into quiet, natural, pleasant and clear areas.  They become clear, natural and intelligible. Interior walls, ceilings, floors, windows and doors become completely inaudible.  Unlike ever before, interior spaces can be free of all negative acoustic anomalies.
Requiring Zero power, Zero apps and Zero software, ZR Acoustics® is clean, elegant and aesthetically pleasing.   ZR is an easy to use, intuitive technology designed to make our lives sound better:  one sound, one symphony, one conversation at a time.  ZR Acoustics® at Lynda.com with Bobby Owsinski.
Watch interviews with CJ Vanston, Ron McMaster Pete Doell and others share their feelings about Quantum Acoustic Technology on DHDI Profiles.  See what Grammy award winning producers and engineers say about ZR Acoustics®.
---

---
ZR Selector   |     Quantum Acoustics®     |     Q & A     |     Comparison Sheet     |     MultiVerse | Portfolio    |     Contact Us
---
ZR Acoustics®  |  The Ultimate Listening Experience
DESIGN
The revolutionary technology behind this uniquely audible experience is ZR Acoustics®.  ZR technology lives everywhere the highest level of performance in acoustics are desired:  Star Wars Virtual Production, Hyperloop, Universal Music Group, Microsoft, U2, LinkedIn, Cher, Yahoo Music, Kanye West and many more.  ZR Acoustics® is a design paradigm, germane in design architectural acoustics, prefabricated acoustics and quantum acoustic devices. The name ZR is an acronym for Zero Reflections, the underlying principle of the paradigm.
By design, ZR environments are elegant, comfortable, and aesthetically pleasing.  The ZR design paradigm is available in three formats:  architectural design (Permanent Construction), prefabricated wall systems (Prefab) or surface mounted wall devices (SMD's/Products).  All ZR designs and devices are imbued with Extreme Acoustic Resolution which is the foundation of ZR Technology.
Zero Reflection Technology is powered by Quantum Acoustics®, rendering all hard surfaces inaudible:  walls, ceilings, floors, windows, doors.  It is now understood that both electrons and air molecules exhibit quantum behavior, and consequently obey the same rules of quantum physics.  Using this science, ZR Acoustics® eradicates the most egregious acoustical issues, including:  poor intelligibility, resonances, reverberation, echoes, standing waves, bass building up in corners and continuously variable frequency responses at different amplitudes.
Reflections are the root of acoustical issues.  Without reflections, acoustical issues simply cease to exist.  Hard surfaces are rendered in-audible, while imaging transforms, becoming life-like with ultra-clear intelligibility.  ZR controls air at the molecular level, making issues and anomalies vanish before they have a chance to exist.
The ZR Acoustics® paradigm was designed for creativity and based in science.  Like a finely tuned instrument, ZR products are all handcrafted from quality materials, using the best tools available, starting with a good ear and a deep understanding of the craft. From 3D laser scanners and AutoCad to pen and paper, designs begin and end with the ethos of audibility and aesthetics.  A space must sound and feel clear, comfortable and beautiful to the eyes and ears.

Pictured here:  ZR Cloaks (without ZR Barn Doors or suspension frames)
APPLICATIONS
Uses for ZR are widespread across a wide variety of fields.   Most notably;  virtual production, entertainment, architecture, transportation, aerospace and health.  Architectural environments benefit from quantum acoustics in residences, offices, hotels, restaurants, spas, hospitals, senior facilities, transportation hubs and conference centers.  Creating environments with a sense of expansiveness is of enormous benefit to the transportation industry in automobiles, airplanes, bullet trains, buses, yachts and cruise liners. In the entertainment industry, life-like imaging has a myriad of uses including music, film, television, production, post-production, virtual reality, internet production facilities or any space used to create original content. The aerospace industry's requirements for lighter, faster technologies with the most demanding performance criteria has many obvious applications from satellites to drones and manned spacecraft.  ZR Products has solutions from brick and mortar designs to lightweight, portable devices.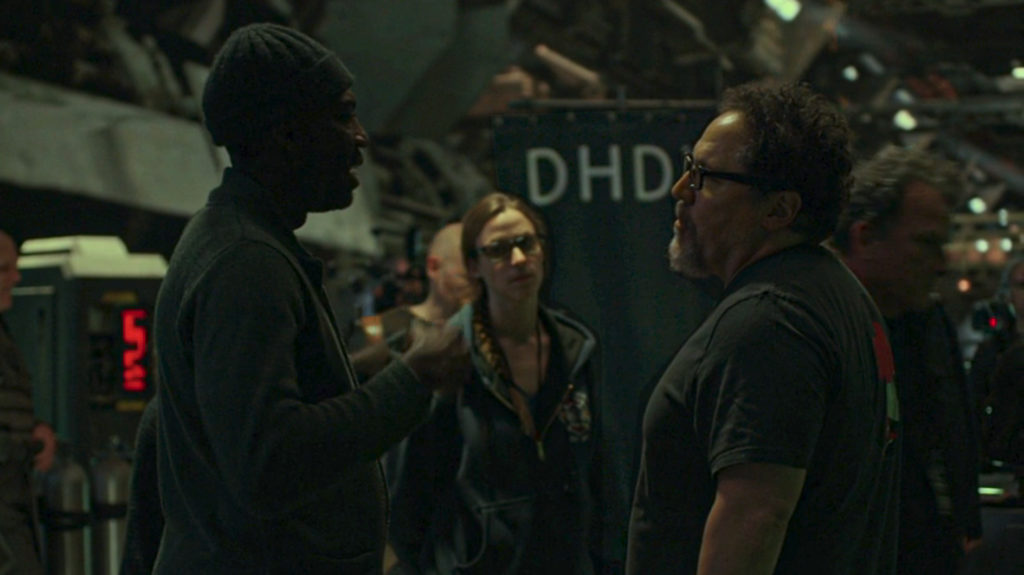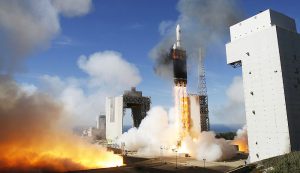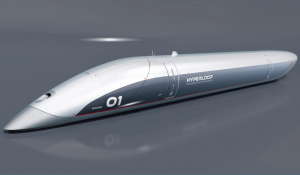 ---
ZR Selector   |     Quantum Acoustics®     |     Q & A     |     Comparison Sheet     |     MultiVerse | Portfolio    |     Contact Us
---
ZR EXPERIENCE
ZR environments feel spacious and expansive, like a quiet beach or grassy field. Sounds are clear and defined, even at a soft whisper or a deafening scream.  Physiologically, ZR causes less hearing fatigue, as it creates greater clarity without the need for greater volume.  Lower volume lowers blood pressure and cardiovascular stress.  The holistic results are healthier, more peaceful environments for people to live and work in, even when editing audio for a loud action film or mixing sound at a rock and roll concert.  The human mind and body operate at higher levels of performance when exposed to less acoustical stress.  Long term exposure to ZR increases hearing performance and mental processing of audio signals.
HISTORY
Originally a design paradigm for recording studios and architectural acoustics, the ZR Acoustics®  is the culmination of decades of research, testing and real-world experimentation.  With insight from the golden ears of the industry, ZR was intended as architectural acoustical design to create Mastering Lab Acoustics.  Zero Reflection Acoustics is now a line of quantum acoustic devices in addition to being the original paradigm for designing architectural acoustics.  The application of quantum physics to the field of acoustics was a revolutionary leap forward in studio design.  Driven by the need and repeated requests of the industry, the design concept evolved into products so closely resembling the performance of electronics that they are referred to as devices.
Resolution increased exponentially, frequency response extended beyond the range of human hearing, mass dropped to a incredibly light one pound per square foot and devices are thinner than phones or paintings.  (ZR Drapes = 2mm thick, ZR Hybrids and Micro Twins = 1 – 1/4″ thick)  By using the principles of quantum physics to control air at the molecular level, any sound or other energy riding on air molecules can be controlled in totale' with the right ZR design or ZR device.
Zero electricity, Zero bass traps, Zero foam, Zero fiberglass, Zero issues, ZR Acoustics  |  The Ultimate Listening Experience
---
ZR Selector   |     Quantum Acoustics®     |     Q & A     |     Comparison Sheet     |     MultiVerse | Portfolio    |     Contact Us
---

---
Life-Like Imaging  |  Spherical Imaging
The technology to achieve the ultimate goal of every audio recording is now a reality:  capturing and playing back the sound of a live performance in the real world with absolute accuracy.  Whether it be a mix, movie, band, orchestra or home video, every detail, nuance and subtlety of how the real world sounds can now be preserved as if the moment were frozen in time.  All the sounds of music, dialogue and real life captured perfectly;  ready for editing, mixing and mastering.  We call this Life-Like Imaging or Spherical Imaging.  ZR Acoustics® is the technology which makes this Immersive Sound possible.
ZR Acoustics® operates without the use of bass traps, electricity or power.  Consequently, it uses no DSP, EQ, Plug-Ins or software.  All ZR designs and devices/products are passive, relying on quantum physics, meta-materials and extreme acoustic resolution.
---
Wall-to-Wall Sweet Spots
An iconic characteristic of ZR Acoustics®, Life-Like Imaging exists everywhere in ZR spaces from wall-to-wall;  front to back, side to side, standing or sitting.  Natural, organic. consistent Imaging regardless of position in the room is standard with ZR Permanent Construction, ZR Prefab, and ZR Products (with 100% coverage).
This is achieved thanks to Quantum Acoustics® without the use of DSP, EQ or bass traps. All ZR designs and devices are passive and use Zero electronics and Zero power.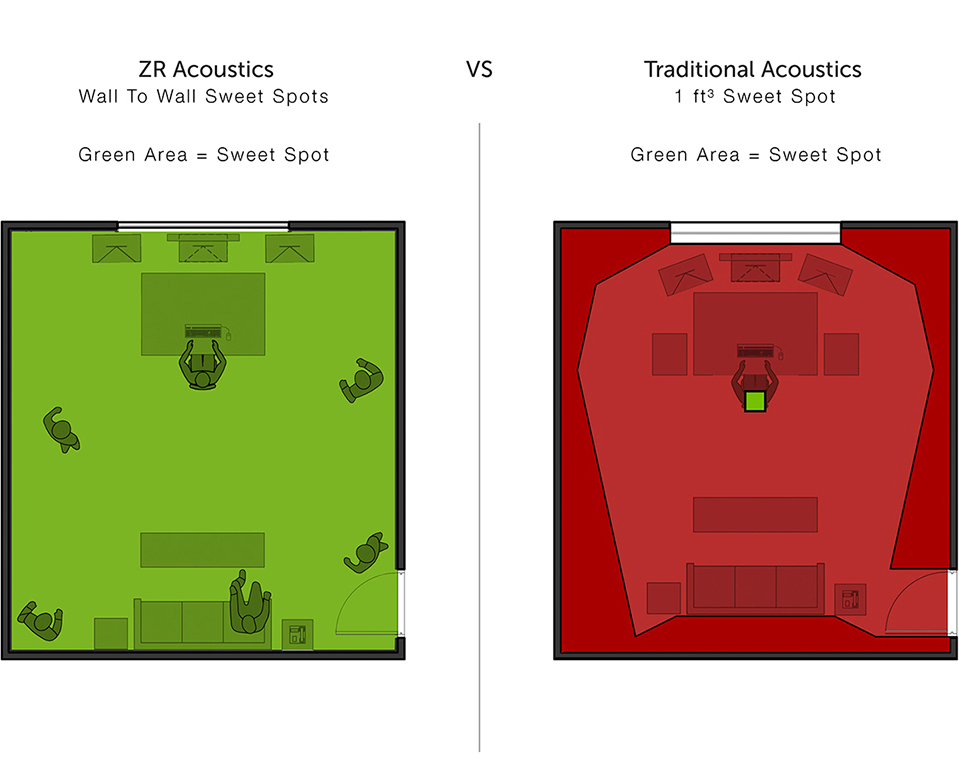 ---
ZR Selector   |     Quantum Acoustics®     |     Q & A     |     Comparison Sheet     |     MultiVerse | Portfolio    |     Contact Us
---
Extreme Acoustic Resolution  |  NPS/ft.2 
(L – R:  Low Resolution Image, High Resolution Image)
Acoustic Resolution is like Image Resolution.  Higher resolution yields greater performance, as evidenced in Nature and revealed by Science.  DHDI pioneered the concept that resolution in Quantum Acoustics® is measured in Non-Parallel Surfaces per Square Foot or NPS/ft.2.  NPS or Non-Parallel Surfaces denotes the number of surfaces in a room or device which are not parallel to the plane of the surface or device at a specific, minimum angle.  Acoustic Resolution directly effects Imaging and Performance when utilized in ZR Acoustics® designs.  Related to imagery, NPS is like DPI (dots per inch).
In order to keep everything sounding organic and natural, listening tests with the "golden ear" of the industry are performed after using several types of mathematics in the design process.  Primary mathematical systems used to create high degrees of NPS's include Fractals, Chaos Theory, Tessellation and the Fibonacci sequence.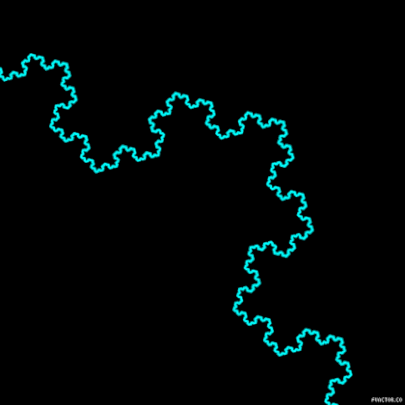 Fractals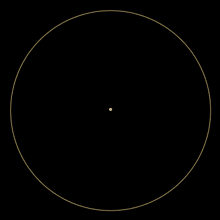 Chaos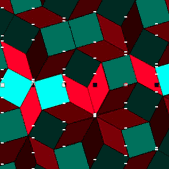 Tessellation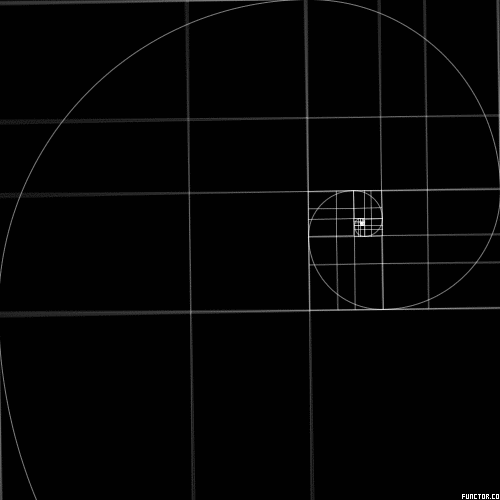 Fibonacci
While Quantum Acoustics® is complex to design, Acoustic Resolution (NPS/ft.2) is easy to calculate. First, count all non-parallel surfaces in a space. Then calculate the surface area of all the walls and ceiling in square feet (excluding the floor). Divide the number of non-parallel surfaces (first number) by the total surface area of the room (second number) and you have Acoustic Resolution in NPS/ft.2
Mathematic Examples:
A typical traditional recording studio has on average, 12 large, non-parallel surfaces in a space with a total surface area of 1000 ft.2 (20' x 15' x 10').  Divide 12 non-parallel surfaces / 1000 square feet and the result is an Acoustic Resolution of 0.012 NPS/ft.2.
Quantum Acoustics®  functions on a different level.   The lowest grade ZR Acoustics® studio (Permanent Construction) with 320 non-parallel surfaces and a total surface area of 572 square feet (14' x 10' x 9') resulting in an Acoustic Resolution of 0.56 NPS/ft.2  (320 non-parallel surfaces / 572 square feet).  With ZR devices at 100% coverage, resolution can be 450 NPS/ft.2 with SR24+'s and even as high as over 9200 NPS/ft.2 with ZR Nano devices.   Higher resolution means higher performance, higher performance means Life-Like Imaging, Wall to Wall Sweet Spots and Extraordinary Clarity.
---
ZR Selector   |     Quantum Acoustics®     |     Q & A     |     Comparison Sheet     |     MultiVerse | Portfolio    |     Contact Us
---
Phase Coherency
Higher Phase Coherency creates Life-Like Imaging with extraordinary clarity and ultra-high acoustic definition. The ZR Acoustics® design paradigm begins with the premise that direct, line-of-sight sound without any reflections result in 100% Phase Accuracy.  To achieve this high level of Phase Coherency, ZR must be applied strategically according to precisely crafted designs.   When sound comes into contact with a ZR wall or device, the sound does not return.  ZR quantizes the air molecules, forcing them to behave as individual particles and not waves, consequently removing sound energy and increasing phase coherency.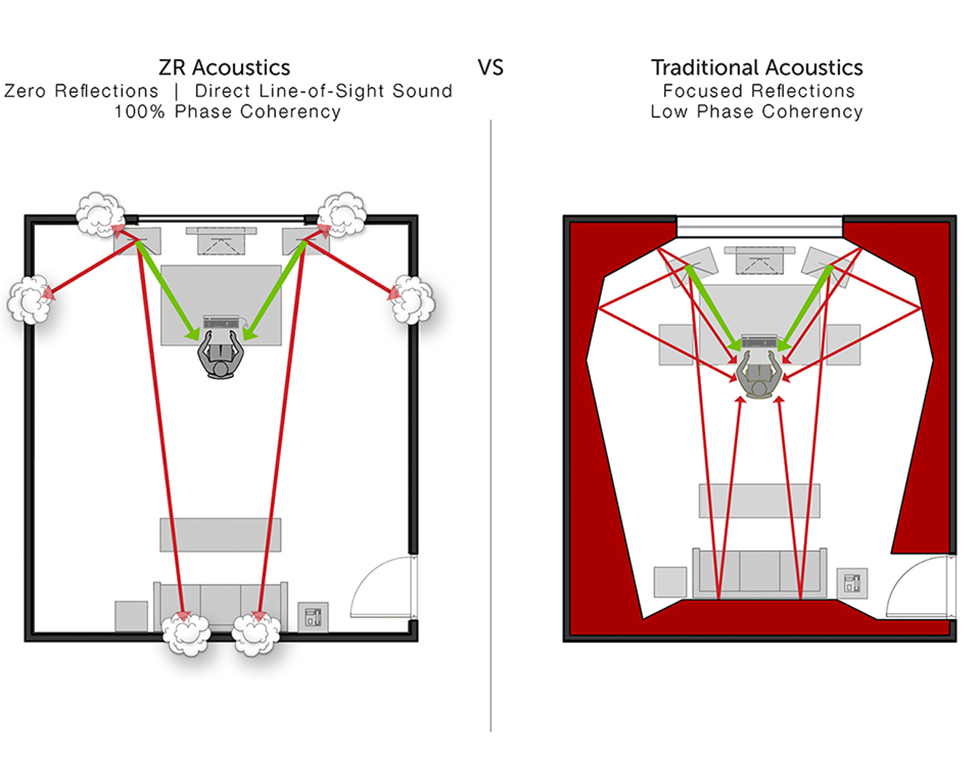 ---
Ultimate Use of Space 
The ZR design paradigm is either embedded into walls or in ultra-thin, surface mounted devices. (SMD's)  This leaves rooms with a 100% full size, floor plan.  Zero loss of space with any version of ZR.  The size and shape of a space become irrelevant as Life-Like Imaging is possible in rectangular, square, semi-circular or even round spaces.  Even glass becomes inaudible. (see KTMS Studio A) All the required acoustical mathematics and technology can now fit into a standard stud wall depth (3-1/2″) or in quantum surface mounted devices. (3/4″ to 1-1/2″)
Any space of any shape or size can have Life-Like Imaging and produce world class recordings with mastering quality acoustics with the application of the ZR design paradigm powered by Quantum Acoustics™.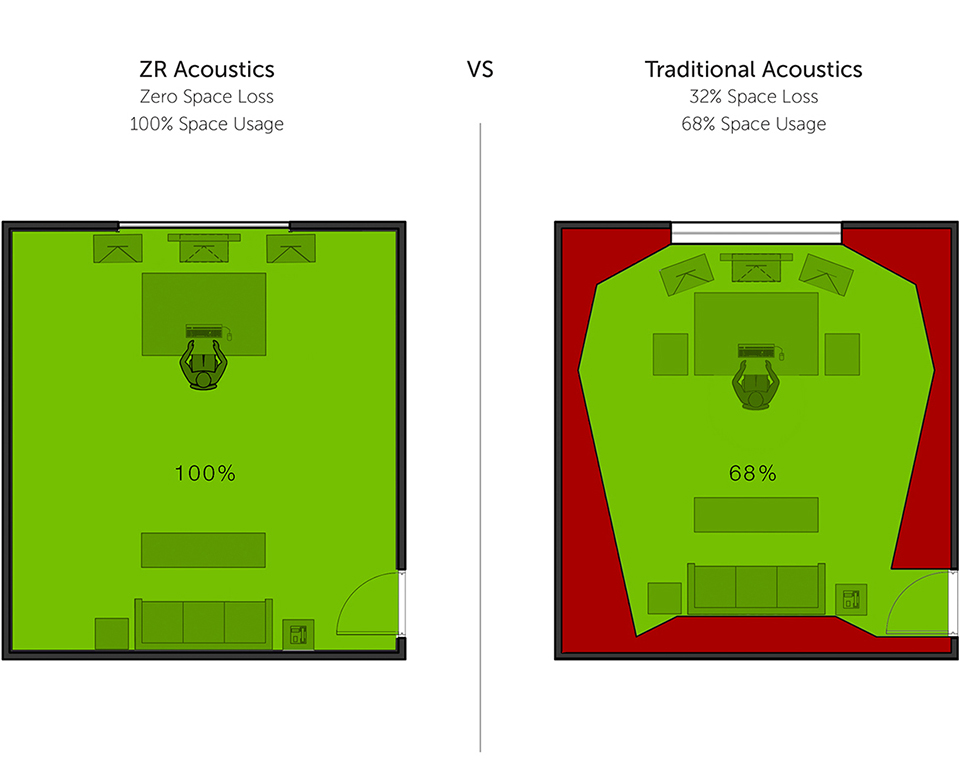 ---
ZR Selector   |     Quantum Acoustics®     |     Q & A     |     Comparison Sheet     |     MultiVerse | Portfolio    |     Contact Us
---

---
ZR Comics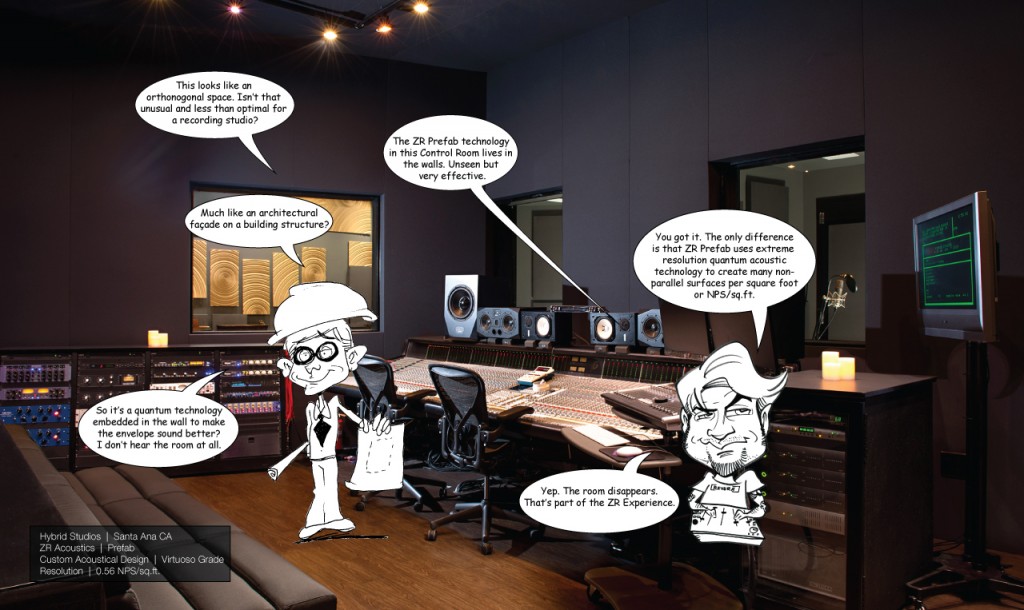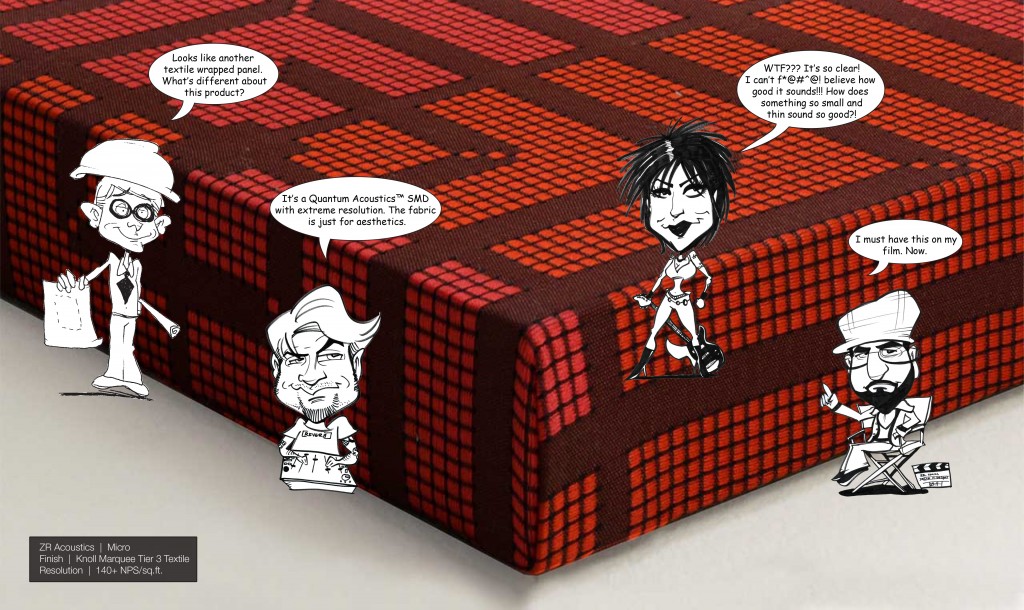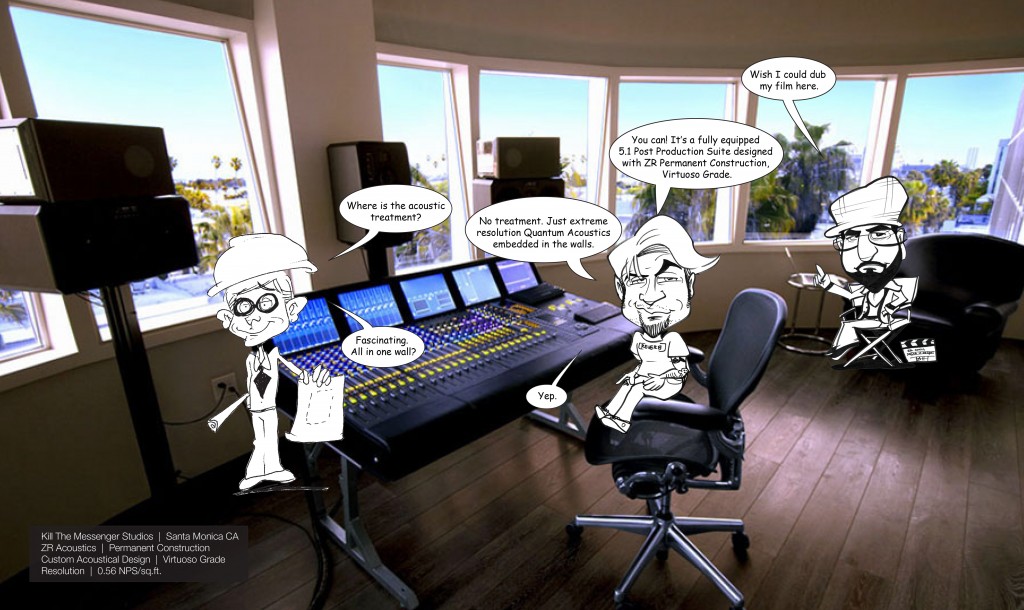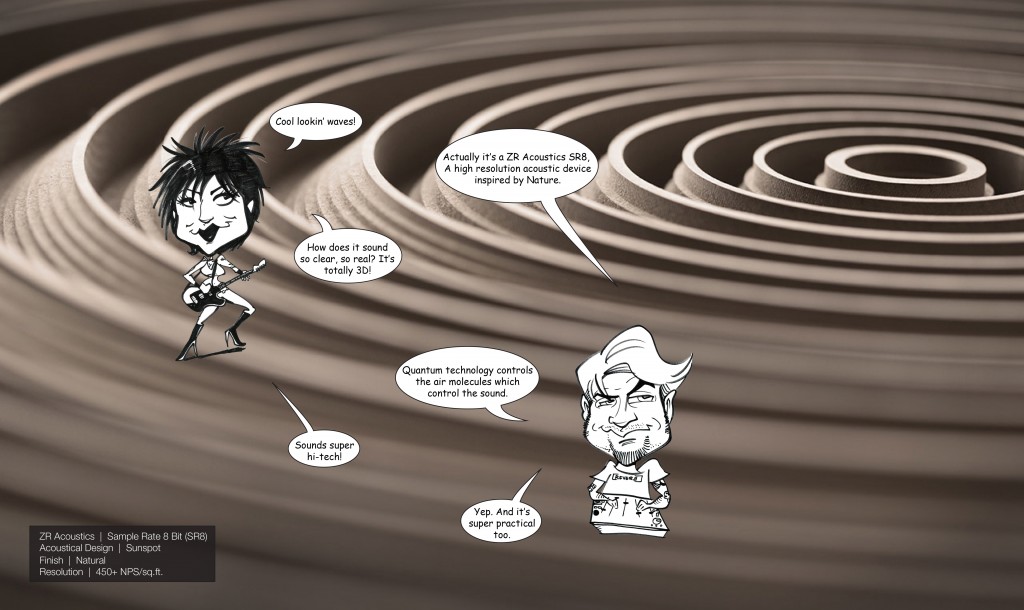 ---


For more information about ZR Acoustics®, Quantum Acoustics and The Future of Cinema Sound, please contact DHDI for a custom quote.
---
ZR Selector   |     Quantum Acoustics®     |     Q & A     |     Comparison Sheet     |     MultiVerse | Portfolio    |     Contact Us
---