After years of research, testing and real world data, DHDI presents the latest in quantum technology with a radical new approach to acoustics: eliminate issues before they begin. Using custom made ZR Hybrid (link) devices, the ZR Cloak eliminates 80% of 1st order room reflections instantly, even before sound energy has a chance to enter the airspace from the sound source.
Iconic ZR Acoustics® effects are immediate and dramatic: Life-Like Imaging, Enormous Sweet Spots and Extra-ordinary Definition.
Simple assembly with no tools required.
Eliminating first-order reflections is the key to perfect sounding rooms: rooms that sound like there is no room, like being outside in a field. Reflections are kryptonite to acoustics. However, if enough sound energy can be removed before the 1st reflection, then 2nd order reflections will not exist. If no 2nd order reflections exist, no 3rd order reflections can exist,  etcetera, etcetera.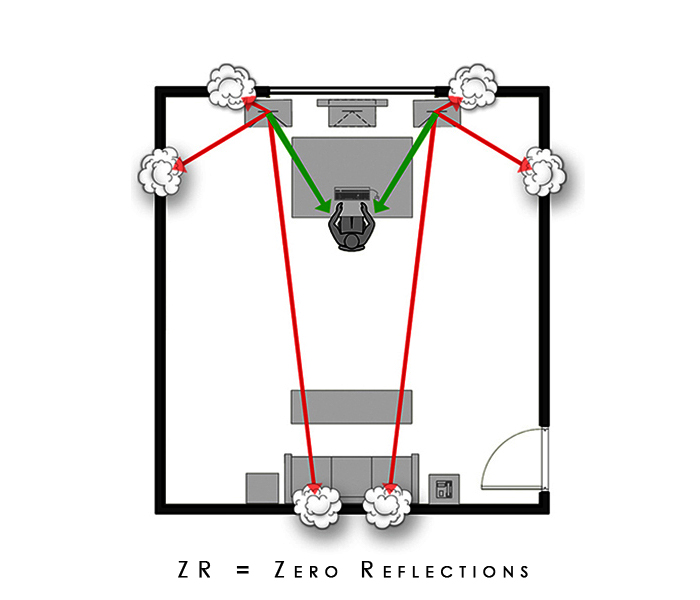 By wrapping the sound source in quantum acoustic devices, every piece of sound energy is captured, quantized and made inaudible. The only sound heard is the direct, full frequency, phase coherent energy coming out the front of the speaker. No reflections, no issues.
Obviously, the only surface ZR Cloaks do not address is the wall behind the listener. ZR Devices on this wall in combination with a ZR Cloak can create the Ultimate Listening Experience for a fraction of the cost of a traditionally designed, purpose built space in a fraction of the time.
ZR Cloaks have the same tried and true Life-Like Imaging and Extraordinary Definition as all ZR Acoustic devices. With a properly matched set of speakers and DHDI's room tuning, Cloaks create the iconic ZR wall-to-wall sweet spots with unmatched clarity.
Applications include music, post production, internet production, film and television, immersive audio (Atmos, Auro, DTS) and any space where perfect translation is required with little or no footprint.  Dolby Atmos ready, and perfect for emissive theatrical acoustics paired with ZR Barn Doors, ZR Cloaks come in pairs, singles or custom systems.
With an extreme acoustic resolution of 450+ NPS/ft.2, every ZR Cloak has over 450 non-parallel surfaces in every square foot, designed to serve a singular purpose: to remove all acoustic issues by preventing them from existing in the first place. Non-parallel surfaces (link) results in no resonances, no standing waves and no comb filtering. ZR quantum technology is simply quantum physics applied to acoustics.
Installation is simple and requires no tools. ZR Cloaks work on passive and powered monitors. The only technical requirement is simple: right angle IEC power cords and right angle XLR/audio cables.
ZR Cloak technology is applicable to any size sound source/monitors such as KRK Rokit 5 G3, ADAM F5, PMC IB1S, Meyer BlueHorns and Clair C12 Line Arrays. Essentially Cloaks work on any size speaker, from tiny studio monitors to full size PA line arrays.
Each ZR Cloak includes five (5)  Custom ZR Hybrid Devices and two (2) Velcro Straps (Military Grade hook and loop).
Top
Bottom
Left Hand Side (LHS)  (listener perspective)
Right Hand Side (RHS)  (listener perspective)
Rear/Back
ZR Cloak Specifications
450+ NPS/ft.2 Extreme Acoustic Resolution
Depth: 1.25"
Width: determined by size and dimension of Sound Source/Speaker.
Length: determined by size and dimension of Sound Source/Speaker.
Textile: DHDI Approved, Acoustically Transparent, Black Color
Weight: determined by Size and Dimension of Sound Source/Speaker Dimensions. (ex: weight of ZR Cloak for Rokit 5 G3's = 8.7 lbs. including straps. Weight of ZR Cloak for Clair C12 Line Array over 20 lbs.)
Lead Time 6 – 8 weeks (varies with determined by size and dimension of Sound Source/Speaker.)
Pricing
---
I can really hear more definition, clearer low end and overall increased imaging with the cloaks wrapped around the speakers.  It's quite impressive what a difference it makes especially in a terrible sounding, rectangular convention hall room like this.  (NAMM Anaheim 2019)  – Josh Sadd  |  Vice President Clair Systems, Chief Engineer and Live Sound Engineer for Garth Brooks
---
WTF are those?  That's an impossible sound but super cool!  I want a pair now.  – Piper Payne   |   Mastering Engineer
---
How is it possible that a speaker that small can make such a big sound?  It is truly incredible!  It's amazing how much sound is lost to the room and when it's controlled how clear it sounds.  – Greg Watkins  |  Re-Recording Engineer Film Mixer
---
"Hanson Hsu truly is a genius.  He is the future of acoustics. My ZR Cloaks are unbelievable!  The detail is incredible!  You hear things you've never heard before.  It's really amazing! They bring everything to life. You don't know what you're missing until somebody tears the wet blanket off and all of a sudden, the world has dimensions and depth, height and it's incredibly wide. It's bright. It's dark. It's big. It's just really cool."
– John Aquilino  |  Owner Platinum Studios
---
The ZR Cloak   |  Mastering Quality Acoustics Everywhere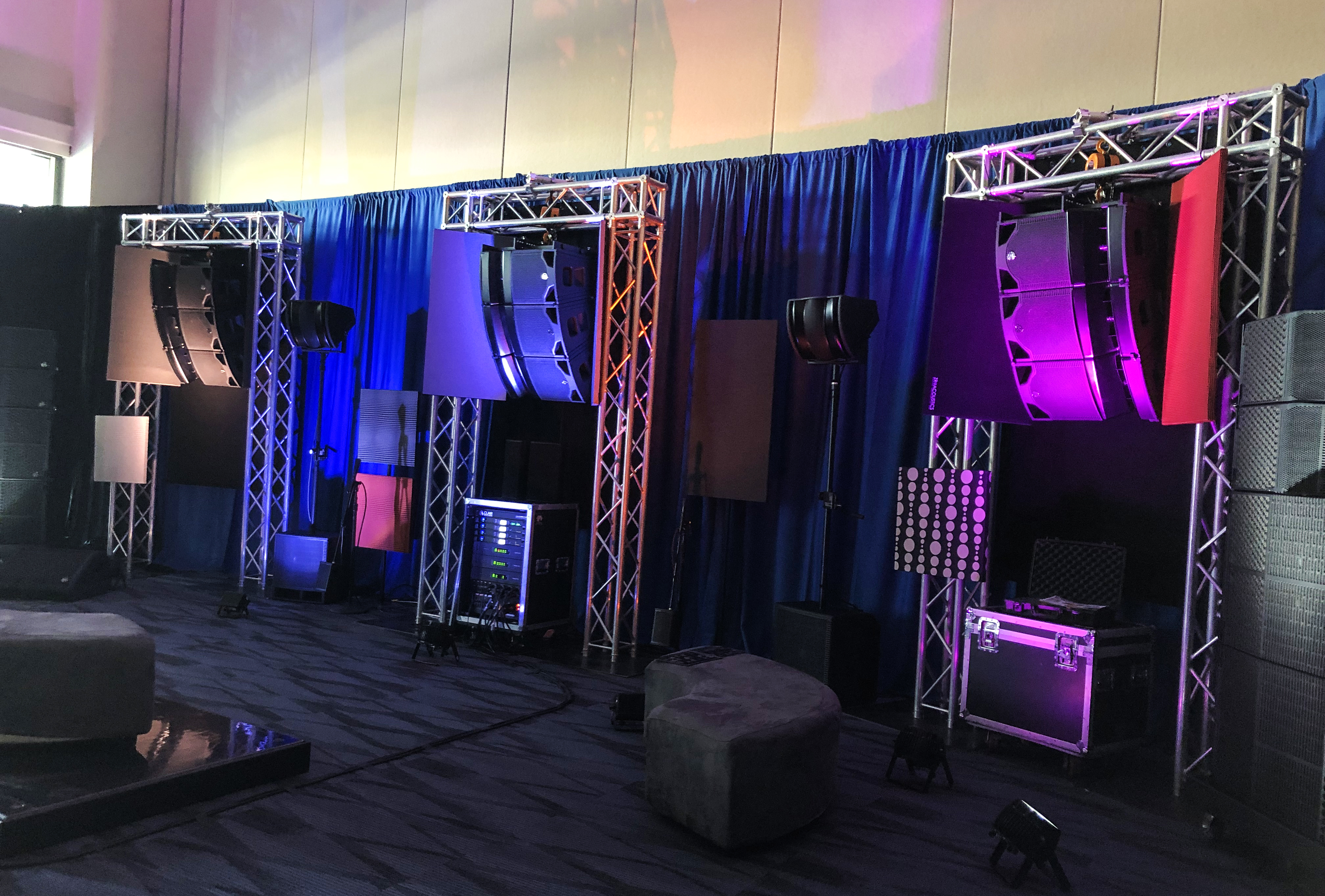 ZR Cloaks at Clair Systems  |  NAMM 2019
---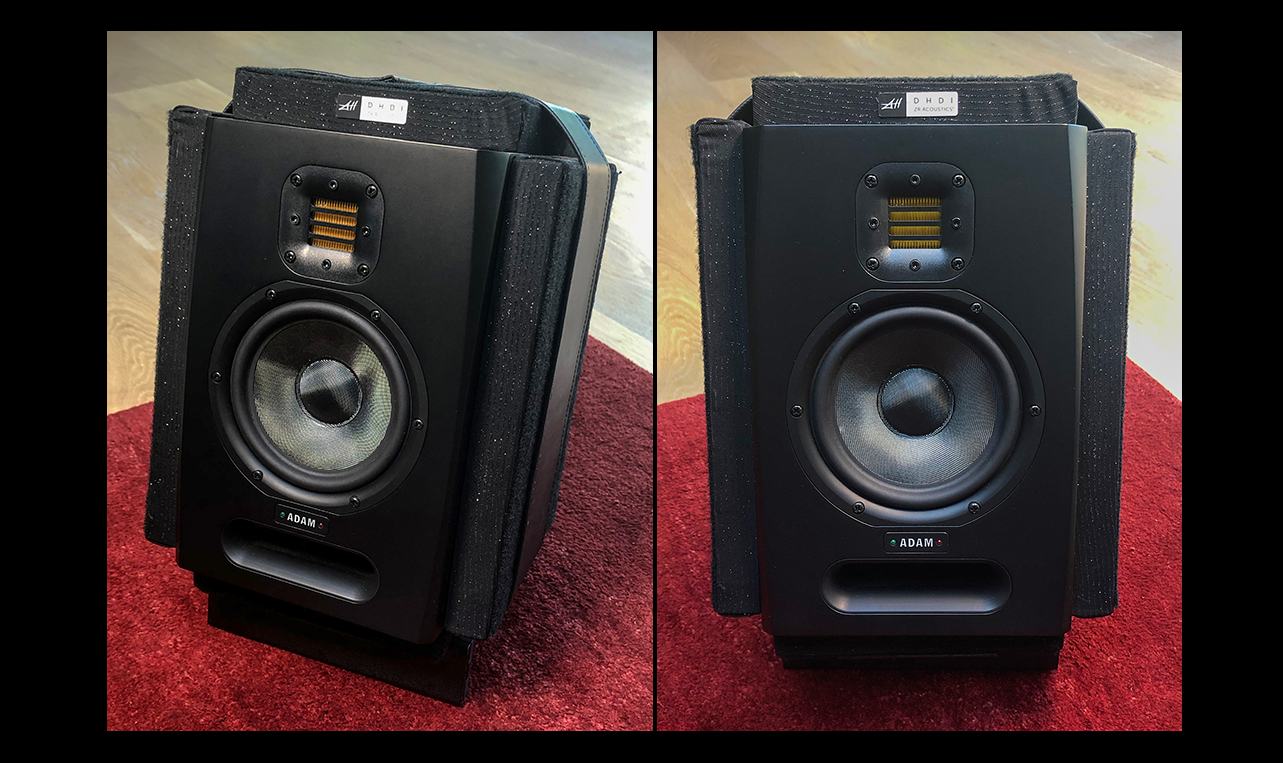 Pictured:  ZR Cloaks with ADAM F5 self powered monitors
---
ZR Acoustics®  |  Glossary of Terms
Contact Us | Purchase Information
---
Life-Like Imaging  |  Spherical Imaging
The technology to achieve the ultimate goal of every audio recording is now a reality:  capturing and playing back the sound of a live performance in the real world with absolute accuracy.  Whether it be a mix, movie, band, orchestra or home video, every detail, nuance and subtlety of how the real world sounds can now be preserved as if the moment were frozen in time.  All the sounds of music, dialogue and real life captured perfectly;  ready for editing, mixing and mastering.  We call this Life-Like Imaging or Spherical Imaging.  ZR Acoustics® is the technology which makes this Immersive Sound possible.
ZR Acoustics® operates without the use of bass traps, electricity or power.  Consequently, it uses no DSP, EQ, Plug-Ins or software.  All ZR designs and devices/products are passive, relying on quantum physics, meta-materials and extreme acoustic resolution.
---
Wall-to-Wall Sweet Spots
An iconic characteristic of ZR Acoustics®, Life-Like Imaging exists everywhere in ZR spaces from wall-to-wall;  front to back, side to side, standing or sitting.  Natural, organic. consistent Imaging regardless of position in the room is standard with ZR Permanent Construction, ZR Prefab, and ZR Products (with 100% coverage).
This is achieved thanks to Quantum Acoustics™ without the use of DSP, EQ or bass traps. All ZR designs and devices are passive and use Zero electronics and Zero power.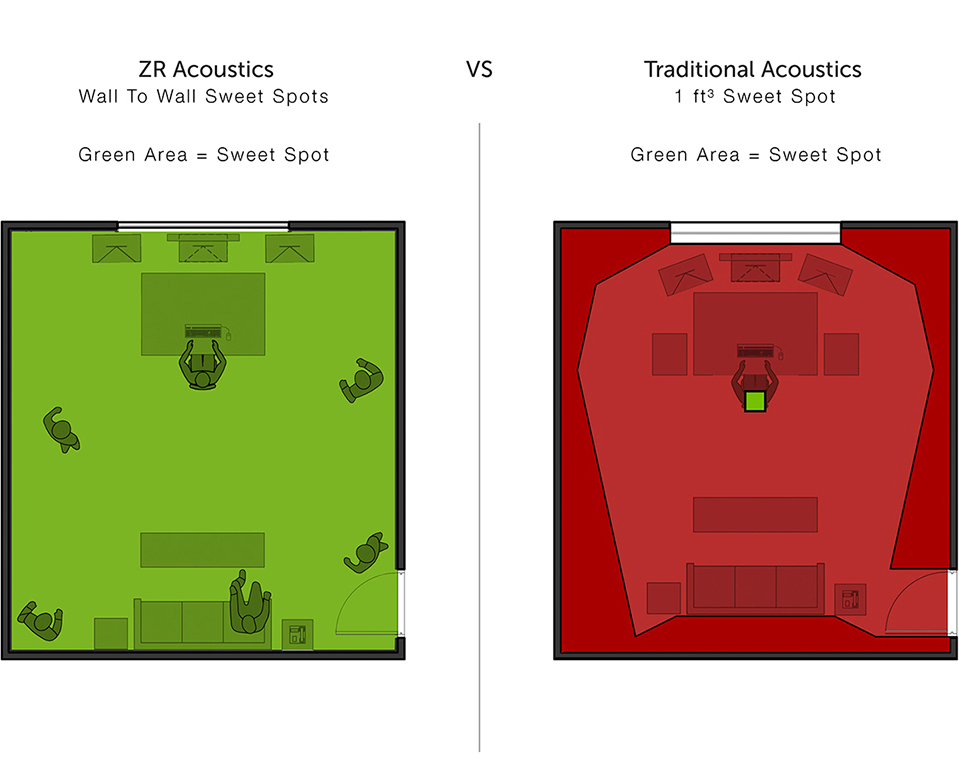 ZR Acoustics® Sweet Spots
Red Dot Traditional Sweet Spot Size
Blue Circle ZR Acoustics® Sweet Spot Size
*Click above images to enlarge
Learn more about the Creator Series
---
Extreme Acoustic Resolution  |  NPS/ft.2 
(L – R:  Low Resolution Image, High Resolution Image)
Acoustic Resolution is like Image Resolution.  Higher resolution yields greater performance, as evidenced in Nature and revealed by Science.  DHDI pioneered the concept that resolution in Quantum Acoustics™ is measured in Non-Parallel Surfaces per Square Foot (NPS/ft.2).  It denotes the number of surfaces in a room or device which are not parallel to the plane of the surface or device at a specific, minimum angle. Acoustic Resolution directly effects Imaging and Performance when utilized in ZR Acoustics® designs.  Related to imagery, NPS is like DPI (dots per inch).

While Quantum Acoustics™ is complex to design, Acoustic Resolution (NPS/ft.2) is easy to calculate. First, count all non-parallel surfaces in a space. Then calculate the surface area of all the walls and ceiling in square feet (excluding the floor). Divide the number of non-parallel surfaces (first number) by the total surface area of the room (second number) and you have Acoustic Resolution in NPS/ft.2
Mathematic Examples:
A typical traditional recording studio has on average, 12 large, non-parallel surfaces in a space with a total surface area of 1000 ft.2 (20' x 15' x 10').  Divide 12 non-parallel surfaces / 1000 square feet and the result is an Acoustic Resolution of 0.012 NPS/ft.2.
Quantum Acoustics™ functions on a different level.   The lowest grade ZR Acoustics® studio (Permanent Construction) with 320 non-parallel surfaces and a total surface area of 572 square feet (14' x 10' x 9') resulting in an Acoustic Resolution of 0.56 NPS/ft.2  (320 non-parallel surfaces / 572 square feet).  With ZR devices at 100% coverage, resolution can be 450 NPS/ft.2 with SR24+'s and even as high as over 9200 NPS/ft.2 with ZR Nano devices.   Higher resolution means higher performance, higher performance means Life-Like Imaging, Wall to Wall Sweet Spots and Extraordinary Clarity.
---
Phase Coherency
Higher Phase Coherency creates Life-Like Imaging with extraordinary clarity and ultra-high acoustic definition. The ZR Acoustics® design paradigm begins with the premise that direct, line-of-sight sound without any reflections result in 100% Phase Accuracy.  To achieve this high level of Phase Coherency, ZR must be applied strategically according to precisely crafted designs.   When sound comes into contact with a ZR wall or device, the sound does not return.  ZR quantizes the air molecules, forcing them to behave as individual particles and not waves, consequently removing sound energy and increasing phase coherency.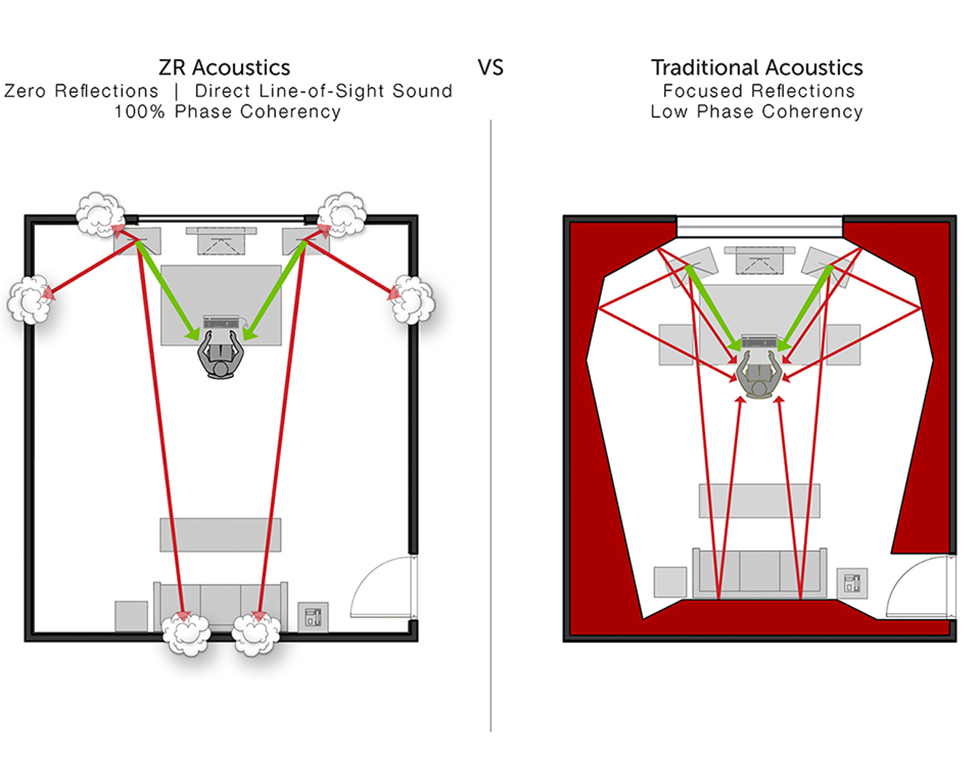 ---
Ultimate Use of Space 
The ZR design paradigm is either embedded into walls or in ultra-thin, surface mounted devices. (SMD's)  This leaves rooms with a 100% full size, floor plan.  Zero loss of space with any version of ZR.  The size and shape of a space become irrelevant as Life-Like Imaging is possible in rectangular, square, semi-circular or even round spaces.  Even glass becomes inaudible. (see KTMS Studio A) All the required acoustical mathematics and technology can now fit into a standard stud wall depth (3-1/2″) or in quantum surface mounted devices. (3/4″ to 1-1/2″)
Any space of any shape or size can have Life-Like Imaging and produce world class recordings with mastering quality acoustics with the application of the ZR design paradigm powered by Quantum Acoustics™.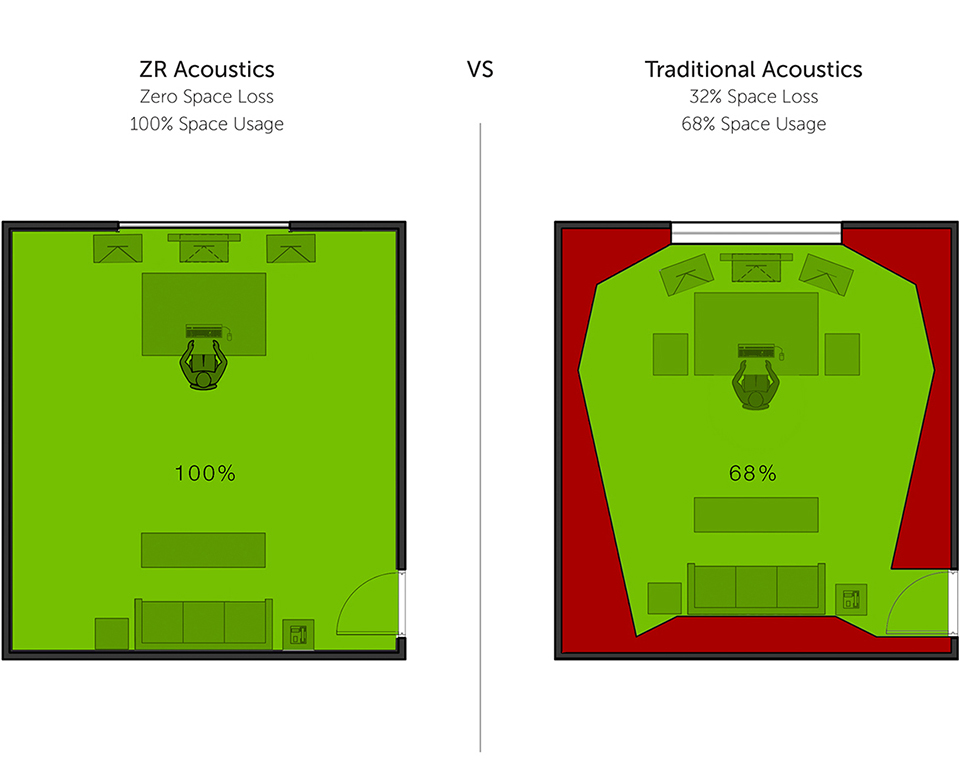 ---
Quantum Acoustics™
Quantum Acoustics™ is quantum physics applied to air molecules, and consequently has a dramatic and profound effect on sound energy and the propagation, perception and cognition of sound. Examples of effects include broadband control of audible sound in ultra-thin 1″ devices, dramatically increased intelligibility, immersive spherical imaging and acoustic cloaking.
What we know
…is that specific characteristics of quantum acoustics are repeatable, reproducible and perceivable in both the laboratory and the real world. The cause and effect between these characteristics and applied quantum physics is dramatic, clear and obvious. It appears that acoustics follows the same rules which have governed electronics for over 100 years:  resolution, geometry and mathematics far outweigh the effectiveness of mass and density.
Traditional acoustics based in classical mechanical physics have no explanation for how these traits can exist, despite constant, repeatable and reproducible behaviors. For example, how long wavelengths of sound can be controlled with a flexible, 1″ thick acoustical device. (ZR Micro Screen) To find answers, DHDI consulted with the experts.  They are all leaders in the field of applied and theoretical physics and strangers to each other. Each one was given identical copies of laboratory test data performed by an independent third party testing lab. Independently, they were all given a listening demonstration of ZR Acoustics® . After reviewing the test data and experiencing ZR in person, they were all asked a simple question:  how do you explain this type of acoustical behavior?  Nearly a year later, every physicist responded within a week of each other with identical remarks:  "these phenomena are not explicable by classical mechanical means but only by quantum acoustics".
The role of cutting edge research is to constantly bridge the gap between theoretical ideas and the real world. Recent experiments show that quantum physics applies to even biological cells which are the size of planets compared to electrons. As physicists continue to unveil the underlying secrets of how these widespread phenomena occur, the potential applications are limitless:  acoustics, biology, teleportation, health, architecture, and many more.  Recent experiments in quantum physics show that behavior which was previously limited to sub-atomic particles is actually widely applicable in other areas. For instance, several areas of biology such as smell, photosynthesis and bird migration are now proven to be governed by the rules of quantum physics.  (see references below) This gives us a better understanding that if quantum physics can effect such complex and large things as biological cells, it can also effect smaller, simpler molecules such as air which are somewhere between the size of an electron and a biological cell.
The ZR paradigm is embedded with higher order mathematics, complex topologies, and Extreme Acoustic Resolution to achieve quantum behavior.  Quantum Physics and wave particle duality were proven to be a reality in the early 1900's. It is the basis for the entire Era of Electronics. The concept is that until they are observed, electrons can behave as waves, as individual particles or as both at the same time. ZR Acoustics® creates the proper environment to control the behavior of Air molecules, forcing them to change from wave fashion to individual particle fashion. When Air molecules behave as individual particles (i.e. no wave behavior), sound energy has no medium to ride upon. Like a radio signal without a carrier wave, the sound simply ceases to exist. In conjunction with precise designs, this effect dramatically increases Phase Coherence, consequently improving both imaging and spaciousness.
"If I were not a physicist, I would probably be a musician. I often think in music. I live my daydreams in music. I see my life in terms of music." – Albert Einstein
60 second video explaining Wave Particle Duality by minutephysics.
What we don't know
…is the minutia and underlying reasons for every detail of how quantum mechanics effects air molecules.  How does quantum physics achieve such dramatic and unusual control of particles, cells and objects larger than an atom? Until recently, quantum mechanical behavior was understood to be limited to sub atomic particles such as the electron, the proton and the neutron.   In practice, quantum acoustics is very much like electronics in the early 1900's:  designers, engineers and technicians were building electronic devices every day with repeatable, reproducible results while Einstein, Planck and Bohr were debating the inner workings of the universe via theoretical quantum physics. Quantum Acoustics' effects and performance are repeatable and reproducible every day, while physicists continue to discuss the theoretical concepts of dark matter and the theories of a quantum universe.
"Quantum mechanics cannot easily be reconciled with everyday language and observation. Its interpretation has often seemed counter-intuitive to physicists, including its inventors." – Wikipedia
Notable research on Quantum Physics in these areas:
---
ZR Acoustics®   |  The Ultimate Listening Experience