---
ZR Acoustics®  |  The Ultimate Listening Experience
Mastering lab acoustics    |     Unsurpassed Clarity and Definition     |     Life-Like Imaging     |    Wall-to-wall Sweet Spots

(Pictured here with ZR Cloaks, and suspension frame in optional carbon fiber.  Speakers:  KRK Rokit 5 G3)
The Future is Quantum.
Wall-to-Wall Sweet Spots, spherical life-like imagery and micro-dynamic clarity are the new Reference Standard.  At the core of this revolutionary paradigm is Quantum Acoustics:  quantum physics applied to air.
ZR Barn Doors with Cloaks eliminate up to 95% of room reflections at the source.  The result is true clarity.  Designed as the natural extension to The Cloak, ZR Barn Doors deliver the ultimate package:  maximum performance in the smallest package anywhere.  At the heart of this revolutionary new design paradigm is Control of Air.  As sound rides on air, control of air means control of sound.
Lightweight and thin, they follow your speaker like a glove follows your hand.  All for the price of a high end Digital-Analog converter, or a quality piece of outboard gear.  Every ZR Cloak + Barn Door purchase comes with DHDI's unique Room Tuning Process, written by professional room tuning experts backed by decades of real world experience.  Simply unpack your ZR from it's box, add speakers, and listen.  ZR Barn Doors demonstration video.
ZR Cloak and Barn Doors are Dolby Atmos approved and a key component of  ZR Halo  |  The Future of Cinema Sound.   ZR works on any speaker in the following locations of an Atmos room:
"The ZR Cloaks and Barn Doors immediately reminded me of the custom designed ZR room I worked in for years.  Packing that kind clarity, definition, and imaging into something I can throw in the back of my car and take anywhere is an impressive feat."  –
Travis
 Ference – Mixer/Producer
Watch interviews with CJ Vanston, Ron McMaster, Pete Doell and others share their feelings about Quantum Acoustic Technology on DHDI Profiles.  See what Grammy award winning producers and engineers say about ZR Acoustics®
Learn more about ZR Acoustics® on Lynda.com with Bobby Owsinski.
ZR Acoustics®  |  The Ultimate Listening Experience

---
ZR Acoustics®    |     Quantum Acoustics     |     Q & A     |     Comparison Sheet     |     MultiVerse | Portfolio    |     Contact Us
---

DESIGN
Every speaker emits sound energy in a spherical, polar pattern, like the sun.  However, the only direction which sounds accurate is the front face of the speaker.  80% of a speaker (top, bottom, left, right, back) emits un-balanced, out of phase sound.  No high frequency energy, only mid and low frequency sound, always out-of-phase.  ZR Cloaks quantize this enormous amount of out-of-phase, un-balanced sound energy, all behind the face of the speaker.  ZR Barn Doors expand upon this function, quantizing all out-of-phase, un-balanced sound energy projecting forward from the front face of the speaker.  They eliminate forward-facing room reflections by quantizing the sound projecting out the face of the speaker, before it can make contact with the walls, ceiling and floor.  ZR Barn Doors and ZR Cloaks perform this function neutrally, without adding any color, volume or additional im-balances to the speakers' inherent sound.  As the industrys' ever-changing demands moved toward higher performance, lighter, smaller acoustic devices, the designs for ZR Barn Doors and ZR Cloaks were born.
Barn Doors sculpt a speaker's dispersion pattern without moving the speaker.  Named after the control flaps on stage lighting instruments,  ZR Barn Doors are simple to adjust, and easy to use.  Like their namesake, they extend forward from the face of the speaker, mounted on hinges at the edge of the speaker for adjustability.  Barn Doors expand upon this well known lighting technique, powered by Quantum Acoustics™.  Lighting barn doors are aluminum flaps with a matte black finish, which tend to reflect a small amount of light energy, creating bounce light and erroneous reflections.  ZR Barn Doors control air at the molecular level, thereby removing any possibility of sound reflection.
Installation and tuning were considered at the earliest stages of the design process.  As phase is of great significance to audio quality, it was important that the Barn Door + Cloak system be simple to setup and tune.  While even the untrained ear can hear the dramatic improvements made by ZR, critical listening is always a positive characteristic when room tuning.  First, perform DHDI's room tuning procedure with the Barn Doors wide open.  Then, once the image is life-like, with expansive depth, height and width,  adjust the Barn Doors to increase phase accuracy and remove all unnecessary room reflections.  Ceilings, floors and walls become inaudible and disappear.
The Cloak is a set of ZR Hybrid devices designed to capture all unnecessary sound escaping a speaker, except the front face of the speaker:  the only necessary sound.  Cloaks are snugly wrapped around a speaker like a flak jacket, improving acoustic clarity instantly.  With minimal footprint, and exponentially higher performance, it saves considerable time and resources.
Zero fiberglass, Zero foam, Zero hammers, Zero nails.
Eliminating up to 95% of room reflections directly at the sound source, ZR Cloak + Barn Doors remove reflections by eliminating any contact between sound energy and hard, reflective surfaces.  Sound is quantized immediately at the speaker's perimeter, long before energy can reach any wall, ceiling, or floor.   DHDI's Room Tuning Process insures that every ZR system achieves maximum acoustical performance.
Originally intended for Mix Studios and small room acoustics, Cloak/Barn Door systems are popular in a new application.  Working in collusion with ZR Hybrid Screen gobos, rooms can be a mix room and a live room with no separating wall.  We invite you to experience ZR and invent your own personal creative way to be creative.
---
HISTORY
Originally a design paradigm for recording studios and architectural acoustics, ZR Acoustics® technology is the culmination of decades of research, testing and real-world experimentation.  With insight from the golden ears of the industry, ZR was created to deliver Mastering Lab Acoustics everywhere, for everyone.  Zero Reflection Acoustics is a design paradigm as well as a line of quantum acoustic devices.  The application of quantum physics to the field of acoustics resulted in studios, and acoustic devices evolving to an entirely new level of performance.  Resolution increased exponentially, frequency response extended beyond the range of human hearing, weight drops to a incredibly light one pound per square foot and devices are thinner than phones or paintings.  (ZR Drapes = 2mm thick, ZR Hybrids and Micro Twins = 1 – 1/4″ thick)
Zero bass traps, Zero foam, Zero fiberglass, Zero issues, ZR Acoustics  |  The Ultimate Listening Experience
---
SPECIFICATIONS
Included with each set of ZR Barn Doors are four custom-designed ZR Hybrid devices, four matching hand-made, military grade Velcro straps and a suspension frame.  Every ZR Device in a Barn Door system is made to order, tailored to the size, shape and function of your speaker.  The devices are labelled Top, Bottom, LHS (Left Hand Side) and RHS (Right Hand Side).  Suspension frames are available in aluminum or optional carbon fiber.  Like every piece of Barn Doors and Cloaks, suspension frames are made to order and designed perfectly to fit your speakers' Cloaks and matching Barn Doors.
Barn Doors work as a system with ZR Cloaks.   Barn Doors need a suspension frame and Cloaks in order to perform properly.  Stay tuned for new product releases in the future.
Applications:  immersive audio, emmisive screen theatrical audio, mix rooms, live rooms, executive  board rooms, conference rooms, production audio. live PA, permanent installation, distributed audio, stadiums, spas, hotels, hospitality, home theatre, private studios and more.
Size and Dimensions:  Custom made to your speaker's size and shape.  All ZR devices in Barn Door and Cloak systems are 1 – 1/4″ thick.  Length and Width are the same as your speaker, minus a 1/4″ all around for best acoustical performance.
Shape:  Rectangular or Square.
Weight:  Dependent on Speaker Dimensions.
Acoustic Resolution:  450+ NPS/sq.ft.
Color:  Pearl finish black (aluminum option) or glossy black tubing. (carbon fiber option)
Suspension Frame:  Aluminum or Carbon Fiber. (optional)
Speaker Compatibility:  Any Manufacturer, Any Model.
Lead Time:  8 Weeks.
Pricing:  Send us your speaker specifications for a quote.

---
ZR Acoustics®    |     Quantum Acoustics     |     Q & A     |     Comparison Sheet     |     MultiVerse | Portfolio    |     Contact Us
---
Life-Like Imaging  |  Spherical Imaging
The technology to achieve the ultimate goal of every audio recording is now a reality:  capturing and playing back the sound of a live performance in the real world with absolute accuracy.  Whether it be a mix, movie, band, orchestra or home video, every detail, nuance and subtlety of how the real world sounds can now be preserved as if the moment were frozen in time.  All the sounds of music, dialogue and real life captured perfectly;  ready for editing, mixing and mastering.  We call this Life-Like Imaging or Spherical Imaging.  ZR Acoustics® is the technology which makes this Immersive Sound possible.
ZR Acoustics® operates without the use of bass traps, electricity or power.  Consequently, it uses no DSP, EQ, Plug-Ins or software.  All ZR designs and devices/products are passive, relying on quantum physics, meta-materials and extreme acoustic resolution.
Recordings and mixes with ZR are released from acoustic issues and become Life-Like, while micro-dynamics become obvious and clear.
---
Wall-to-Wall Sweet Spots
An iconic characteristic of ZR Acoustics®, Life-Like Imaging exists everywhere in ZR spaces from wall-to-wall;  front to back, side to side, standing or sitting.  Natural, organic. consistent Imaging regardless of position in the room is standard with ZR Permanent Construction, ZR Prefab, and ZR Products (with 100% coverage).
This is achieved thanks to Quantum Acoustics™ without the use of DSP, EQ or bass traps. All ZR designs and devices are passive and use Zero electronics and Zero power.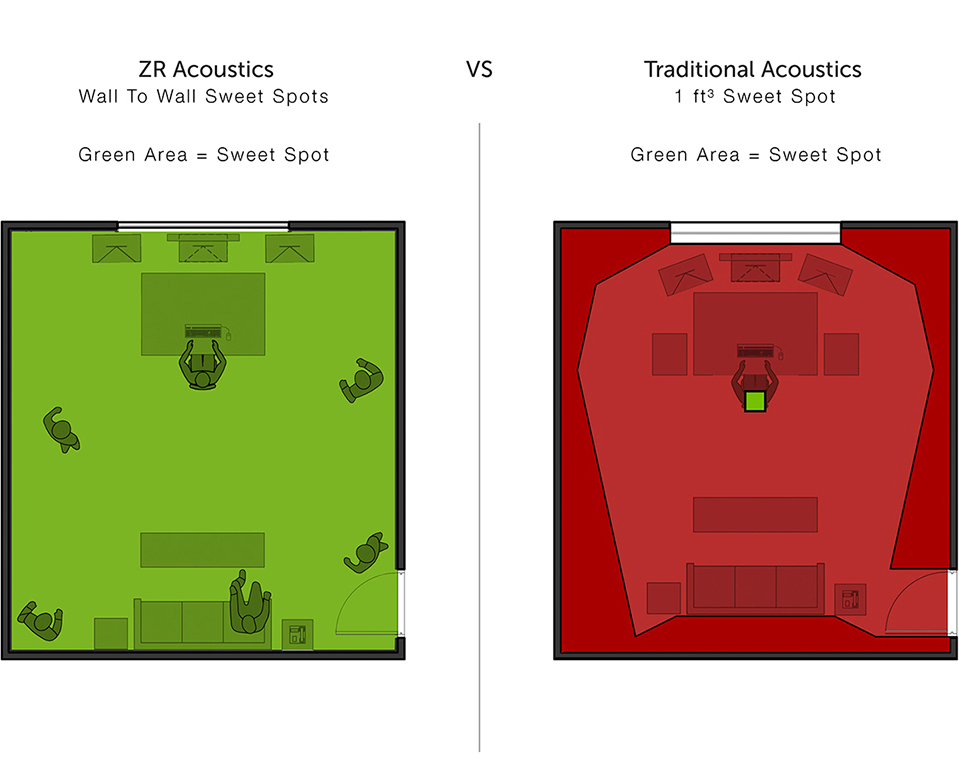 ZR Acoustics® Sweet Spots
Red Dot Traditional Sweet Spot Size
Blue Circle ZR Acoustics® Sweet Spot Size
*Click above images to enlarge
Learn more about the Creator Series
---
Extreme Acoustic Resolution  |  NPS/ft.2 
(L – R:  Low Resolution Image, High Resolution Image)
Acoustic Resolution is like Image Resolution.  Higher resolution yields greater performance, as evidenced in Nature and revealed by Science.  DHDI pioneered the concept that resolution in Quantum Acoustics™ is measured in Non-Parallel Surfaces per Square Foot (NPS/ft.2).  It denotes the number of surfaces in a room or device which are not parallel to the plane of the surface or device at a specific, minimum angle. Acoustic Resolution directly effects Imaging and Performance when utilized in ZR Acoustics® designs.  Related to imagery, NPS is like DPI (dots per inch).

While Quantum Acoustics™ is complex to design, Acoustic Resolution (NPS/ft.2) is easy to calculate. First, count all non-parallel surfaces in a space. Then calculate the surface area of all the walls and ceiling in square feet (excluding the floor). Divide the number of non-parallel surfaces (first number) by the total surface area of the room (second number) and you have Acoustic Resolution in NPS/ft.2
Mathematic Examples:
A typical traditional recording studio has on average, 12 large, non-parallel surfaces in a space with a total surface area of 1000 ft.2 (20' x 15' x 10').  Divide 12 non-parallel surfaces / 1000 square feet and the result is an Acoustic Resolution of 0.012 NPS/ft.2.
Quantum Acoustics™ functions on a different level.   The lowest grade ZR Acoustics® studio (Permanent Construction) with 320 non-parallel surfaces and a total surface area of 572 square feet (14' x 10' x 9') resulting in an Acoustic Resolution of 0.56 NPS/ft.2  (320 non-parallel surfaces / 572 square feet).  With ZR devices at 100% coverage, resolution can be 450 NPS/ft.2 with SR24+'s and even as high as over 9200 NPS/ft.2 with ZR Nano devices.   Higher resolution means higher performance, higher performance means Life-Like Imaging, Wall to Wall Sweet Spots and Extraordinary Clarity.
---
Phase Coherency
Higher Phase Coherency creates Life-Like Imaging with extraordinary clarity and ultra-high acoustic definition. The ZR Acoustics® design paradigm begins with the premise that direct, line-of-sight sound without any reflections result in 100% Phase Accuracy.  To achieve this high level of Phase Coherency, ZR must be applied strategically according to precisely crafted designs.   When sound comes into contact with a ZR wall or device, the sound does not return.  ZR quantizes the air molecules, forcing them to behave as individual particles and not waves, consequently removing sound energy and increasing phase coherency.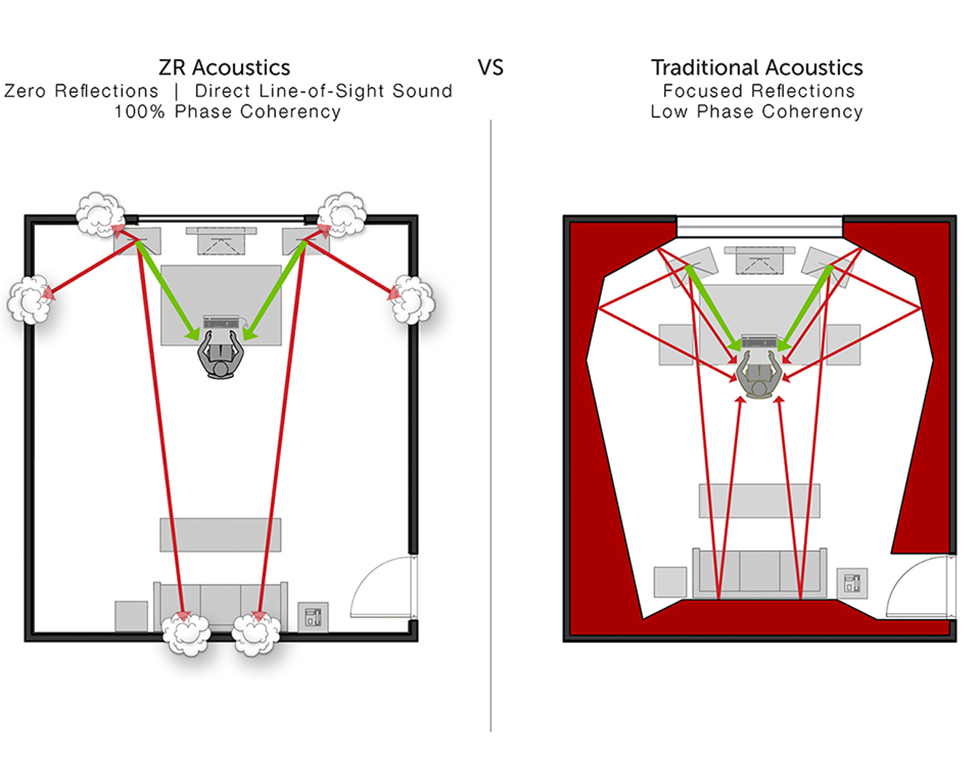 ---
Ultimate Use of Space 
The ZR design paradigm is either embedded into walls or in ultra-thin, surface mounted devices. (SMD's)  This leaves rooms with a 100% full size, floor plan.  Zero loss of space with any version of ZR.  The size and shape of a space become irrelevant as Life-Like Imaging is possible in rectangular, square, semi-circular or even round spaces.  Even glass becomes inaudible. (see KTMS Studio A) All the required acoustical mathematics and technology can now fit into a standard stud wall depth (3-1/2″) or in quantum surface mounted devices. (3/4″ to 1-1/2″)
Any space of any shape or size can have Life-Like Imaging and produce world class recordings with mastering quality acoustics with the application of the ZR design paradigm powered by Quantum Acoustics™.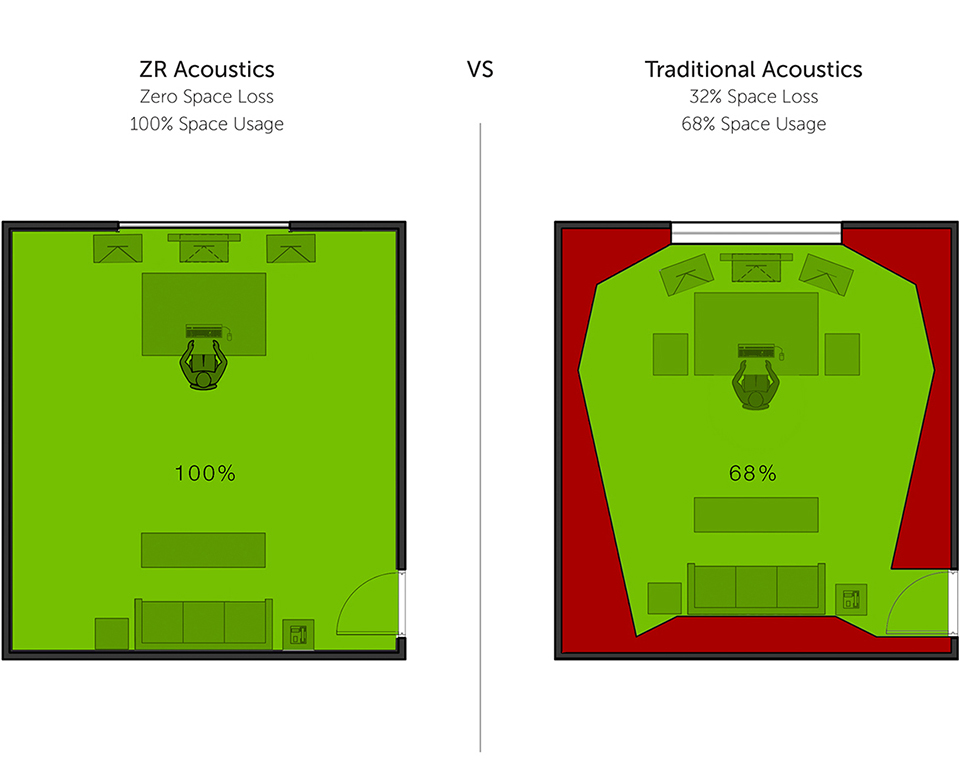 ---
Quantum Acoustics™
Quantum Acoustics™ is quantum physics applied to air molecules, and consequently has a dramatic and profound effect on sound energy and the propagation, perception and cognition of sound. Examples of effects include broadband control of audible sound in ultra-thin 1″ devices, dramatically increased intelligibility, immersive spherical imaging and acoustic cloaking.
What we know
…is that specific characteristics of quantum acoustics are repeatable, reproducible and perceivable in both the laboratory and the real world. The cause and effect between these characteristics and applied quantum physics is dramatic, clear and obvious. It appears that acoustics follows the same rules which have governed electronics for over 100 years:  resolution, geometry and mathematics far outweigh the effectiveness of mass and density.
Traditional acoustics based in classical mechanical physics have no explanation for how these traits can exist, despite constant, repeatable and reproducible behaviors. For example, how long wavelengths of sound can be controlled with a flexible, 1″ thick acoustical device. (ZR Micro Screen) To find answers, DHDI consulted with the experts.  They are all leaders in the field of applied and theoretical physics and strangers to each other. Each one was given identical copies of laboratory test data performed by an independent third party testing lab. Independently, they were all given a listening demonstration of ZR Acoustics® . After reviewing the test data and experiencing ZR in person, they were all asked a simple question:  how do you explain this type of acoustical behavior?  Nearly a year later, every physicist responded within a week of each other with identical remarks:  "these phenomena are not explicable by classical mechanical means but only by quantum acoustics".
The role of cutting edge research is to constantly bridge the gap between theoretical ideas and the real world. Recent experiments show that quantum physics applies to even biological cells which are the size of planets compared to electrons. As physicists continue to unveil the underlying secrets of how these widespread phenomena occur, the potential applications are limitless:  acoustics, biology, teleportation, health, architecture, and many more.  Recent experiments in quantum physics show that behavior which was previously limited to sub-atomic particles is actually widely applicable in other areas. For instance, several areas of biology such as smell, photosynthesis and bird migration are now proven to be governed by the rules of quantum physics.  (see references below) This gives us a better understanding that if quantum physics can effect such complex and large things as biological cells, it can also effect smaller, simpler molecules such as air which are somewhere between the size of an electron and a biological cell.
The ZR paradigm is embedded with higher order mathematics, complex topologies, and Extreme Acoustic Resolution to achieve quantum behavior.  Quantum Physics and wave particle duality were proven to be a reality in the early 1900's. It is the basis for the entire Era of Electronics. The concept is that until they are observed, electrons can behave as waves, as individual particles or as both at the same time. ZR Acoustics® creates the proper environment to control the behavior of Air molecules, forcing them to change from wave fashion to individual particle fashion. When Air molecules behave as individual particles (i.e. no wave behavior), sound energy has no medium to ride upon. Like a radio signal without a carrier wave, the sound simply ceases to exist. In conjunction with precise designs, this effect dramatically increases Phase Coherence, consequently improving both imaging and spaciousness.
"If I were not a physicist, I would probably be a musician. I often think in music. I live my daydreams in music. I see my life in terms of music." – Albert Einstein
60 second video explaining Wave Particle Duality by minutephysics.
What we don't know
…is the minutia and underlying reasons for every detail of how quantum mechanics effects air molecules.  How does quantum physics achieve such dramatic and unusual control of particles, cells and objects larger than an atom? Until recently, quantum mechanical behavior was understood to be limited to sub atomic particles such as the electron, the proton and the neutron.   In practice, quantum acoustics is very much like electronics in the early 1900's:  designers, engineers and technicians were building electronic devices every day with repeatable, reproducible results while Einstein, Planck and Bohr were debating the inner workings of the universe via theoretical quantum physics. Quantum Acoustics' effects and performance are repeatable and reproducible every day, while physicists continue to discuss the theoretical concepts of dark matter and the theories of a quantum universe.
"Quantum mechanics cannot easily be reconciled with everyday language and observation. Its interpretation has often seemed counter-intuitive to physicists, including its inventors." – Wikipedia
Notable research on Quantum Physics in these areas:
---
ZR Acoustics®    |     Quantum Acoustics     |     Q & A     |     Comparison Sheet     |     MultiVerse | Portfolio    |     Contact Us
---