---
ZR Acoustics®  |  The Ultimate Listening Experience
Cool     |    Mobile     |    Hip     |    Quantum Technology    |    Impeccable Imaging    |    Mastering Grade
The Ultimate in versatility and performance, these predesigned ZR Studios are lightweight, simple to setup and easy to transport. Powered by Quantum Acoustics, ZR's iconic Life-Like Imaging with Extraordinary Clarity and Dimensionality can now travel with great simplicity.
ZR Pop-Up Studios are combinations of ZR Screens designed for vocals, drums, string quartets, jazz bands, or anything you can imagine.  Creating a quantum acoustic bubble around the artists, they create mastering quality acoustics in a single space recording/tracking environment.
See ZR Pop-Up Studios in action at ZR Live!
Every ZR Live! event uses a ZR Pop-Up Studio to capture the realism of live performances, removing the room from the equation entirely, leaving the content and performance as the primary focus.
ZR Pop-Up Studios come in 5 predesigned studios with variations of each:  Duet, Trio, Quartet, Quintet, Sextet.
For Ultimate Performance ZR Pop-Up Studios work with minimal coverage of 75% or greater depending on the envelope details.
Watch interviews with CJ Vanston, Ron McMaster, Pete Doell and others share their feelings about Quantum Acoustic Technology on DHDI Profiles.  See what Grammy award winning producers and engineers say about ZR Acoustics®
ZR Acoustics®  |  The Ultimate Listening Experience
---
ZR Pop-Up Studio  |  "Duet"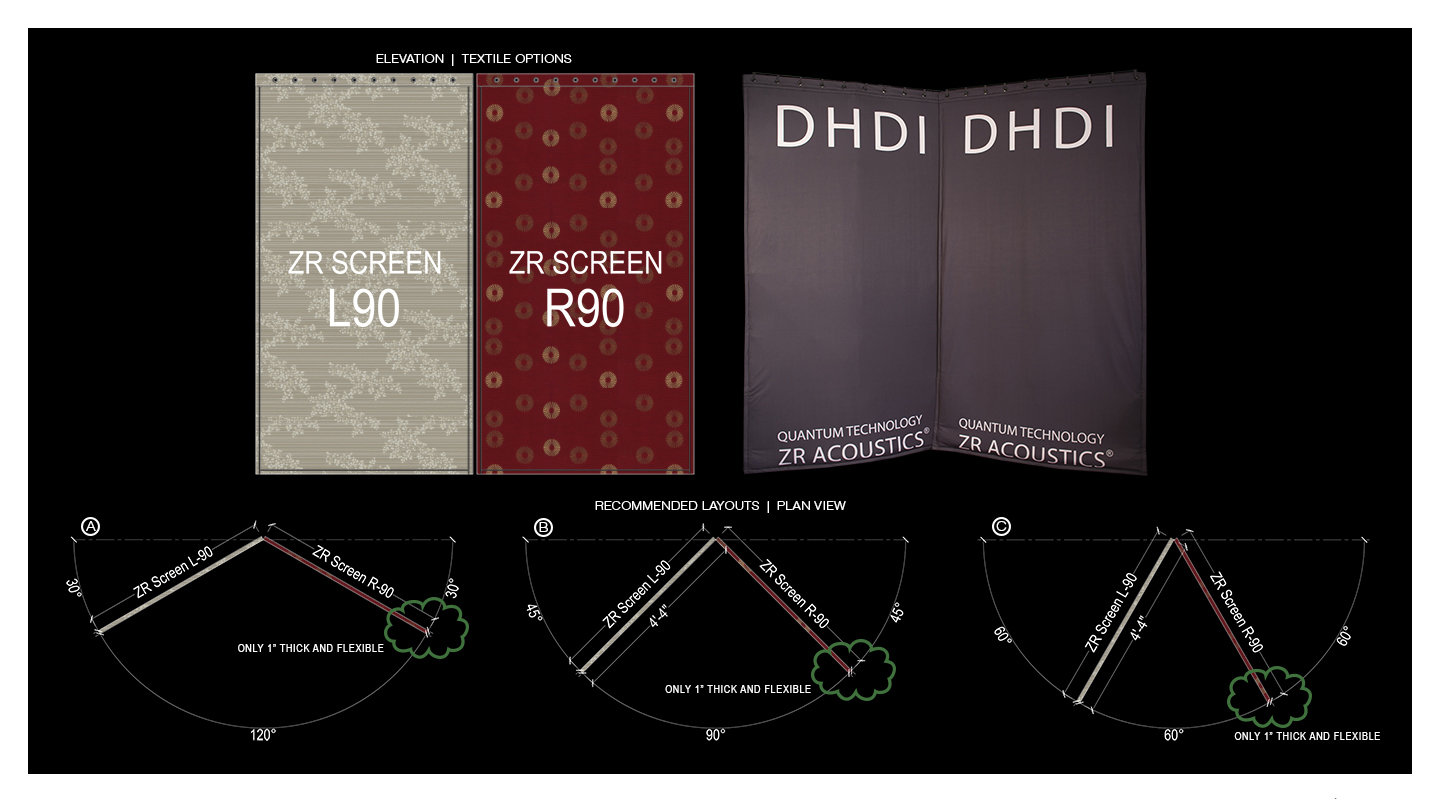 ---
Contact Us | Purchase Information
ZR Acoustics®  |  Glossary of Terms
---
ZR Pop-Up Studio  |  "Trio"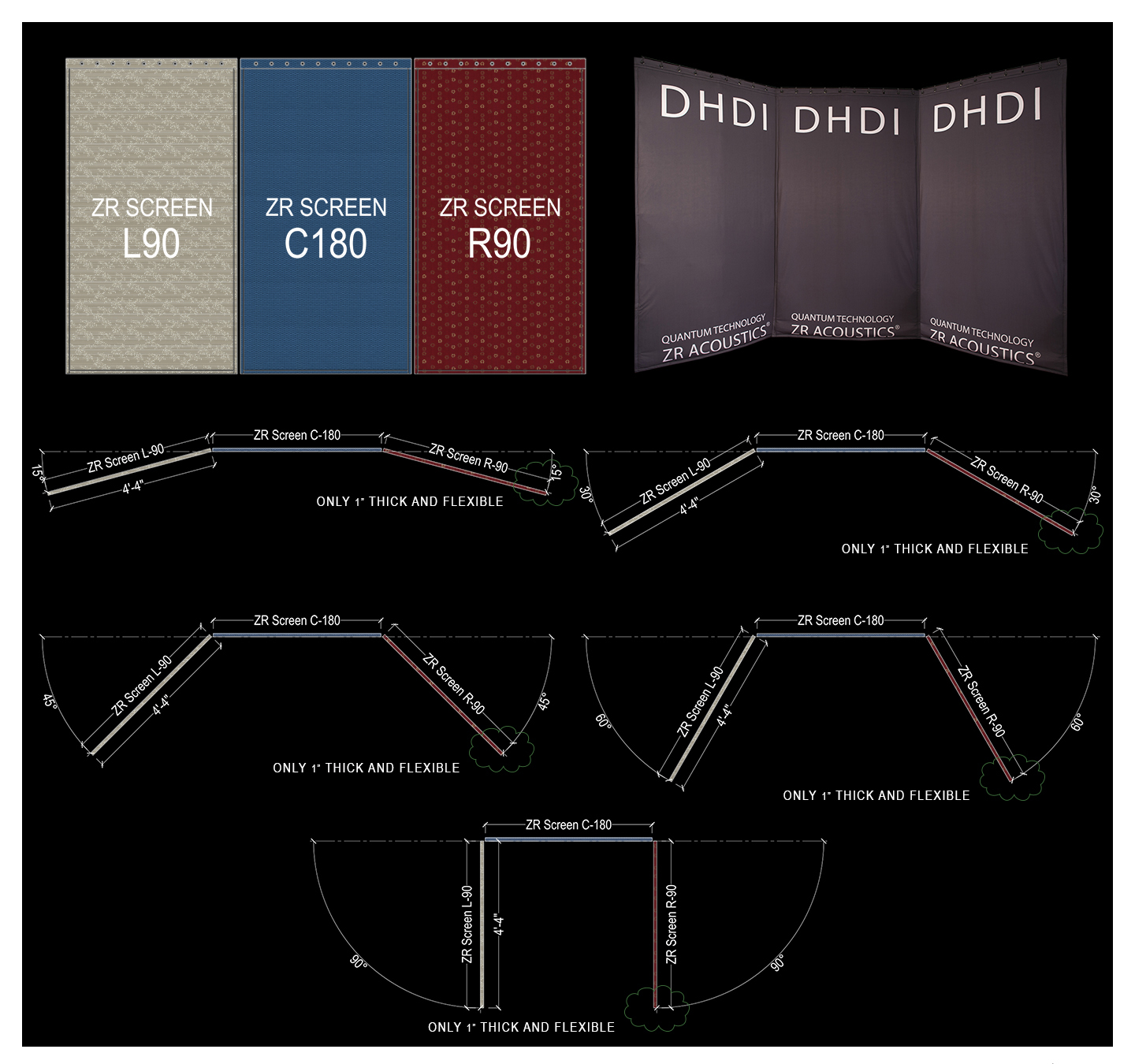 ---
Contact Us | Purchase Information
ZR Acoustics®  |  Glossary of Terms
---
ZR Pop-Up Studio  | "Quartet"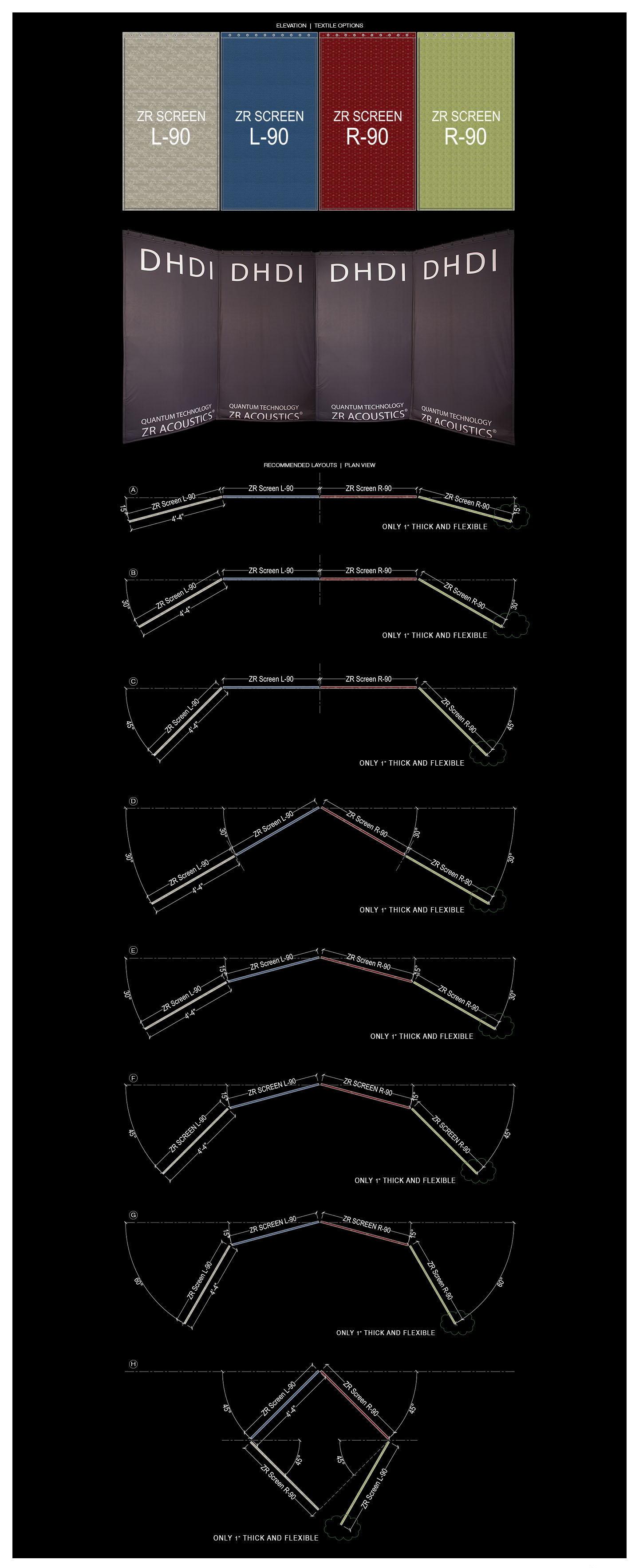 ---
Contact Us | Purchase Information
ZR Acoustics®  |  Glossary of Terms
---
ZR Pop-Up Studio  |  "Quintet" Layout A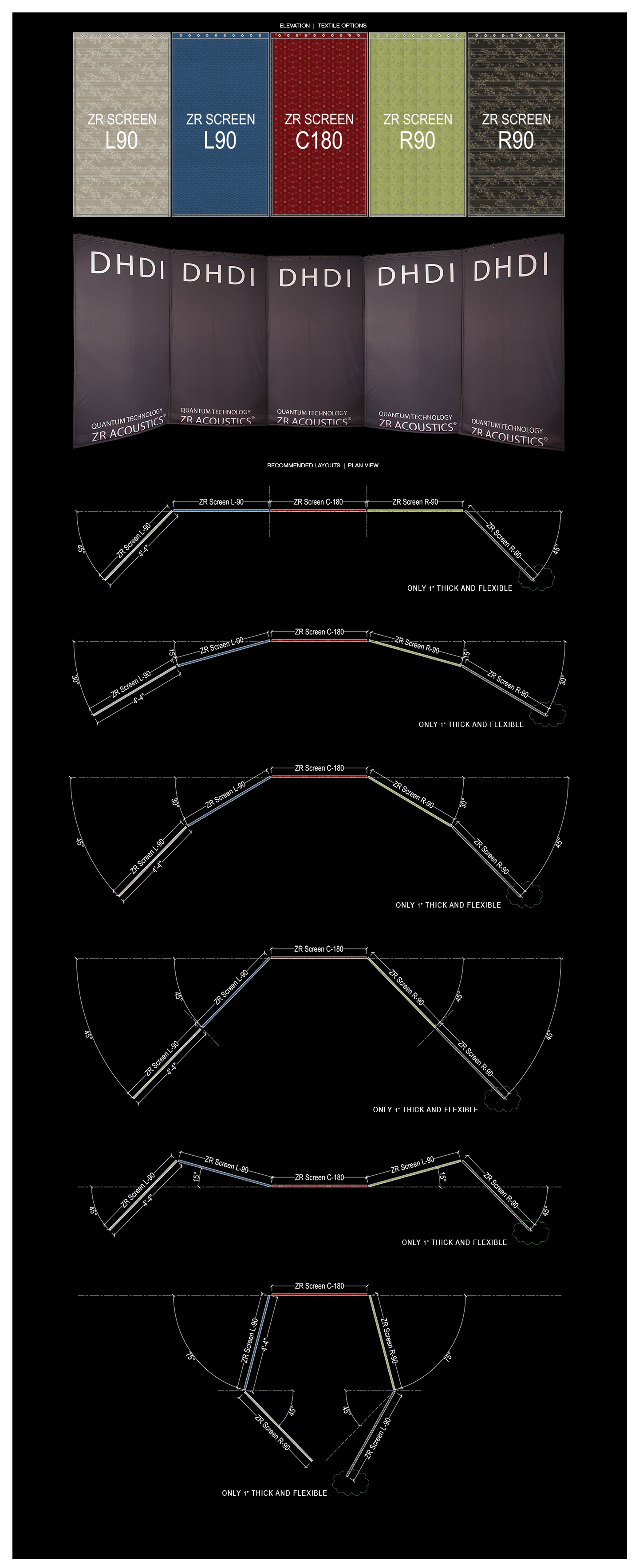 ---
Contact Us | Purchase Information
ZR Acoustics®  |  Glossary of Terms
---
ZR Pop-Up Studio  |  "Quintet" Layout B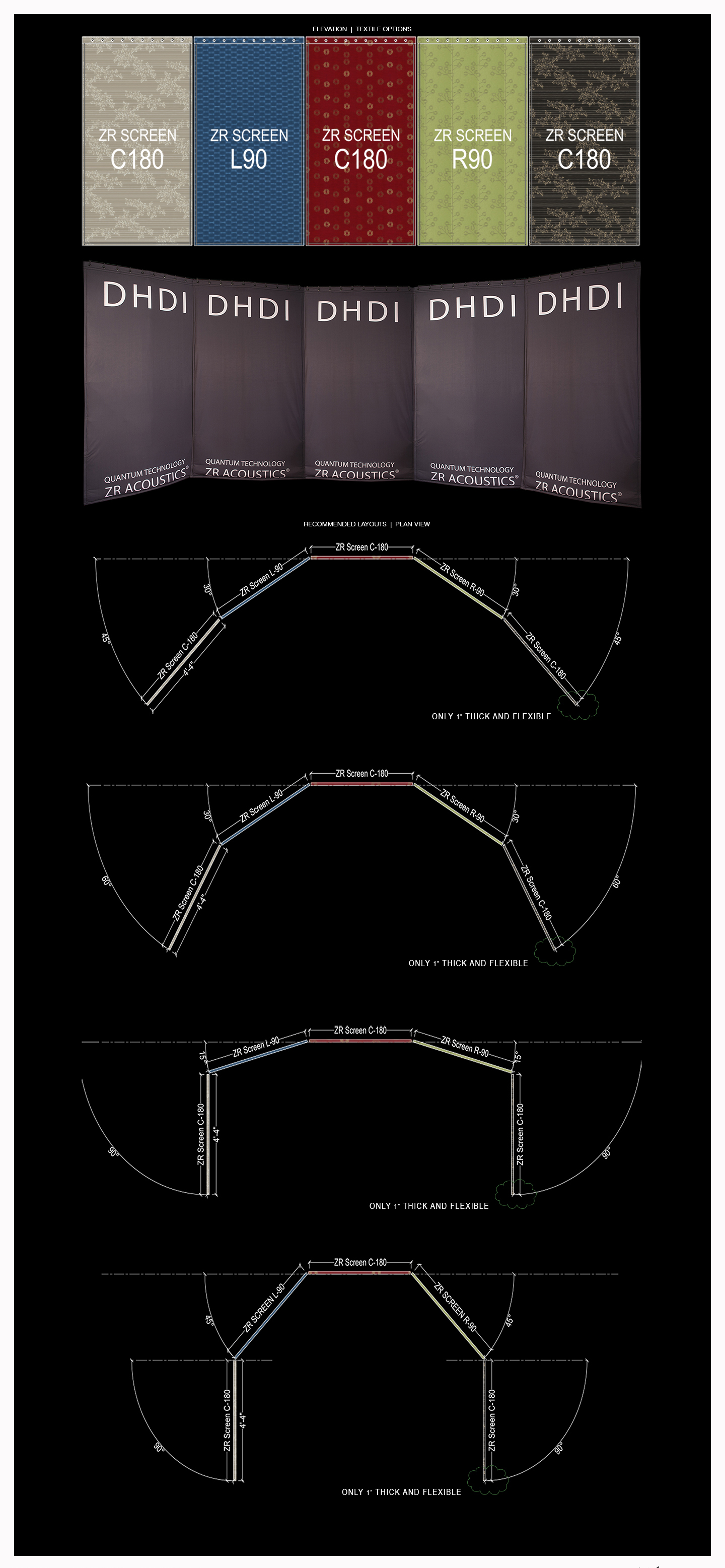 ---
Contact Us | Purchase Information
ZR Acoustics®  |  Glossary of Terms
---
ZR Pop-Up Studio  |  "Sextet"
---
Contact Us | Purchase Information
ZR Acoustics®  |  Glossary of Terms
---
High End Architecture community space meets Rock n' Roll touring these new ZR Pop-Up Studios are inspired by the original ZR Live Series, but with new shapes and sizes in two grades of Acoustic Resolution: Micro and Hybrid.
Suspended across lightweight aluminum trusses, these custom architectural ZR Pop-up Studios are flexible, lightweight, and easily setup by two people.
ZR Pop-Up Studio  |  "Batwing"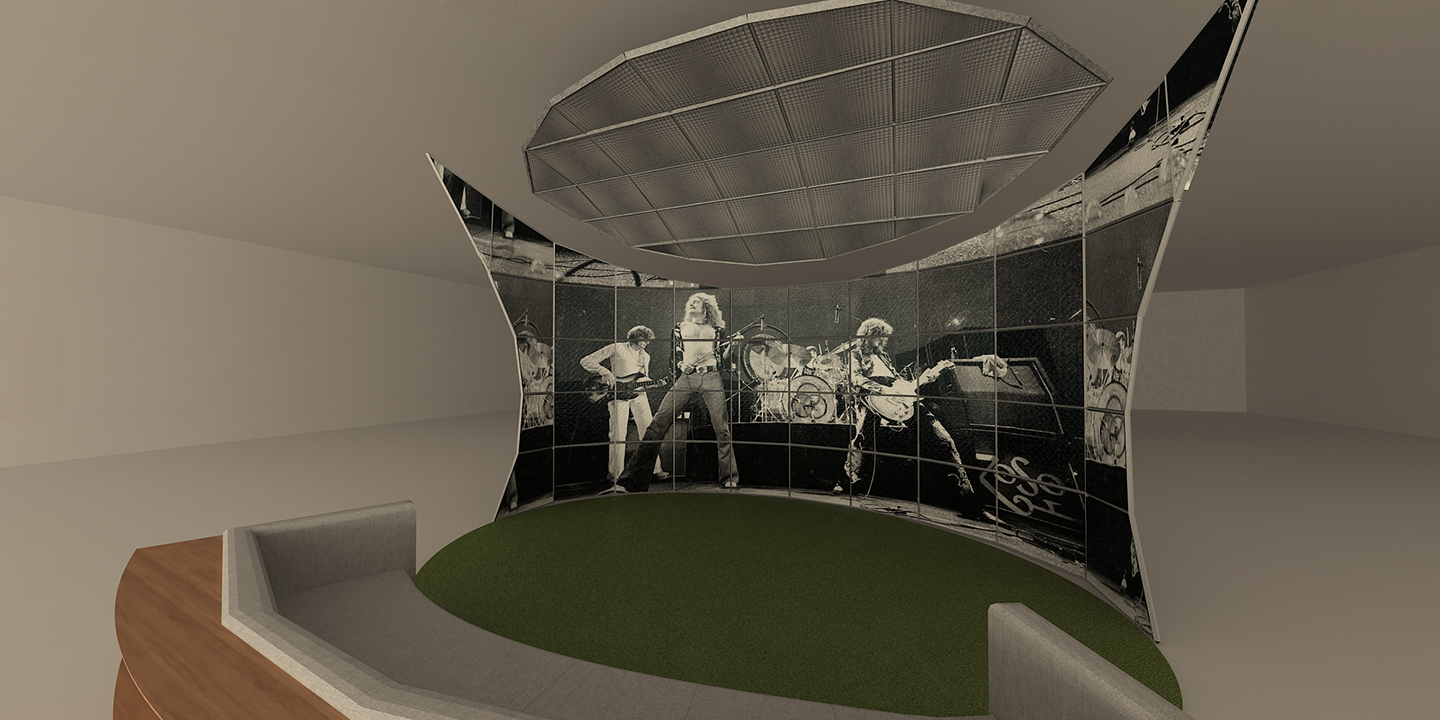 ---
Contact Us | Purchase Information
ZR Acoustics®  |  Glossary of Terms
---
ZR Pop-Up Studio  |  "Amphitheater"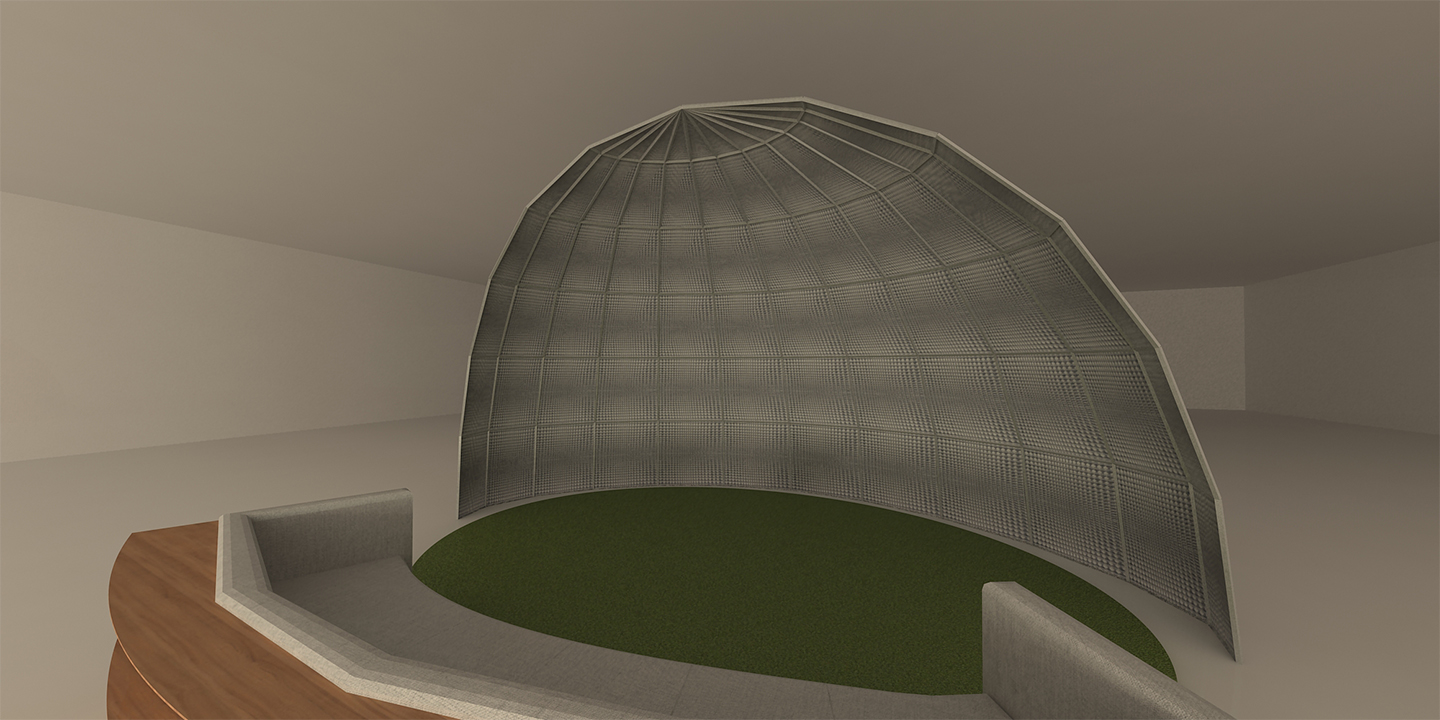 ---
Contact Us | Purchase Information
ZR Acoustics®  |  Glossary of Terms
---
ZR Pop-Up Studio  |  "Stealthwing"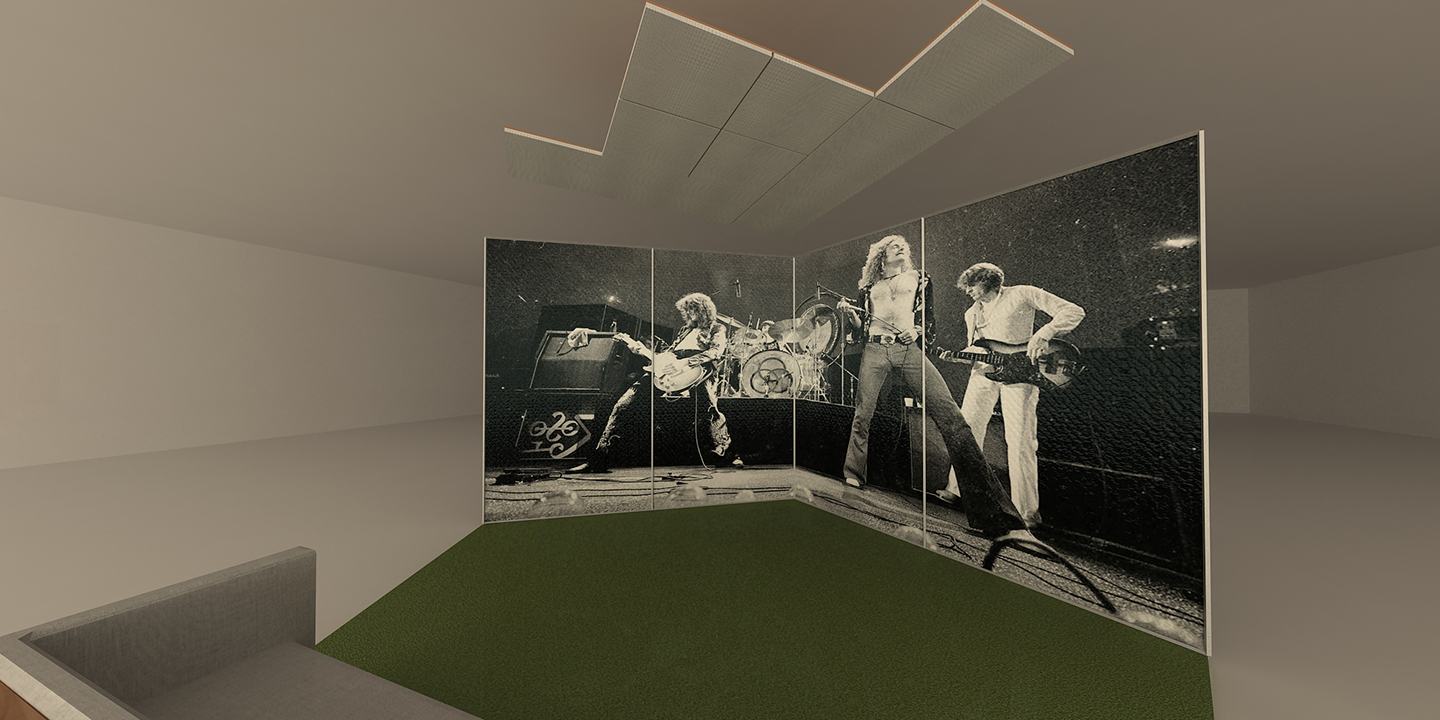 ---
Contact Us | Purchase Information
ZR Acoustics®  |  Glossary of Terms
---
ZR Acoustics®  |  The Ultimate Listening Experience
Acoustics is the new frontier of human experience.  Powered by Quantum Acoustics™, the new reference standard is Life-Like Imaging with Extraordinary Clarity and Dimensionality.  A unique sense of expansiveness and spaciousness is created well beyond the boundaries of any interior space.  Zero Reflection Technology controls Air at the molecular level, making walls, ceilings and hard reflective surfaces acoustically disappear.  ZR Acoustics® is the revolutionary design paradigm responsible for creating these unique environments.  Unlike traditional technology, ZR Quantum Technology is applicable in any space, anywhere, in any form: Permanent Construction, Prefab or Products.  By design, ZR environments are elegant and aesthetically pleasing.
ZR environments feel spacious and expansive, like a quiet beach or grassy field. Sounds are clear and defined, even at a whisper. Physiologically, lower volumes cause less ear fatigue, which in turn lowers blood pressure and cardiovascular stress.  The holistic results are healthier, more peaceful environments for people to live and work in.  The human mind and body operate at higher levels of performance when exposed to less acoustical stress.
Applications for Life-Like Acoustical Imaging range across a wide variety of fields, most notably Architecture, Transportation, Entertainment and Aerospace.  Architectural environments benefit from ZR Acoustics® in residences, offices, hotels, restaurants, spas, hospitals, senior facilities, and many others.  Creating environments with a sense of expansiveness is an enormous benefit to the Transportation Industry in automobiles, airplanes, bullet trains, buses, yachts and cruise liners.  In the Entertainment Industry, Life-Like Imaging has a myriad of uses from, music, film and television studios, to production, post-production, Virtual Reality, Internet content facilities and any space used to create original content.  The Aerospace Industry's requirements for lighter, faster technologies with incredibly demanding performance values has a plethora of applications for ZR Acoustics®, from satellites to manned spacecraft.
ZR's core principle is simple: Phase Coherency creates Life-Like Imaging and an audible sense of Expansiveness.  In the eyes of Quantum Physics, it is now understood that Electrons and Air molecules behave in the same Quantum fashion.  Using this core principle, ZR Acoustics® eradicates the most egregious acoustical issues, including low intelligibility, resonant frequencies, excessive reverberation, standing waves, variable frequency response with amplitude, and bass buildup in corners. The root of these issues begins with reflections off hard surfaces. ZR creates the proper environment in which reflections are quantized. Quantized Air at hard reflective surfaces equals no wave action. No wave action means no sound reflections, and no sound reflections means only crisp, clear, Direct sound with high Phase Coherency, resulting in Life-Like Imaging and a true sense of spaciousness.
Quantum Physics and wave particle duality were proven to be a reality In the early 1900's.  It is the basis for the entire Era of Electronics.  The concept is that until they are observed, electrons can behave as waves, as individual particles or as both at the same time. ZR Acoustics® creates the proper environment to quantize the behavior of Air molecules from wave fashion to individual particle fashion. When Air molecules behave as individual particles (i.e. no wave behavior), sound energy has no medium to ride upon. Like a radio signal without a carrier wave, the sound simply ceases to exist.  In conjunction with precise, artistic design, this effect dramatically increases Phase Coherence, and consequently imaging and spaciousness.
The ZR Acoustics® paradigm is based in science and designed for creativity, like a finely tuned instrument.  Designs are handcrafted and embedded with higher order mathematics, complex topologies, and Extreme Acoustic Resolution.
---
Contact Us | Purchase Information
ZR Acoustics®  |  Glossary of Terms
---

---
Quantum Acoustics™
Quantum Acoustics™ is Quantum Physics applied to air molecules, and consequently has a dramatic and profound effect on sound energy and the propagation, perception and cognition of sound.  Examples of effects include broadband control of audible sound in ultra-thin 1″ devices, dramatically increased intelligibility, immersive spherical imaging and acoustic cloaking.
What we know
…is that many specific characteristics of quantum acoustics are repeatable, reproducible and perceivable in both the laboratory and the real world.  The cause and effect between these characteristics and applied quantum physics is dramatic, clear and obvious.  It appears that Acoustics follows the same rules which have governed Electronics for over 100 years:  resolution, geometry and mathematics are far more effective than mass and density.
Despite their constant, repeatable and reproducible behavior, traditional acoustics and classical mechanical physics have no explanation for how these traits exist.  For example, how long wavelengths of sound can be controlled with a flexible, 1″ thick acoustical device. (ZR Micro Screen)  To find answers, DHDI consulted with the experts.  Identical copies of the independent lab test data were given to each one of them, and they were all given a demonstration of ZR Acoustics® independently.  Then DHDI asked them all a simple question:  if traditional acoustics cannot explain these phenomena, what is the science behind them?
Nearly a year later, all the physicists responded within a week of each other with nearly identical remarks:  "these phenomena are not explicable by classical mechanical means but only by quantum acoustics".  They are all leaders in the field of physics, strangers to each other and lifelong physicists.
It seems that recent experiments in quantum physics have shown it is widely applicable in other areas previously thought to be ruled by classical mechanics.  For instance, several areas of biology such as smell, photosynthesis and bird migration.  (see references below)  This gives us a better understanding that if quantum physics can effect such complex and large things as biological cells, it can also effect tiny, simpler molecules such as air.
What we don't know
…is the minutia and underlying reasons for every detail of how quantum mechanics effects air molecules.  How does quantum physics achieve such dramatic and unusual control of particles, cells and objects larger than an atom?  Until recently, quantum mechanical behavior was understood to be limited to sub atomic particles such as the electron, the proton and the neutron.   In practice, quantum acoustics is very much like electronics in the early 1900's:  designers, engineers and technicians were building electronic devices every day with repeatable, reproducible results while Einstein, Planck and Bohr were debating the inner workings of the universe via theoretical quantum physics. Quantum Acoustics' effects and performance are repeatable and reproducible every day, while physicists continue to discuss the theoretical concepts of dark matter and the theories of a quantum universe.
"Quantum mechanics cannot easily be reconciled with everyday language and observation. Its interpretation has often seemed counter-intuitive to physicists, including its inventors." – Wikipedia
Cutting edge research is constantly bridging the gap between quantum mechanics and the real world.  Recent experiments show that quantum physics applies to even biological cells which, compared to the electron, are the size of planets.  As physicists continue to unveil the underlying secrets of how these widespread phenomena occur, the potential applications are limitless:  acoustics, biology, teleportation, health, architecture, manufacturing and many more.
Notable research on Quantum Physics in these areas:
---
Extreme Acoustic Resolution  |  NPS/ft.2 
(L – R:  Low Resolution Image, High Resolution Image)
Acoustic Resolution is like Image Resolution.  Higher resolution yields greater performance, as evidenced in Nature and revealed by Science.  DHDI pioneered the concept that resolution in Quantum Acoustics™ is measured in Non-Parallel Surfaces per Square Foot (NPS/ft.2).  It denotes the number of surfaces in a room or device which are not parallel to the plane of the surface or device at a specific, minimum angle. Acoustic Resolution directly effects Imaging and Performance when utilized in ZR Acoustics® designs.  Related to imagery, NPS is like DPI (dots per inch).

While Quantum Acoustics™ is complex to design, Acoustic Resolution (NPS/ft.2) is easy to calculate. First, count all non-parallel surfaces in a space. Then calculate the surface area of all the walls and ceiling in square feet (excluding the floor). Divide the number of non-parallel surfaces (first number) by the total surface area of the room (second number) and you have Acoustic Resolution in NPS/ft.2
Mathematic Examples:
A typical traditional recording studio has on average, 12 large, non-parallel surfaces in a space with a total surface area of 1000 ft.2 (20' x 15' x 10').  Divide 12 non-parallel surfaces / 1000 square feet and the result is an Acoustic Resolution of 0.012 NPS/ft.2.
Quantum Acoustics™ functions on a different level.   The lowest grade ZR Acoustics® studio (Permanent Construction) with 320 non-parallel surfaces and a total surface area of 572 square feet (14' x 10' x 9') resulting in an Acoustic Resolution of 0.56 NPS/ft.2  (320 non-parallel surfaces / 572 square feet).  With ZR devices at 100% coverage, resolution can be 450 NPS/ft.2 with SR24+'s and even as high as over 9200 NPS/ft.2 with ZR Nano devices.   Higher resolution means higher performance, higher performance means Life-Like Imaging, Wall to Wall Sweet Spots and Extraordinary Clarity.
---
Contact Us | Purchase Information
ZR Acoustics®  |  Glossary of Terms
---
ZR Acoustics®  |  The Ultimate Listening Experience