Thin as velvet and elegant as victorian drapes, custom ZR Fabrics are lush, beautiful and imbued with the ability to make sound vanish.  The latest evolution in Quantum Acoustics is concealed within any beautiful drape, curtain or textile that your architect or interior designer can envision.
ZR QuanTex is the thinnest Quantum Acoustic Technology on the globe.   Only 1.6 mm thick,  it's concealed invisibly within your curtain or drapery.   QuanTex is similar to the internal membrane widely used in waterproof outdoors jackets and clothing.  It lives within your choice of beautiful, acoustically transparent textiles, granting the power of ZR Acoustics® to any curtain or drapery.
Imbued with the highest resolution in acoustics, ZR QuanTex has over 200,000 Non-Parallel Surfaces in each and every square foot.   (>200,000 NPS/Sq.ft.)
Applications are widespread and as varied as a waterproof membrane:
Standard window draperies (flat or s-curve)
Hospital curtains
Motorized shades (lutron sivoia or track systems)
Cinema Screens for Front Projection
Ultra Quiet Blackout Shades
Noise Control Blankets
Theatrical Main Drapes
Duvetyne enhancement for Events and Theatrical Venues
Recording Studio Window and door Draperies to control highly reflective glass and hard surfaces.
Many, many more…
---
ZR Acoustics®    |     Quantum Acoustics     |     Q & A     |     Comparison Sheet     |     MultiVerse | Portfolio    |     Contact Us
---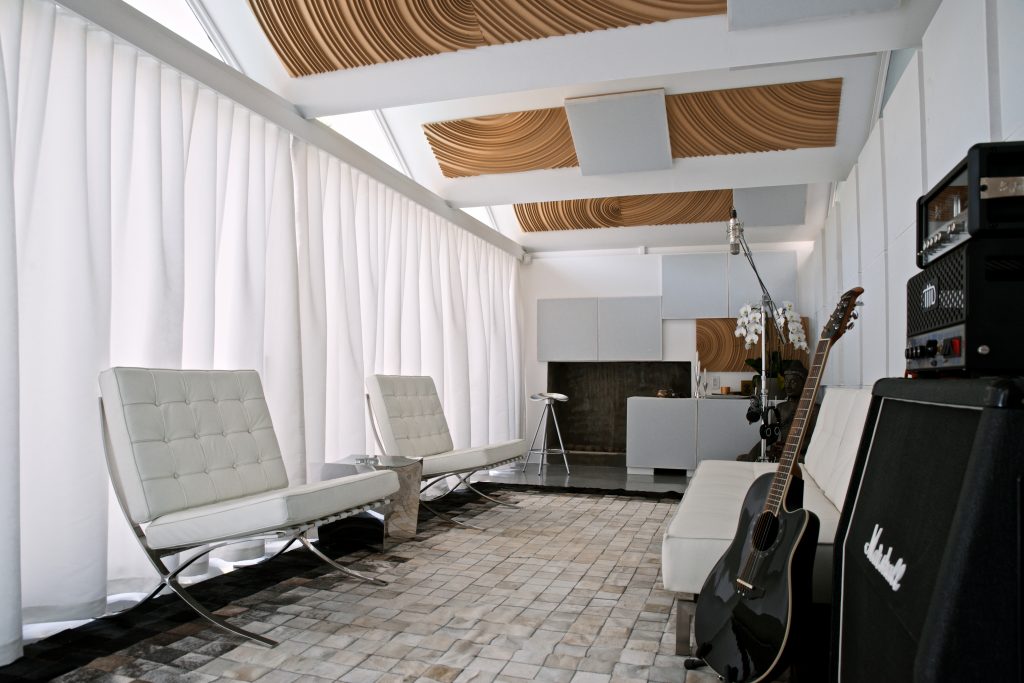 ---
Technical Specifications
Interior or Exterior Use (dependent on choice of front and back textiles)
Membrane for concealed use in Drapery, Curtains or hanging Textiles of any kind
1.6 mm thick
Flexible
Foldable (S Drapes or for transport)
Acoustic Resolution:  > 200,000 NPS/Sq. Ft.
Textile Choices:  hundreds of color ways and patterns, all pre-approved by DHDI for beauty, aesthetics and acoustic performance.
Custom Textiles:  DHDI is always open to testing your personalized choice of textile for performance and fit with ZR QuanTex.
For a custom quote please send your curtain, drapery or fabric dimensions or plans.   For more information please see DHDI's Acoustical Design Services and our Q & A page.  Any additional queries please contact us directly and we'll be happy to answer any questions you may have.
---
ZR Acoustics®    |     Quantum Acoustics     |     Q & A     |     Comparison Sheet     |     MultiVerse | Portfolio    |     Contact Us
---