---
ZR Acoustics®  |  The Ultimate Listening Experience
Mastering Lab Acoustics    |    Elegant Aesthetics    |    Lifelike Imaging    |    Wall to Wall Sweet Spots    |    Phase Accurate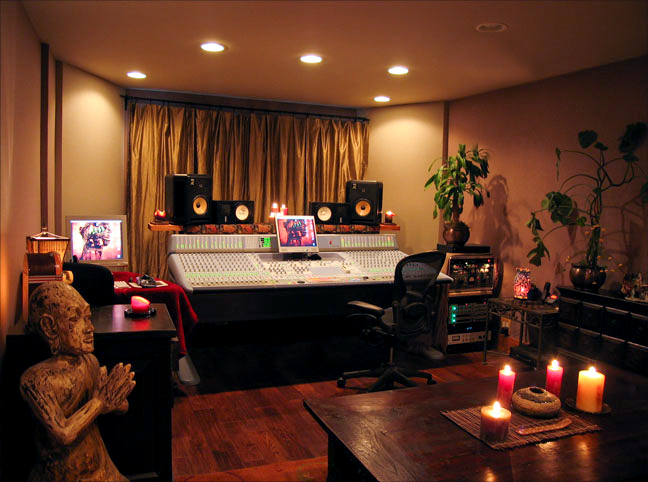 Mike Shipley Productions
ZR Acoustics® Permanent Construction   |   Zero Reflection Acoustics
The original ZR Acoustics® design paradigm delivers un-paralleled acoustic imaging, definition, and phase accuracy.  It fits inside of standard walls, disappearing both visually and architecturally, unless Visual Acoustics and custom graphics are desired.  With Zero Footprint, Extreme Acoustic Resolution, and the ability to adapt to any shape or size space,  ZR Acoustics® Permanent Construction has 56 times the acoustic resolution of traditional acoustics.  ZR Permanent Construction revolutionizes acoustics by radically improving two typically overlooked acoustical issues:  low phase accuracy and high numbers of parallel surfaces.  ZR Permanent Construction (Mark II) is dramatically improved with 16x (sixteen times) the resolution of Mark I, or Over 700x (700 Times) the resolution of Traditional Acoustics.
Testimonials from the Golden Ears of the Entertainment industry.
ZR Permanent Construction requires architectural acoustical plans and construction.  It utilizes everyday materials designed as meta-materials to create The Quantum Acoustic effect.  Every design is custom crafted and tailor fit to each environment, insuring the highest acoustic performance anywhere with the most pleasing and elegant aesthetic.
ZR Permanent Construction is perfect for projects that require long, clean lines of beautiful cloth without interruption:  a smooth, elegant aesthetic with minimal interruption and lots of space for guitars, violins or hurdy gurdy's hanging on the walls.  The ZR Acoustics® design paradigm dramatically improves phase accuracy is the first acoustic design in history to give a metric to Acoustic Performance:  NPS/sq.ft.  (Non Parallel Surfaces per Square Foot).  The higher the number the better, and as always, a well crafted design is essential.
Using materials science, quantum physics and nature based mathematics, ZR Acoustics® has miniaturized acoustics to only three and a half inches deep (3.5″) with ZR Permanent Construction.  ZR Products (devices) are even thinner with higher acoustic resolution.  (1.25″ thick, 450+ NPS/sq.ft.)
For more information please see our Q & A page or DHDI's Acoustical Design Services.  For a custom quote please send us basic plans of your vision.  If you have additional questions please contact us directly and we'll be happy to answer any questions you may have.

---
ZR Acoustics®    |     Quantum Acoustics     |     Q & A     |     Comparison Sheet     |     MultiVerse | Portfolio    |     Contact Us
---
History
Originally created to meet the demands of the late great Mike Shipley, Zero Reflection Acoustics was invented by owner/founder Hanson Hsu.  Shipley wanted a new studio to match his new life in California after completing his time in upstate New York with Mutt Lange and Shania Twain.
Mike had just purchased one of the first Digidesign Icon consoles after a lifetime on SSL desks.  He was building his new music facility in Studio City, Los Angeles and was simple and clear in his request for acoustics.  "Make it clear, sound great everywhere and please don't angle all the walls like everyone always does."  After extensive research into the root causes of acoustic issues, it became apparent that studios all start with "how to mitigate the inherent acoustic issues of an interior space".   The issues were well known, extensively documented and painfully audible.  A new paradigm was born:  begin the acoustic design upstream of all known issues, without using any of the elements that feed said acoustical issues.  No root cause, No issues.
The result was dramatic.   Shipley moved his favorite KRK's back and forth, left and right, yet was unable to hear changes in imaging or phasing.  Delighted and exasperated, he finally exclaimed "it sounds the same everywhere!  What the Hell did you do?"  laughed, and ran off to listen to more of his reference mixes.
All of Mike's wishes were granted.   His studio walls were thinner than before the studio was built.   Imaging was lifelike and three dimensional with only a pair of stereo speakers.  All the Acoustics were built into the walls:  into the space between the studs.   He was able to hear minute variations in definition which has become to be known as 'Micro Definition'.  He constantly remarked in astonishment how the imaging was like a sphere and so lifelike, and that it sounded identical everywhere:  from wall to wall, front to back, side to side.  Mike was ahead of the curve and wanted a large operable window on the front wall behind his speakers.  He got his wish.  European tilt and turn windows worked with the acoustic design to help with imaging and phase accuracy, and custom acoustic drapes were created to help when the windows were closed and parallel to the rear wall.  (the early phases of ZR QuanTex).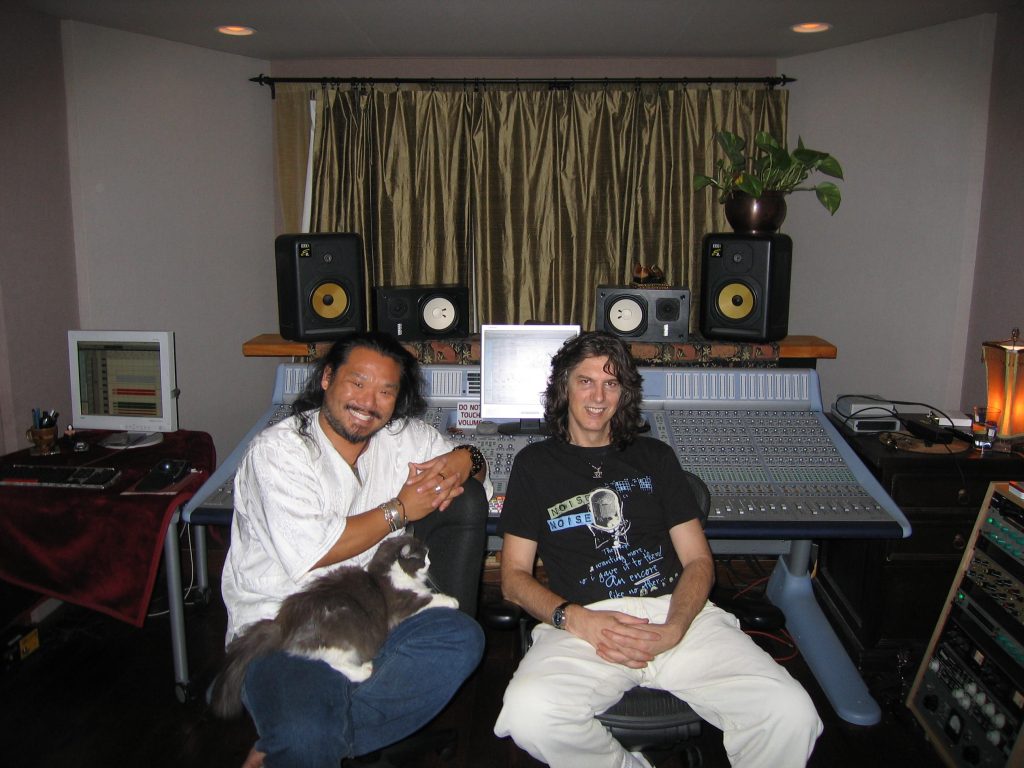 Hanson Hsu and Mike Shipley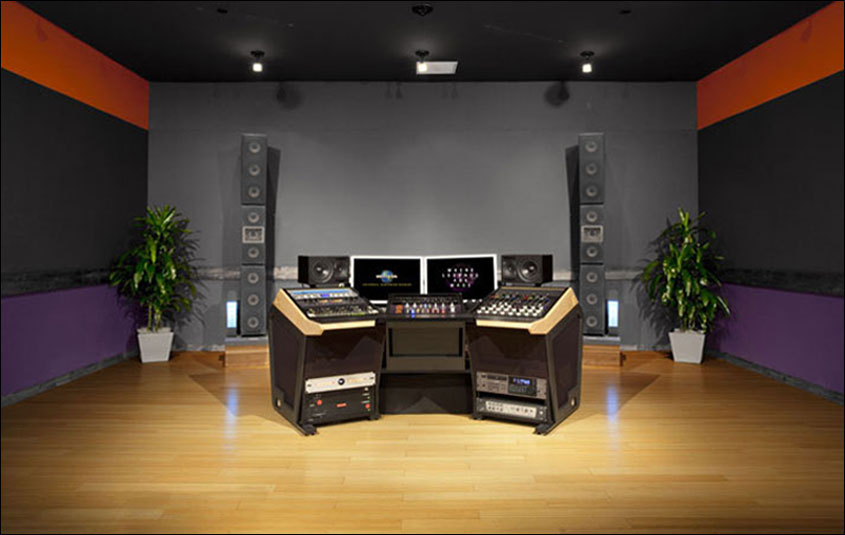 Universal Mastering Studios West   |   Studio B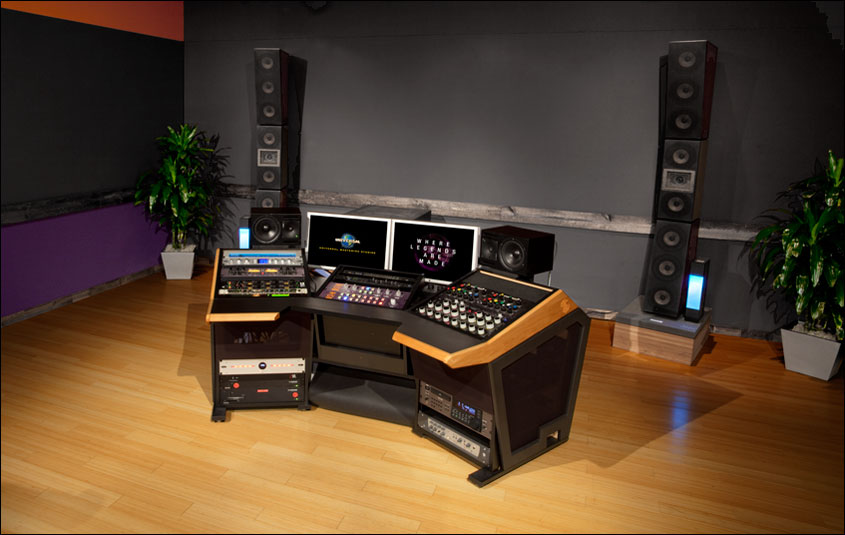 Universal Mastering Studios West   |   Studio B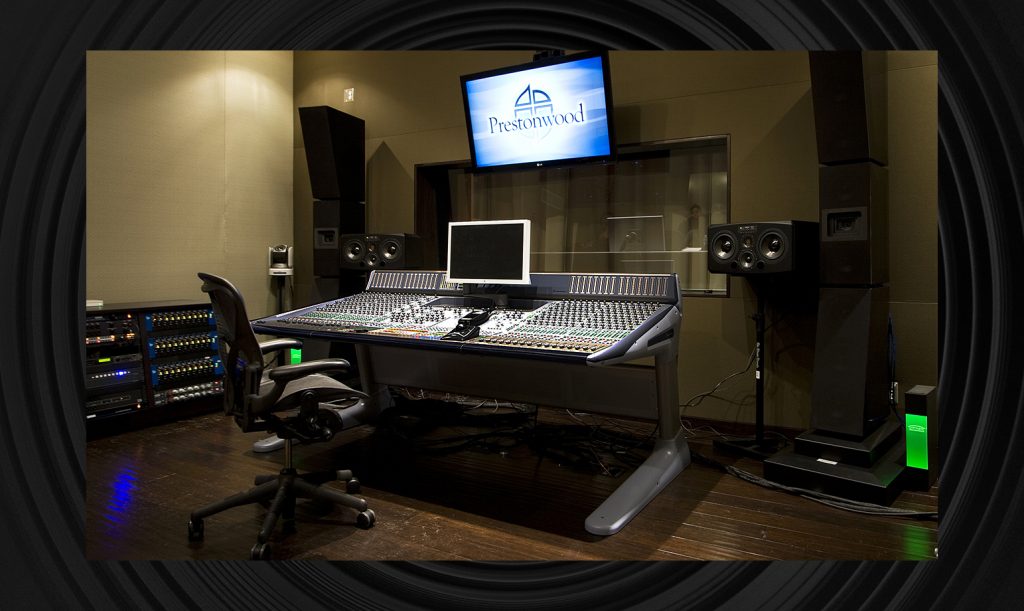 Prestonwood Baptist Church Studio
---
ZR Acoustics®    |     Quantum Acoustics     |     Q & A     |     Comparison Sheet     |     MultiVerse | Portfolio    |     Contact Us
---